Art and social justice focus of community series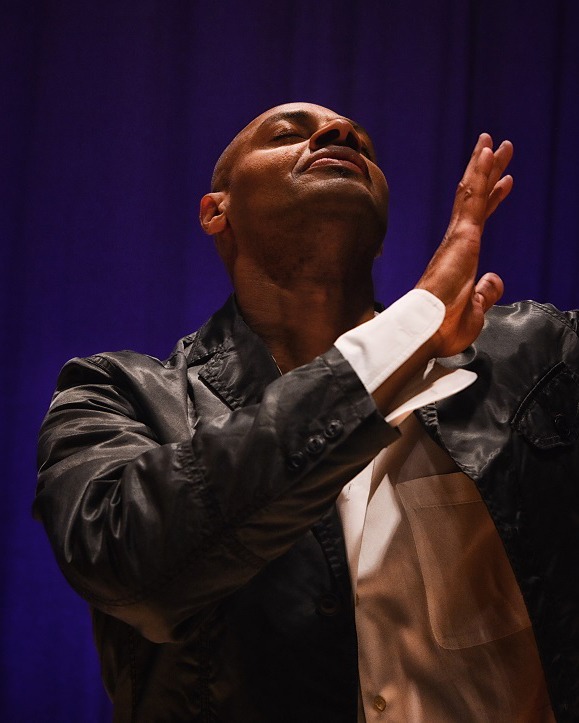 Social justice and the arts take center stage this fall as part of a virtual public series featuring CU Boulder and community artists and educators. 
"Dialogues on Art and Social Justice," a series sponsored by the Boulder County Arts Alliance and CU Boulder's Office for Outreach and Engagement, brings together Black, Indigenous and Latinx artists from campus and the community. Each event will feature artists in conversation with each other about their practice, experience and perspective on being an artist in the United States and how their work engages with social justice.
"We wanted to create space with these amazing artists and educators to reflect together on what it means to incorporate their lived experience into their art," said Lisa H. Schwartz, the office's community outreach program manager. "The intent is for the audience to learn from the conversation between the two artists as they talk about their art, identities and commitments to social justice."
These online conversations will include a presentation as well as time for audience questions. Registration for each virtual event is required; suggested donation is $5.
Unapologetically Bridging Art & Social Justice
September 30 • 5:30–6:45 p.m.
Click here to register for this Zoom meeting
CU Boulder Assistant Professor of Dance Helanius J. Wilkins and Holly Bass, a performance and visual artist, writer and director from Washington, D.C. will discuss how their identities and experiences shape their performance practices that are rooted in resilience and resistance.
Helanius Wilkins, a native of Lafayette, Louisiana, is an award-winning choreographer, performance artist, innovator, and educator. To date, he has choreographed and directed more than 60 works, including two critically acclaimed musical productions for Washington, D.C.'s Studio Theater. He founded the long running EDGEWORKS Dance Theater, an all-male dance company of predominantly African American men in Washington D.C. Currently, he is based in Boulder, where he is associate chair of the theatre and dance department and a CU Boulder assistant professor of dance. He is a member of the National Board of Directors of the American College Dance Association for the Northwest region and was appointed in 2018 by Governor Jared Polis to the Colorado Council on Creative Industries.
Holly Bass is a multidisciplinary performance and visual artist, writer and director. Her work has been presented at the Kennedy Center, the Smithsonian Museums, the Seattle Art Museum, Art Basel Miami Beach (Project Miami Fair) and the South African State Theatre. Her visual art work spans photography, installation, video and performance and can be found in the collections of the Corcoran Gallery of Art and the D.C. Art Bank, as well as private collections. She has published poems in numerous journals and anthologies. A gifted and dedicated teaching artist, she directed a year-round creative writing and performance program for adjudicated youth in Washington D.C.'s Department of Youth Rehabilitation Services as well as facilitating workshops nationally and internationally. She is currently the national director for Turnaround Arts at the Kennedy Center, a program which uses the arts strategically to transform schools facing severe inequities.
Heartwork: Indigenous Social Justice Perspectives
October 14 • 5:30–6:45 p.m.
Click here to register for this Zoom meeting
Tanaya Winder, director of CU Boulder Upward Bound, singer, songwriter and poet, together with Natani Notah, an interdisciplinary artist and educator will discuss how their art practice engages social justice through heartwork and the lens of Diné womanhood.
Tanaya Winder is an author, singer, songwriter, poet, motivational speaker and educator who comes from an intertribal lineage of Southern Ute, Pyramid Lake Paiute, Diné and Duckwater Shoshone Nations where she is an enrolled citizen. She is also African American. Through her presentations, Winder blends storytelling, singing and spoken word to teach about different expressions of love, emphasizing the importance of "heartwork" or the life path one is meant to follow by using gifts and passions. She is the director of CU Boulder's Upward Bound program, where she has served hundreds of Indigenous youth. She also co-founded Sing Our Rivers Red's MMIW earring exhibit. Her specialties include: youth & women empowerment, healing trauma through art, creative writing workshops and mental wellness advocacy.
Natani Notah is an interdisciplinary artist and educator. She is an enrolled member of the Navajo Nation (Diné) and part Lakota and Cherokee. Her work has been exhibited at the Tucson Desert Art Museum, the Gas Gallery in Los Angeles, the Holland Project in Reno, the Mana Contemporary in Chicago and SOMArts Cultural Center in San Francisco. Her current art practice explores contemporary Native American identity through the lens of Diné (Navajo) womanhood. Inspired by acts of decolonization, environmental justice, Indigenous feminism and futurism, Notah's work dares to imagine a world where Native sensibilities are magnified.
DragTivism: Queered Visions of Possible Futures
October 21 • 5:30–6:45 p.m.
Click here to register for this Zoom meeting
CU Boulder School of Education Assistant Professor José Ramón Lizárraga and renowned drag queen, educator and activist Persia will discuss how drag as a political artform mediates learning and transformation across communities.
José Ramón Lizárraga is an assistant professor of learning sciences and human development at CU Boulder and also a practicing visual artist and musician. As a learning scientist, Lizárraga uses ethnographic, video and multimodal research methods to investigate the role that social networks, television and other digital new media play in learning for both teachers and youth. Currently, his work examines the collaborative practices of teachers and adolescents in virtual and in-person learning. Lizárraga is an experienced designer and instructor of hybrid/blended (online/in-person) and online undergraduate and graduate teacher education courses. He has taught these courses at UC Berkeley, San Francisco State University and CU Boulder.
Persia is a San Francisco Bay Area drag queen, artist, educator and activist. They came into the national spotlight when their music video Google Google Apps Apps (a satirical commentary on gentrification and displacement) became viral. Currently, Persia is an ambassador for Drag Out the Vote.