CU Science Discovery Receives Statewide Recognition for Excellence
By Gretchen Minekime November 15, 2022
Share: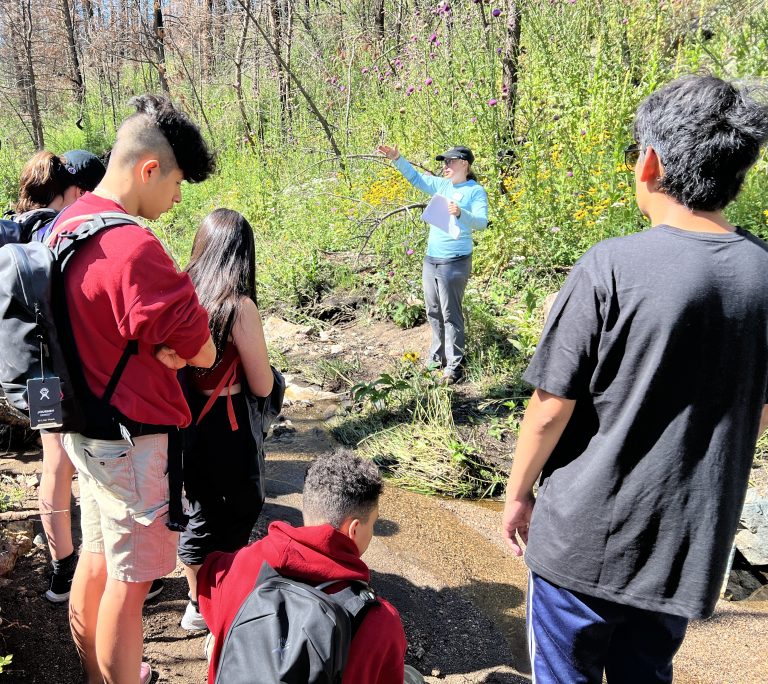 Cal-Wood field course
CU Science Discovery recently received two statewide awards in recognition of its efforts and achievements in STEM and environmental education.
This month the Forests and Fire Field Course received a 2022 Innovative Environmental Education Program Award from the Colorado Alliance for Environmental Education. The course was provided in partnership with Cal-Wood Education Center and financially supported by CU Boulder's Office for Outreach and Engagement and Nature Kids Lafayette. It also serves as a great example of how one project can actually support a network of work.
The program offered CU scientists opportunities to engage with teens, an audience they don't usually reach with their science. CU Earth Lab Research Scientist Mike Koontz led a field session for the 2021 course using drones to capture imagery of Cal-Wood's burned forest. He later incorporated the program into a recently funded NSF grant which will support the course for several more years. This summer, Katherine Lininger, assistant professor of geography, guided participants in collecting data from a fire-impacted stream as part of her NSF Broader Impacts activities, and Distinguished Professor Emeritus of Geography Tom Veblen and Professor Sarah Hart from CSU conducted a session about tree rings and the effect a tree's age has on the likelihood of being killed in a fire.
"These are excellent examples of how the Office for Outreach and Engagement's seed funding is often leveraged to acquire resources to sustain programs and involve more faculty members, students and community partners. CU Science Discovery is a campus leader in connecting our faculty's diverse expertise with opportunities for public impact," said David Meens, director for the Office for Outreach and Engagement.
This past summer the Office for Outreach and Engagement connected CU Science Discovery and the Eureka! McConnell Science Museum in Grand Junction. The organizations were co-awarded an $800,000 ESSER Expanded Learning Opportunities grant from the Colorado Department of Education, designed to address K-12 students' social and academic learning loss in the wake of the COVID-19 pandemic. Eureka! has been providing STEM enrichment to Western Slope communities for thirty years and is based on the Colorado Mesa University campus, along with a satellite location of CU Boulder's College of Engineering. The grant will allow CU Science Discovery and Eureka! to collaborate and coordinate best practices in STEM curriculum design, training and instruction to deliver a variety of STEM learning opportunities for students most adversely impacted by the pandemic. The latest advancements in technology, math, engineering and science will be available to participating K-12 students because of this cooperation between two of Colorado's leading universities.
"The ESSER grant will enable us to provide extensive out-of-school-time STEM programming for hundreds of students, both locally and on the western slope over the next two years," said Stacey Forsyth, director of CU Science Discovery. "We're excited to collaborate with our new partners at the EUREKA! Science Museum and to provide CU Boulder students, including those based in Grand Junction, with real-world experience in STEM outreach."
Tim Ogino, CU Science Discovery's manager of school and teacher programs, is overseeing the grant's activities within Boulder Valley School District and Adams 12 Five Star Schools. An after-school math program is already underway at four Family Resource Schools in Boulder. Thirteen CU undergraduates representing a mix of majors and one graduate student are working in teams and leading eight-week programs intended to foster positive associations with math for K-5 students.
"The CU students are role models and mentors for these children and have been extra creative about engaging and teaching them. The elementary students are definitely impressed by the college students. CU Boulder's value proposition comes down to its people and research. My dream is to have lots and lots of CU students involved with Science Discovery and more faculty thought partners. We only get better because of the people working with us," said Ogino.
Collaboration with CU faculty, students and an array of community partners enables CU Science Discovery to reach communities that otherwise might not have access to these types of experiences.
"We are actively working to improve our impact with underserved populations," said Ogino, "and we welcome the participation of other campus partners who are interested in helping us expand these efforts."For more information about participating in future and current CU Science Discovery programming throughout Colorado, or for assistance meeting NSF broader impacts requirements, visit CU Science Discovery's website or contact Stacey Forsyth.