Dance outreach steps it up in Paonia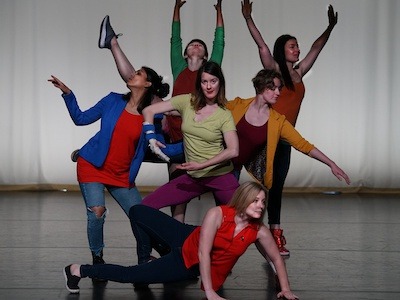 May 3, 2019 • by Sue Postema Scheeres
For the fifth year in a row, CU Boulder dance students will head to Paonia to lead dance outreach workshops and a public performance.
CU Contemporary Dance Works, which goes on tour each May to Colorado communities underserved by the arts, will teach dance workshops at Paonia Elementary, North Fork School of Integrated Studies and Paonia Experiential Leadership Academy from May 13 to 17.
In addition, the graduate dance students will perform "Interwoven" at the Paradise Theatre in Paonia, 215 Grand Ave., on Friday, May 17 at 7 p.m., which will feature Bollywood, contemporary, modern and Middle Eastern dance styles. Paonia students will choreograph dances and also perform.
Working with local and regional organizations allows dance students to apply the skills they are learning in the classroom, helping them to better understand what it means to work as dance professionals, said dance Assistant Professor Helanius Wilkins, who heads the program.
"It is a rare chance to dive deep into building programming and creative work through a collaborative process that involves working with partners and multi-aged students within the community," Wilkins said. "This experience also creates an opportunity for nurturing new relationships and expanding professional networks."
Building community through creative partnerships
The North Fork Valley Creative Coalition and Paonia Creative District are co-sponsoring the events. With the support of Colorado Creative Industries (CCI), a government division, these organizations are helping develop a vibrant and diverse creative economy in the North Fork Valley on Colorado's western slope.
Susie Lowe, board president of the coalition and district, found out about the dance tour while she was attending a conference for arts leaders at CU Boulder last fall, hosted by the Office for Outreach and Engagement.
Lowe said collaborations with outside groups like CU Boulder are vital to the nonprofits' success.
"Thanks to our creative district designation, we have the distinguished opportunity to partner with CU Boulder to bring high-caliber arts programming to Paonia," she said. "We are thrilled to be partnering on this immersive dance experience with such an esteemed institution as CU Boulder."
Lowe said that, as a small rural community, Paonia is isolated from universities, museums and cultural activities that are available in urban areas.
"For this reason, our collaboration with CU Boulder Theatre & Dance is a treasure," Lowe said. "Our hope is that our community will relish the opportunity to dive into various dance forms and walk away feeling inspired."
Dancing in the real world
Ondine Geary, CU Boulder's theatre and dance outreach coordinator, said many grant applications require artists to devise community engagement projects, and so the dance tour prepares them to work as professional artists.
"I hope the students can glimpse the richness of Delta County's community and come away with a greater appreciation for the power of engagement work, the power of their art form, and the ways in which dance can build community and uplift civic spirit," she said.
Dance Professor Nada Diachenko started the program in 1991 to bring dance to areas of the state with limited access to the arts and offer additional dance venues for students. This will be the fifth year that the dance company partners with Paonia community organizations, and before that was based in Trinidad. The program has served more than 20,000 people, and is CU Boulder's longest running outreach program.
The program is partially funded through a CU Boulder Outreach Award, which helps connect faculty research, teaching or creative work to communities.
Tickets for the performance are $10, which will be collected at the door. All proceeds will benefit the North Fork Valley Creative Coalition.
To find out more about the performance, contact Susie Lowe, board president of the North Fork Valley Creative Coalition and Paonia Creative District.
To find out more about the CU Contemporary Dance Works outreach program contact Ondine Geary, theatre and dance outreach coordinator.