Faces of Community-Engaged Scholarship: Jesús Muñoz
By Gretchen Minekime October 21, 2022
Share: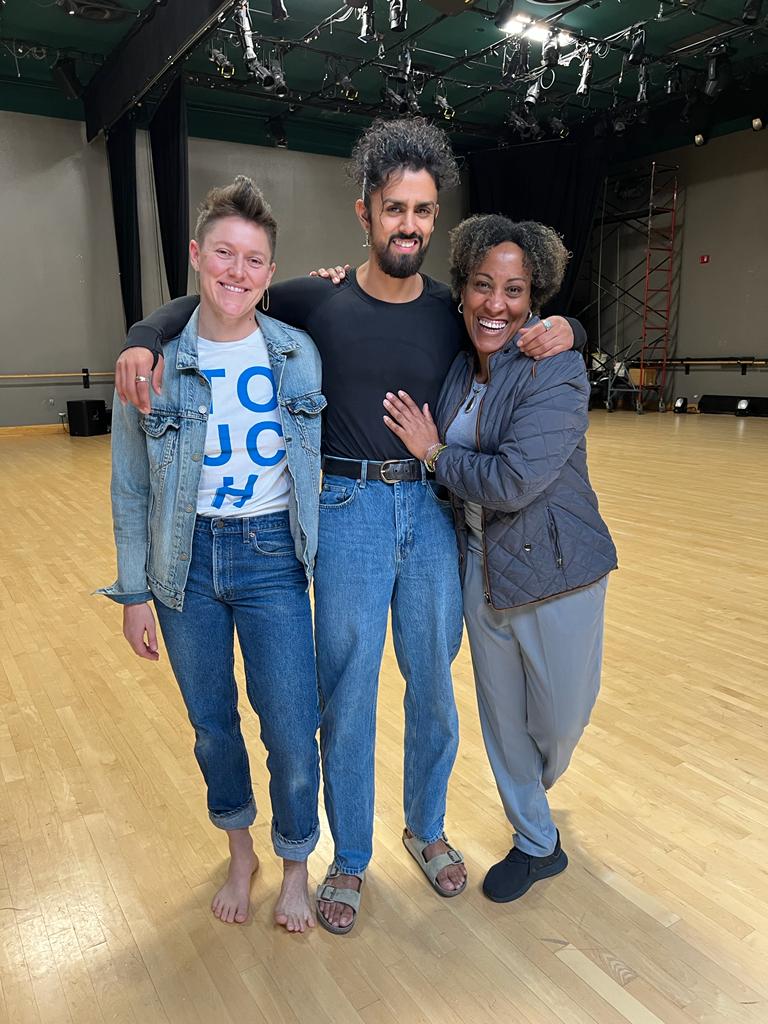 Anya Cloud (Assistant Professor, Theatre and Dance Department), Jesús Muñoz (MFA Dance Candidate, Theatre and Dance Department), and Marisol Blanco (Artist in Residence).
Jesús Muñoz knew three things when he enrolled at CU Boulder's Department of Theatre & Dance. He was known as a Ballet and Modern dancer, but his dance roots are in Mexican and Cuban Folkloric, Afro-Cuban, and Cuban Popular and Contemporary Dance. His presence as a Latinx MFA candidate and instructor would require him to represent a minority experience on campus. And, he wanted to connect his thesis to communities outside of academia.
How did community-engaged scholarship become part of your path?
I respect and am interested in the history and cultural meaning of Latinx Dance and had done lots of networking when I was a freelancer. CU Theatre & Dance is known for its decolonizing work, but Latinx Dance had not been part of the BFA/BA program so I aimed to introduce it.
You're a member of the Engaged Arts and Humanities Scholars. How does the program support your work?
My Engaged Arts and Humanities Scholars' project was really the culmination of my first two years working on my MFA in Dance. At the end of September, I hosted Marisol Blanco–my mentor in Latinx Dance. She taught five classes at CU Boulder and two community workshops.
We came up with a way to tie movement to life cycle themes from Afro-Cuban culture. On her last day at CU, Marisol taught the department's Radical Reimagining Series session (a three-year-old series centering anti-racist learning to foster the department's collective capacity) with a theme of connecting to nature. All week, we hadn't told the students the background of the daily themes, and they weren't familiar with Latinx Dance. We set it up so they could embody the experience and then articulate the connections. They got it! How we designed it worked.
To my way of thinking, my original idea was to recruit Latinx students, but my understanding has expanded. I know now that, even if it's Latinx Dance with white bodies, it's creating Latinx Art. This was such a strong experience for me as an educator.
Marisol also did two two-hour community workshops of dance, theory, values of Latinx culture, history and traditions. For me, this was a way to share with community members, who mainly view dance as only entertainment, the importance of the history and culture of this dance and connect them more with CU Boulder. Some community members even came to campus. Students were invited to the community workshops, but this was harder to make happen for logistical reasons.
My efforts re-introducing the department to Latinx Dance…until recently, they've just been service work. But, it's feeling more tangible now. I'm incorporating Latinx Dance into what I teach, the September events exposed many people to the work and CU and community studios now have relationships of their own with Marisol. Also, I'll be hosting a social dance event at BMoCA one Sunday a month to continue to create relationships between CU Boulder and the community.
How will you carry forward what this project has taught you?
It showed me that academia is not my only option after I get my MFA. I see now I'll be able to teach and create events that can be financially viable for me and that will continue to build relationship between CU and the Latinx community.
Doing community work really helped with my ability to go in and out of different spaces, to navigate many classes, communities and studios. Partnering with the community is inclusive.
It also informed how I think about my research. Being Latinx on a mostly white campus…well, what I do is seen as political. I always have to explain my work, my culture. But, using movement to expose people to Latinx Dance shares that labor and teaches. By doing the dance and embodying it, people experience it. I don't have to explain as much.
What's been the most challenging aspect of working through a community-engaged lens?
It's been tricky in terms of me coming to relationships knowing both worlds. I know the academic world and Latinx Dance as a social tool. To members of the Latinx community, it's entertainment, and it's not prevalent for people to perceive dance as a source of empowerment for marginalized people. So, going into these spaces, I had to listen, respect and relate to what community students wanted from me and Marisol. I had to negotiate within myself, immerse myself in the doing rather than the intellectual aspect. I approached teaching my CU classes and my community classes differently. But, there was also a co-mingling, because everyone expressed a desire for belonging.
This is why I'm most interested in continuing my work with community. It challenged me to stay open and to reformulate my perceptions and knowledge within dance.
Do you have ideas or advice for other graduate students about making community-engaged scholarship part of their approach?
Everyone has a sense of community. Everyone. I can only speak about my department. It claims an anti-colonial and decolonizing stance. So, know that you're coming into that environment and what you bring. Trying to assimilate these notions can take over identities. I tell students all the time to always try to be an artist first, to keep your identity's true essence. Community-engaged work is you putting yourself in a room full of different people. Be in these spaces, immerse yourself completely in the experience, embody it, let the artist lead. It will help you engage more, have more patience, more caring, more giving, more taking…so many things.
And also, for example, there was Indigenous Peoples' Day and Columbus Day, and there are tensions with that. Some of us rolled around campus–yes, literally rolled around the grass and pavement to reclaim land. There's a different intake of information with movement. It's a moment of pause and reflection that helps embody what we're doing. And community work requires that too.
To really understand others you have to also spend time with yourself and negotiate your identity–not to the point where you separate yourself from your values and integrity but so that you can open a space for conversation and connect with others. Movement is prevalent for everyone, but we often don't realize that our most significant moments are when we're really using our bodies.
More information about the Engaged Arts and Humanities Scholars program with the Office for Outreach and Engagement is available on our website. To learn more about Jesús's work with Marisol Blanco, read his interview with her.