Helping the homeless, one assessment at a time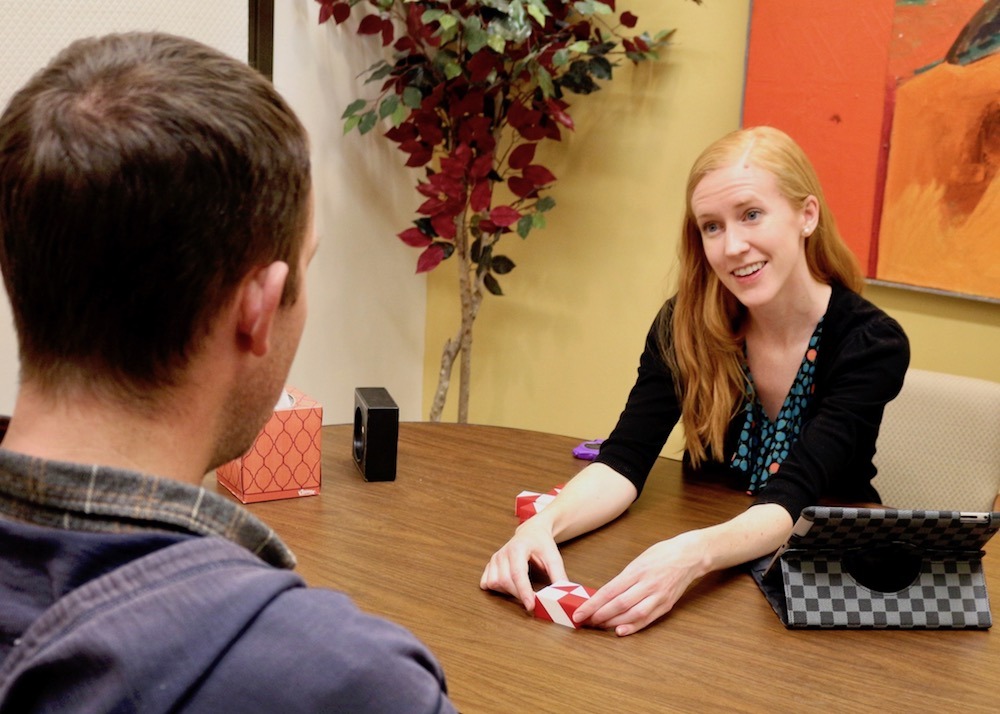 "I'm really proud of what we do, because we are able to provide the evidence that a judge is looking for to show there is an impairment that prevents that person from working. People don't outgrow an intellectual disability or easily overcome the debilitating effects of repeated head injuries."
Emily Richardson
Director, Brain Behavior Clinic
February 22, 2017 • by Sue Postema Scheeres
Like many homeless people, Sheila's challenges began when she was young. She dropped out of school at the age of 12, unable to add or subtract. As an adult, she found cleaning jobs until severe arthritis prevented her from working.
Even with these limitations, Sheila (not her real name) was routinely denied Social Security disability income and lived on the streets for years, one of the estimated 83,000 people in the United States who are chronically homeless.
All that changed in 2012, when Michael Block, director of programs at the Boulder Shelter for the Homeless, referred Sheila to the CU Boulder Brain Behavior Clinic, which provides free cognitive evaluations for homeless people.
Through testing, clinic director Emily Richardson and her graduate students discovered that Sheila had an IQ of 59, qualifying her for disability benefits.
At age 52, she could finally pay for a home and had access to Medicare.
"Getting disability benefits is a life changer on an individual level and that only happened for Sheila because of Emily and her team," Block said. "When I tell people that CU Boulder is making this type of testing available to our clients, they say 'Wow, how did you make that happen?' No one else is doing this."
A partnership is launched
Sheila's situation is not unique. Research shows that as many as half of all chronically homeless people may have undiagnosed cognitive deficits due to developmental disabilities, head injury, severe mental illness and/or years of substance abuse. One of Boulder County's priorities as part of its Ten Year Plan to Address Homelessness is to help homeless adults acquire benefits they are eligible for, including supplemental income, medical health coverage and access to other needed services.
Block approached Richardson when he realized that many of his clients with cognitive impairments would never receive benefits without an assessment showing their disability. The cost is prohibitive: psychologists typically charge between $1,000 and $2,000 for the specialized testing, which documents thinking abilities, such as memory and executive function, intellectual level (IQ), and the effects of medical issues from brain injuries or seizures.
"He came to me and explained that there are no services that provide these critical evaluations for homeless people and asked, 'Can we partner?'" recalled Richardson, a clinical neuropsychologist.
Richardson was motivated to look for ways to pay for the testing, and applied for a CU Boulder Outreach Award, which connects faculty research, teaching and creative work with public needs and interests. The program has received about $8,000 a year from outreach awards since 2012.
Adapting testing to the population's needs
Richardson started the Brain Behavior Clinic, part of CU Boulder's Department of Psychology and Neuroscience, in 2008 to provide hands-on neuropsychological assessment training to graduate students. Currently, the clinic tests about 25 adults each year, many of whom are referred from the homeless shelter and other agencies. Block said clients must show very clear cognitive impairment to receive a referral and often consults with Richardson first.
"We try to be good stewards of this resource," Block said.
To streamline the process, the CU Boulder team provides a script to referral agencies who explain to the homeless person what to expect from the assessment so it's not overwhelming. Shelter staff members meet with new graduate students to describe what it's like to be homeless in the U.S.
"Homelessness is shameful in our country and is looked on as a moral defect rather than a tragic combination of bad luck," Block said. "When our clients go for testing on CU Boulder's campus, they are completely out of their realm. And then to have to sit for this long assessment, that's tough. They need a framework since there is a lack of insight about why the testing is important."
Richardson said working with homeless clients has presented logistical challenges. People often come hungry, so the clinic provides snacks before testing. Most of their homeless clients can't concentrate for three hours, so the tests are divided into two or three sessions. Scheduling can be problematic.
There are deeper, more fundamental issues as well. Traditional testing relies on gathering personal histories from relatives, but most clients have lost touch with their families. Some may have learned to mask their impairment to survive on the streets, and it takes the skill of trained neuropsychologists to uncover their story.
Graduate student Rachel Thayer said she has developed a deep appreciation of the challenges her clients face.
"Many people who come here have had injuries in serious accidents, or have never had social support. They've often been victims of extremely difficult circumstances," Thayer said.
She said it is rewarding to provide clients with information about their cognitive and mental health that can improve their lives.
"It's really inspired me to continue in neuropsychology," said Thayer, who begins a clinical internship in neuropsychology at the University of California San Diego this summer.
A groundbreaking model
Due to the success of the partnership, the clinic now takes referrals from other agencies that work with indigent or low-income people as well as physicians or attorneys who serve low-income Medicaid patients.
"I'm really proud of what we do, because we are able to provide the evidence that a judge is looking for to show there is an impairment that prevents that person from working," Richardson said. "People don't outgrow an intellectual disability or easily overcome the debilitating effects of repeated head injuries."
While there are programs around the country that partner with doctors who do cognitive testing or pay for testing through grants, having access to a free service from a university is unusual, said Kristin Lupfer, project director at SOAR, a national organization that seeks to end homelessness through increased access to Social Security Income and Social Security Disability Income.
"I think this partnership is probably not only unique to Colorado, but it is pretty unique to the country as a whole," Lupfer said.
While the program is connecting homeless people to much needed services, Block cautioned that the assessments in and of themselves will not solve a significant societal challenge.
"These assessments will not end homelessness on their own, nor will mental health care, physical health care, shelters or acquiring benefits," he said. "In the end, we hope that all of these efforts combine to provide an opportunity for people to recover from the tragedies that left them homeless."