Impulse control is just a click away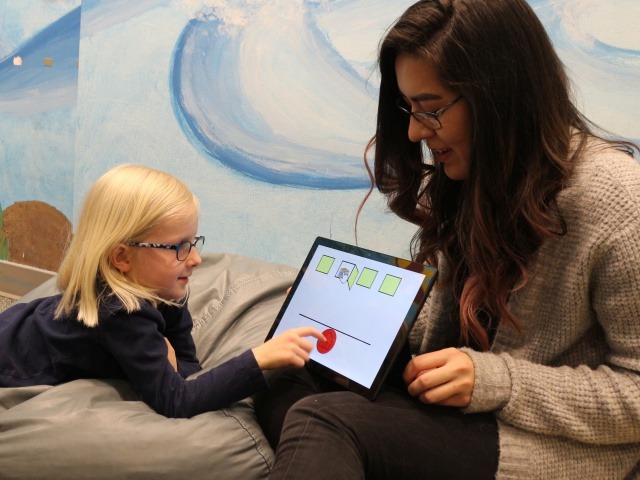 IF YOU GO
When
Now through April 30
Saturdays, 10 a.m.–1 p.m.
Sundays, 10 a.m.–1 p.m.
Tuesdays (only March 5 and April 2), 4–7 p.m.
Where
Children's Museum of Denver at Marsico Campus
2121 Children's Museum Dr., Denver, CO
Cost
Free with cost of admission
March 4, 2019 • by Sue Postema Scheeres
Any parent knows that helping children develop self-control can be daunting. A new University of Colorado Boulder interactive research program at the Children's Museum of Denver at Marsico Campus may make that job a little easier.
This spring, CU Boulder psychology and neuroscience students are helping parents and caregivers better understand impulse control through a hands-on activity for their children, sharing current research and offering the chance to participate in a CU Boulder research study.
The educational program, which runs through April 30, was created through a partnership between the museum and Yuko Munakata, a CU Boulder professor of psychology and neuroscience, and supplements the museum's many educational resources.
Munakata, who directs CU Boulder's Cognitive Development Center, said developing impulse control during childhood can predict health and wellness in adulthood.
"We have developed a new theory about why children struggle with inhibitory control and what allows them to get better," Munakata said. "We want to share our research findings with the public and test a prediction that reminding children not to do something is a more effective way for them to develop impulse control than telling them to wait before they act. We have tested this on preschoolers and want to see if this is also true for older children."
Sarah Brenkert, the museum's senior director of education and evaluation, said the partnership benefits museum staff and guests by giving them first-hand experience with cutting-edge research in cognitive science and child development.
"Current research in psychology and brain development reveals just how critical relationships and responsive interactions between children and adults are to young children's learning and development," Brenkert said. "We are using the work of Munakata and her team to help us reimagine future exhibits based in neuroscience and to intentionally promote and support this research."
With guidance from Munakata and museum staff, the CU Boulder students have created a computer activity where children are told to only click on certain boxes to see a puppy. Because children develop an impulse to click on any box hoping to see a puppy, it can be difficult for them to follow the instructions.
"This lets us test how providing different types of support can help them remember the rules of the game and control their behavior," said Jade Yonehiro, a graduate student in psychology and neuroscience.
While the children are playing the game, the undergraduate and graduate student research assistants talk with families about experimental methods and provide them with information about the child development research. The students run the program during the university's academic year, interacting with about 40 children and adults each session.
Yonehiro said this experience has taught her and other CU Boulder students how to communicate science with the public and other concepts they couldn't learn in the classroom.
"Not only do you need to make the information approachable and easily understood, but you need to be able to communicate why it is important and how it can apply to people's lives," Yonehiro said. "I also find that children and parents ask awesome questions that my peers and mentors may not even consider. Getting these outside perspectives is invaluable."
The partnership started in 2012 and is based on the National Living Laboratory model, a nationally recognized program developed at the Museum of Science in Boston to educate the public about child development through interactive science activities.
The program receives funding from a CU Boulder Outreach Award and the National Science Foundation; it focuses on a different aspect of child development each year.