A Colorado-Brazil Program on Sustainable Development Education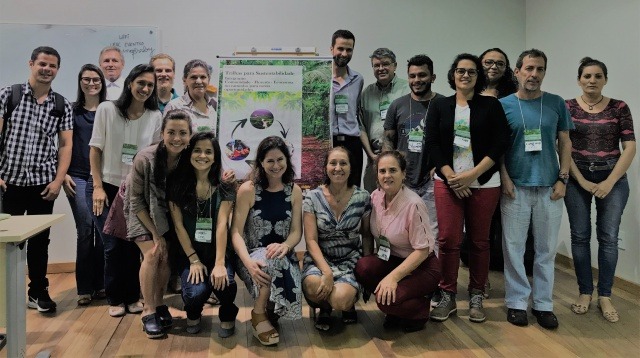 Program Contact
Peter Newton
peter.newton@colorado.edu
The Colorado-Brazil Program on Sustainable Development Education responds to requests from several Brazilian institutions: the former and current Governors of the state of Amazonas; the State University of Amazonas (UEA); and the State University of Santa Cruz (UESC), Bahia. UESC joined with the University of Colorado Boulder (CU Boulder) in 2018-19 to establish an interdisciplinary program of education and exchange (supported by CU Boulder's Office of Outreach and Engagement). UEA developed an understanding with CU Boulder in 2019, to establish collaborative opportunities around a new Rainforest Social Business School. All partners are extremely keen to develop this program.
The project focuses on conservation and sustainable development in Brazil's forests. Governments, NGOs, universities, communities, and businesses in Amazonas (in the Amazon forest biome) and southern Bahia (in the Atlantic Forest biome) are grappling with the challenge of how to conserve tropical forests while promoting sustainable pathways of low-emissions development. Their aim is to develop diversified forest-centric economies that can achieve climate change mitigation, biodiversity conservation, and sustainable livelihood objectives, and to avoid the business-as-usual trends of deforestation, fires, biodiversity loss, poverty, and inequality.
For Amazonas and Bahia to be successful, they need to: a) train a cohort of skilled, motivated, and experienced young professionals to work at the science-policy interface; and b) develop international partnerships that support their objectives. This project will address these needs by continuing a program of education and exchange that will: a) train graduate students from UEA, UESC, and  CU Boulder; and b) create opportunities for lasting partnerships between these students and their professors. We will do so by teaching an interdisciplinary field course on sustainable development in Brazil's forests in May 2022.
Course Development and Planning

---

Location

In Person

Gold Biosciences

on campus

Public or Private

Private Program (by request only or for a specific audience or group)

Program Fee

Not Applicable

Education Abroad class in Brazil

Additional Info

The course will take place during Maymester 2022.

---

Location

In Person

Gold Biosciences

outside colorado

Amazonas, Brazil Bahia, Brazil

Public or Private

Private Program (by request only or for a specific audience or group)
Sponsoring Units
College of Arts & Sciences

Environmental Studies Program

College of Engineering & Applied Science

Department of Civil, Environmental, & Architectural Engineering
Mortenson Center in Global Engineering
Program Partners
Laboratory for Energy and Environmental Policy Innovation (LEEP), University of Colorado Boulder
Governors' Climate and Forests Taskforce (GCF)
State University of Amazonas (UEA), Amazonas
State University of Santa Cruz (UESC), Bahia
Instituto Floresta Viva (IFV)
Audiences Served
Adult Learners
Government
Indigenous Populations
International
Rural Communities
Socioeconomically Disadvantaged