Building Community Knowledge Around Sustainable Neighborhood Design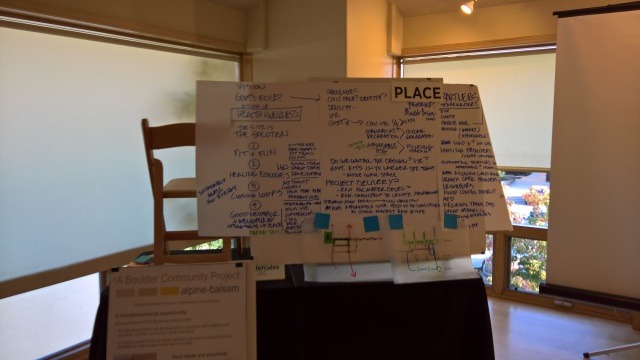 Program Contact
Brian Muller
Associate Professor
brian.h.muller@colorado.edu
303.492.7106
This project is one of six Community Design Workshop initiatives organized through the MetroLab partnership between the university and the cities of Boulder, and the cities of Longmont, Lyons and Denver, and Boulder County.
Community Design Workshop Goals
Support students in multiple classes to participate in community engagement and design training;

Identify opportunities and priorities for neighborhood revitalization based on interviews and interactions with residents, other stakeholders, users of the area city staff;

Develop design and policy solutions to selected problems emerging through these discussions;

Engage residents and users of the area in a dialogue about ideas for neighborhood revitalization through interactive presentations and performances of student work.
In this project on the site previously occupied by the Boulder Community Hospital in Boulder, student and faculty work addressed an array of sustainable design and development opportunities. These helped create a baseline of ideas, designs and knowledge that were deployed in workshops led by student groups, on a website and publication, and through participation in city community engagement events and a presentation to the city council, in order to broaden community dialogue about development options for the site. The project involved collaborative work across multiple disciplines and classes including faculty and staff in environmental studies, environmental design and others.
Community Design Workshop: Building Community Knowledge Around Sustainable Neighborhood Design

---

Location

in colorado

Boulder

Public or Private

Public Program (open to the public)

Program Fee

No charge to attend/participate in activity or program
Sponsoring Units
College of Arts & Sciences

Environmental Studies Program

Graduate School

Program in Environmental Design
Program Partners
City of Boulder
Goose Creek Neighborhoods
MetroLab Initiative
Community Engagement Design and Research Center
Program in Environmental Design
CU Engage
Environmental Studies Program
Masters in Environmental Design
Audiences Served
Families
General Public
Historically Excluded/Marginalized/Non-dominant Group(s)
Non-Profit Organization
Senior Citizens
Students - Elementary School
Urban Communities