Business Research Division Outreach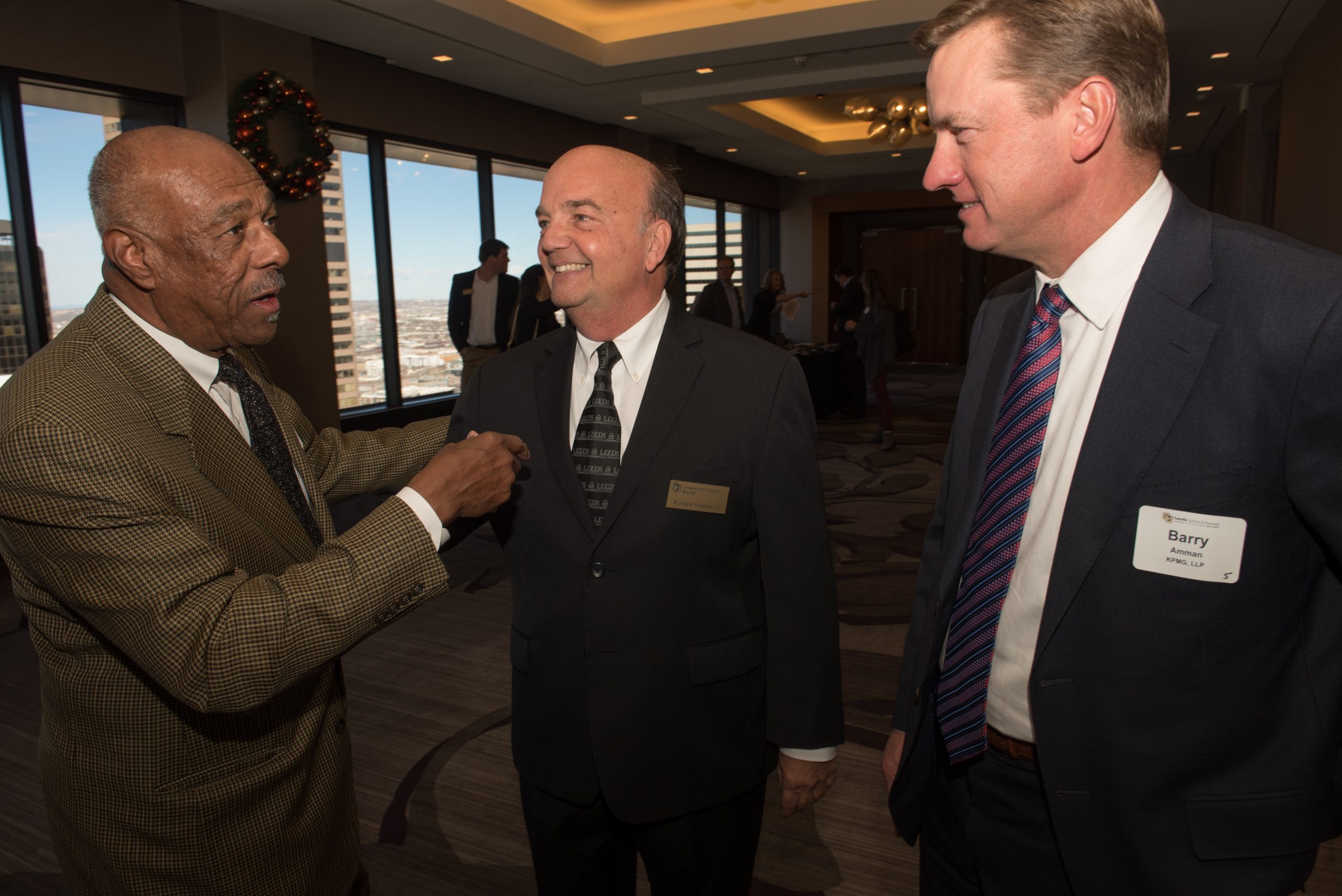 Program Contact
Brian Lewandowski
brian.lewandowski@colorado.edu
Serving Colorado since 1915, the Business Research Division (BRD) at CU Boulder's Leeds School Business has provided economic and demographic information to businesses, governments and nonprofits. Specializing in economic and fiscal analysis, market research and custom research projects, the division also produces the longest-running annual forecast of the state's economy, now in its 50th year.
Other helpful decision-making tools include the quarterly Leeds Business Leaders Confidence Index, a forward-looking index that gauges Colorado business leaders' opinions about the economy, and the quarterly newsletter, the Colorado Business Review (CBR).
A select list of research projects appears below.
Ongoing Projects
Colorado Business Economic Outlook
This annual forecast of the state's economy analyzes changes that have taken place in all economic sectors during the past year, and looks at the opportunities and challenges that will shape the changes in Colorado's population, employment, and overall economy for the coming year. The information is initially presented in early December in Denver at the Colorado Business Economic Outlook Forum and is also published in hard copy format and on the division's website. Additional forecast presentations are made throughout the state during the year, ranging from industry associations and nonprofit organizations to the Federal Reserve Bank of Kansas City.
Leeds Business Confidence Index
A forward-looking index that gauges business leaders' opinions about national and state economic trends and how their industry will perform in the coming quarter. Each quarter, Colorado business leaders are invited to complete a brief online survey about next-quarter expectations. The survey results are then compiled into the LBCI.
Colorado Business Review
The quarterly CBR newsletter explores current topics of importance to the state's economy. Recent issues examined Colorado's Western Slope, the state's Professional and Business Services Sector, and the energy and retail industries.
Colorado Secretary of State
Published quarterly, business filings statistics from the Colorado Secretary of State's Office are analyzed and supplemented with other relevant economic metrics, such as employment, wages, prices, and GDP.
Custom Research Projects
RTD Forecast Model (2011-2017)
The BRD was contracted to develop a forecasting model for RTD revenues over the short, medium, and long term. Revenue projections are presented in biannual reports for the three forecast horizons.
The Economic Contribution of Federally Funded Research Facilities in Colorado FY2013-FY2015 (2017)
This study updated an economic and fiscal impact analysis of federal research facilities on Colorado, as well as on counties of operations, using IMPLAN.
Rural Colorado Economic Resiliency, Study of Factors Impacting Rural Economic Growth 1990-2014 (2016)
Focus groups were held around the state to determine the factors that help or hinder a community's resiliency.
Boulder Arts Week Survey of Attendees (2016)
Boulder Arts Week (BAW) attendees were surveyed during the 2016 event in order to obtain feedback on BAW and on specific events.
Colorado Brewers Guild: Craft Brewers Industry Overview and Economic Impact 2014 and 2015 (2016)
The economic impacts of the craft brewing industry on the state of Colorado, including both breweries and brewpubs, are quantified in this study.
Study of Primary Employers in the City of Boulder (2016)
This research updated the 2012 study of primary employers in the city of Boulder.
AGC Presentation

Public or Private

Private Program (by request only or for a specific audience or group)

Program Fee

No charge to attend/participate in activity or program

Additional Info

Economic Impact Model Presentation; Zoom


EDCC 2019 Presentation

Location

in colorado

Colorado Springs

Public or Private

Private Program (by request only or for a specific audience or group)

Program Fee

No charge to attend/participate in activity or program

2021 Boulder Economic Forecast

Location

in colorado

Boulder

Dates

1/28/2021 - 1/28/2021

Public or Private

Public Program (open to the public)

Additional Info

This annual economic and business outlook event features nationally recognized economists highlighting economic statistics and trends for the Boulder area. The 2021 Forecast includes a virtual presentation by CU Boulder's Brian Lewandowski & Richard Wobbekind who will present on key indicators and metrics. https://business.boulderchamber.com/events/details/2021-boulder-economic-forecast-20676

2021 Colorado Economic Forecast

Location

in colorado

Denver

Dates

1/13/2021 - 1/13/2021

Public or Private

Public Program (open to the public)

Program Fee

No charge to attend/participate in activity or program

Additional Info

Colorado Companies to Watch, a statewide awards program recognizing growing companies focused on economic development, will host this virtual forum about the Colorado Economic Outlook. BRD leaders will discuss the Outlook's predictions about Colorado's recovery and the economic and employment impact. Register now:
https://coloradocompaniestowatch.org/our-events/2021-colorado-economic-forecast/

2021 Southwest Economic Outlook presentations

Location

in colorado

Durango

Dates

1/7/2021 - 1/7/2021

Public or Private

Public Program (open to the public)

Program Fee

No charge to attend/participate in activity or program

Additional Info

As part of an annual forum at Fort Lewis College, researchers virtually discussed economic affairs in southwest Colorado, the rest of the state and the United States. Presenters included: CU Boulder's Richard Wobbekind; Laura Lewis-Marchino from Region 9 Economic Development District of Southwest Colorado; and Tim Quinlan from Wells Fargo Securities. http://bit.ly/3njtisc


Economic Outlook Forum (Grand Junction)

Location

in colorado

Grand Junction

Dates

12/14/2020 - 12/14/2020

Public or Private

Private Program (by request only or for a specific audience or group)

Program Fee

No charge to attend/participate in activity or program

Additional Info

Richard L. Wobbekind presented the Economic Outlook virtually as part of an annual event presented by the Grand Junction Chamber of Commerce.

Colorado Business Outlook Forum

Location

in colorado

Denver

Dates

12/7/2020 - 12/7/2020

Public or Private

Public Program (open to the public)

Program Fee

No charge to attend/participate in activity or program

Additional Info

The 56th Annual Colorado Business Economic Outlook was held virtually to provide professionals across nearly every industry in the state with a forecast of Colorado's economy by sector. This economic forecast was developed in partnership with 125 private and public leaders across Colorado. Watch recording: https://www.colorado.edu/business/brd/colorado-business-economic-outlook-forum

Leeds Business Insights Presentation

Dates

7/20/2020 - 7/20/2020

Public or Private

Private Program (by request only or for a specific audience or group)

Program Fee

No charge to attend/participate in activity or program

Additional Info

Alumni Presentation; Zoom


AUBER Presentation

Dates

6/18/2020 - 6/18/2020

Public or Private

Private Program (by request only or for a specific audience or group)

Program Fee

No charge to attend/participate in activity or program

Additional Info

COVID Economic Discussion - Tourism Impact; Zoom


Boulder City Council Presentation

Dates

6/9/2020 - 6/9/2020

Public or Private

Private Program (by request only or for a specific audience or group)

Program Fee

No charge to attend/participate in activity or program

Additional Info

Boulder Tax Revenue Forecast; Zoom


Colorado Workforce Development Council: Data Series Workshop

Dates

6/4/2020 - 6/4/2020

Public or Private

Private Program (by request only or for a specific audience or group)

Program Fee

No charge to attend/participate in activity or program

2020 Virtual ITGA City & University Relations Conference

Dates

6/1/2020 - 6/1/2020

Public or Private

Private Program (by request only or for a specific audience or group)

Program Fee

No charge to attend/participate in activity or program

EMBA Presentation

Dates

5/29/2020 - 5/29/2020

Public or Private

Private Program (by request only or for a specific audience or group)

Program Fee

No charge to attend/participate in activity or program

Additional Info

Collaborating to Evaluate the Competitive Advantages of Your Innovation Ecosystem; Zoom


International Society for Pharma Engineers ISPE Rocky Mountian Chapter Presentation

Dates

5/28/2020 - 5/28/2020

Public or Private

Private Program (by request only or for a specific audience or group)

Program Fee

No charge to attend/participate in activity or program

Additional Info

COVID Economic Discussion; Zoom


Boulder Together Presentation

Dates

5/27/2020 - 5/27/2020

Public or Private

Private Program (by request only or for a specific audience or group)

Program Fee

No charge to attend/participate in activity or program

Additional Info

COVID Economic Discussion; Zoom


Economics Club of Colorado Presentation

Dates

5/27/2020 - 5/27/2020

Public or Private

Private Program (by request only or for a specific audience or group)

Program Fee

No charge to attend/participate in activity or program

Additional Info

COVID Economic Discussion; Zoom


BizWest Northern Colorado Presentation

Dates

5/26/2020 - 5/26/2020

Public or Private

Private Program (by request only or for a specific audience or group)

Program Fee

No charge to attend/participate in activity or program

Additional Info

COVID Economic Discussion; Zoom


Colorado Stone, Sand, and Gravel Association Presentation

Dates

5/20/2020 - 5/20/2020

Public or Private

Private Program (by request only or for a specific audience or group)

Program Fee

No charge to attend/participate in activity or program

Additional Info

COVID Economic Discussion; Zoom


Boulder County Workforce Board Presentation

Dates

5/15/2020 - 5/15/2020

Public or Private

Private Program (by request only or for a specific audience or group)

Program Fee

No charge to attend/participate in activity or program

Additional Info

COVID Economic Discussion; Zoom


Colorado Municipal League Presentation

Dates

5/12/2020 - 5/12/2020

Public or Private

Private Program (by request only or for a specific audience or group)

Program Fee

No charge to attend/participate in activity or program

Additional Info

COVID Economic Discussion; Zoom


Leeds Business Insights Presentation

Dates

4/30/2020 - 4/30/2020

Public or Private

Private Program (by request only or for a specific audience or group)

Program Fee

No charge to attend/participate in activity or program

Additional Info

COVID Economic Discussion; Zoom


Boulder City Council Presentation

Dates

4/28/2020 - 4/28/2020

Public or Private

Private Program (by request only or for a specific audience or group)

Program Fee

No charge to attend/participate in activity or program

Additional Info

COVID Economic Discussion; Zoom


House Democratic Caucus

Dates

4/24/2020 - 4/24/2020

Public or Private

Private Program (by request only or for a specific audience or group)

Program Fee

No charge to attend/participate in activity or program

Additional Info

COVID Economic Discussion; Zoom


Boulder Economic Council Presentation

Dates

4/16/2020 - 4/16/2020

Public or Private

Private Program (by request only or for a specific audience or group)

Program Fee

No charge to attend/participate in activity or program

Additional Info

COVID Economic Discussion; Zoom


Colorado Chamber

Dates

4/15/2020 - 4/15/2020

Public or Private

Private Program (by request only or for a specific audience or group)

Program Fee

No charge to attend/participate in activity or program

Additional Info

COVID Economic Discussion; Zoom


MBA Presentation

Dates

4/15/2020 - 4/15/2020

Public or Private

Private Program (by request only or for a specific audience or group)

Program Fee

No charge to attend/participate in activity or program

Additional Info

COVID Economic Discussion; Zoom


RTD Board Economic Presentation

Dates

4/14/2020 - 4/14/2020

Public or Private

Private Program (by request only or for a specific audience or group)

Program Fee

No charge to attend/participate in activity or program

Additional Info

COVID Economic Discussion; Zoom


Leeds Board Economic Presentation

Dates

4/3/2020 - 4/3/2020

Public or Private

Private Program (by request only or for a specific audience or group)

Program Fee

No charge to attend/participate in activity or program

Additional Info

COVID Economic Discussion; Zoom


Leeds Business Insights Presentation

Dates

3/31/2020 - 3/31/2020

Public or Private

Private Program (by request only or for a specific audience or group)

Program Fee

No charge to attend/participate in activity or program

Additional Info

COVID Economic Discussion; Zoom


Economic Development Council of Colorado Presentation

Location

in colorado

Denver

Dates

3/12/2020 - 3/12/2020

Public or Private

Private Program (by request only or for a specific audience or group)

Program Fee

No charge to attend/participate in activity or program

Colorado Association of Ski Towns Presentation

Location

in colorado

Denver

Dates

3/5/2020 - 3/5/2020

Public or Private

Private Program (by request only or for a specific audience or group)

Program Fee

No charge to attend/participate in activity or program

CU Real Estate Presentation

Location

in colorado

Denver

Dates

2/26/2020 - 2/26/2020

Public or Private

Private Program (by request only or for a specific audience or group)

Program Fee

No charge to attend/participate in activity or program

Denver Business Series Presentation

Location

in colorado

Denver

Dates

2/4/2020 - 2/4/2020

Public or Private

Private Program (by request only or for a specific audience or group)

Program Fee

No charge to attend/participate in activity or program

Boulder Economic Council Boulder Innovation Venture 2.0 Presentation

Location

in colorado

Denver

Dates

1/30/2020 - 1/30/2020

Public or Private

Private Program (by request only or for a specific audience or group)

Program Fee

No charge to attend/participate in activity or program

Additional Info

2020 Economic Forecast Boulder & Beyond


Boulder Economic Forecast Presentation

Location

in colorado

Boulder

Dates

1/30/2020 - 7/30/2020

Public or Private

Private Program (by request only or for a specific audience or group)

Program Fee

No charge to attend/participate in activity or program

Alumni Webinar

Dates

1/15/2020 - 1/15/2020

Public or Private

Private Program (by request only or for a specific audience or group)

Program Fee

No charge to attend/participate in activity or program

Southwest Business Forum Presentation

Location

in colorado

Durango

Dates

1/9/2020 - 1/9/2020

Public or Private

Private Program (by request only or for a specific audience or group)

Program Fee

No charge to attend/participate in activity or program

Boulder Innovation Venture 2.0 Espirit Presentation

Location

in colorado

Boulder

Dates

11/14/2019 - 11/14/2019

Public or Private

Private Program (by request only or for a specific audience or group)

Program Fee

No charge to attend/participate in activity or program

CU Construction Engineering Management Fall 2019 Meeting Presentation

Location

on campUS

Engineering Center

Dates

11/13/2019 - 11/13/2019

Public or Private

Private Program (by request only or for a specific audience or group)

Program Fee

No charge to attend/participate in activity or program

AUBER Energy Panel Presentation

Dates

10/13/2019 - 10/13/2019

Public or Private

Private Program (by request only or for a specific audience or group)

Program Fee

No charge to attend/participate in activity or program

Leeds Board Meeting Presentation

Location

on campUS

Business, Leeds School of

Dates

10/8/2019 - 10/8/2019

Public or Private

Private Program (by request only or for a specific audience or group)

Program Fee

No charge to attend/participate in activity or program

NABE Energy Panel Presentation

Dates

10/7/2019 - 10/7/2019

Public or Private

Private Program (by request only or for a specific audience or group)

Program Fee

No charge to attend/participate in activity or program

Denver South Economic Development Partnership Presentation

Location

in colorado

Englewood

Dates

10/3/2019 - 10/3/2019

Public or Private

Private Program (by request only or for a specific audience or group)

Program Fee

No charge to attend/participate in activity or program

MENV Data Tools Workshop

Location

on campUS

Sustainability, Energy & Environment Community (SEEC)

Dates

9/12/2019 - 9/12/2019

Public or Private

Private Program (by request only or for a specific audience or group)

Program Fee

No charge to attend/participate in activity or program

EDCC Innovation Presentation

Location

in colorado

Colorado Springs

Dates

8/14/2019 - 8/14/2019

Public or Private

Private Program (by request only or for a specific audience or group)

Program Fee

No charge to attend/participate in activity or program
Sponsoring Units
Leeds School of Business

Business Research Division
Audiences Served
Alumni/Parents/Friends
Business
General Public
Government
Media
Non-Profit Organization
Rural Communities
Urban Communities