Colombian Displaced Communities: Planning and Urban Design Seminar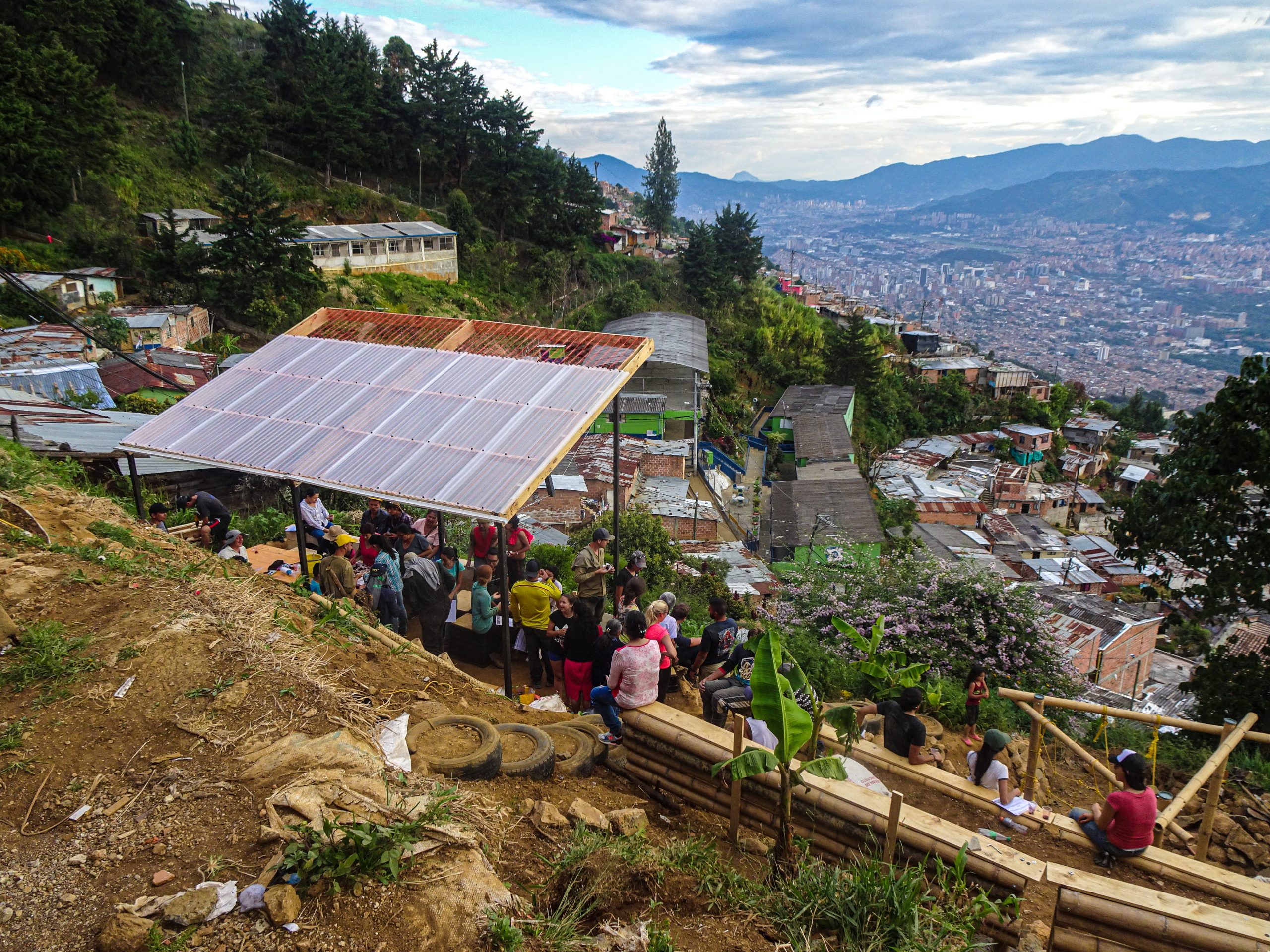 Program Contact
Jota Samper
jota@colorado.edu
619.808.9461
Through a six-week summer course, environmental design and other CU Boulder students study and work in Carpinelo 2, an unplanned settlement near Medellin, Colombia that was formed when people fled the city because of violence. The thousands of residents have created infrastructure, businesses, and community centers from the ground up. During 2022, students will collaborate with residents to create community development plans and design infrastructure to mitigate landslides, water access, public spaces, and more.
The area surrounding metropolitan Medellin has many informal, unplanned settlements that lack the mechanisms to stop encroachment and urban sprawl. These municipalities (eight in total) are seeing in increase in dwellers that arrive at the region in search of a safer and better economic future. Over the last ten years, these areas have seen the emergence of entire neighborhoods containing thousands of informal dwellers. Manantiales de Paz in the municipality of Bello is a perfect case study of this phenomenon; it is a six-year-old neighborhood where most development is the result of informal dwellers' work. Street networks, water, sewer and power are provided by informal entrepreneurs and the actions of the community board of Manantiales de Paz, as students will discover in our visit.
The overall goal of this trip is for students to understand the potential impact of our project. They will develop and refine their design skills, and understand and work with the members of a community in need.
During our time in Medellin, CU Boulder students will learn through workshops, lectures, site visits, studio work, and hands-on experiences. The first week will be spent developing research skills through fieldwork, including photography, video, sound recording, and sketches of the Manantiales community. Additional information will be gathered from the community via observation and interviews. Students will work together to produce a narrative of key learning objectives in a PowerPoint. The following week will be spent developing skills to inform design through research. Students will understand the manifestations of informal forms and use drawings, diagrams, cartography, and timelines to show these relationships. A collection of our research will be illustrated through multiple forms of media. The third week will be spent identifying community goals and their equivalent urban forms: understanding catalyst projects for the development of community goals is crucial to the success of planning these urban forms. Exploring project alternatives and identifying potential stakeholders comes next. After careful analysis of these subjects, students will create presentation boards to show their design intentions. The fourth week in Medellin will be spent acquiring and developing skills to design a physical intervention that will improve the community's social/ecological performance. The final two weeks will be dedicated to the construction of the designed infrastructure projects co-developed with community members the last week most important task would be the delivery of revised student work to the community.
Building Improvements in Carpinelo Dos

Location

outside colorado

Medellin, Colombia

Public or Private

Public Program (open to the public)

Program Fee

Not Applicable

Additional Info

Activity happens on weekends with community members in Capinelo 2.
Sponsoring Units
Graduate School

Program in Environmental Design
Program Partners
Universidad de San Buenaventura, Medellin, Colombia
Corporacion Convivamos
Mobility Movilidad
Carpinelo Dos Planning Council
Audiences Served
Adult Learners
Children & Youth (outside school)
Families
General Public
Historically Excluded/Marginalized/Non-dominant Group(s)
Indigenous Populations
International
Non-Profit Organization
Socioeconomically Disadvantaged
Urban Communities
Youth Placed At Risk