Colorado Archaeology in the Classroom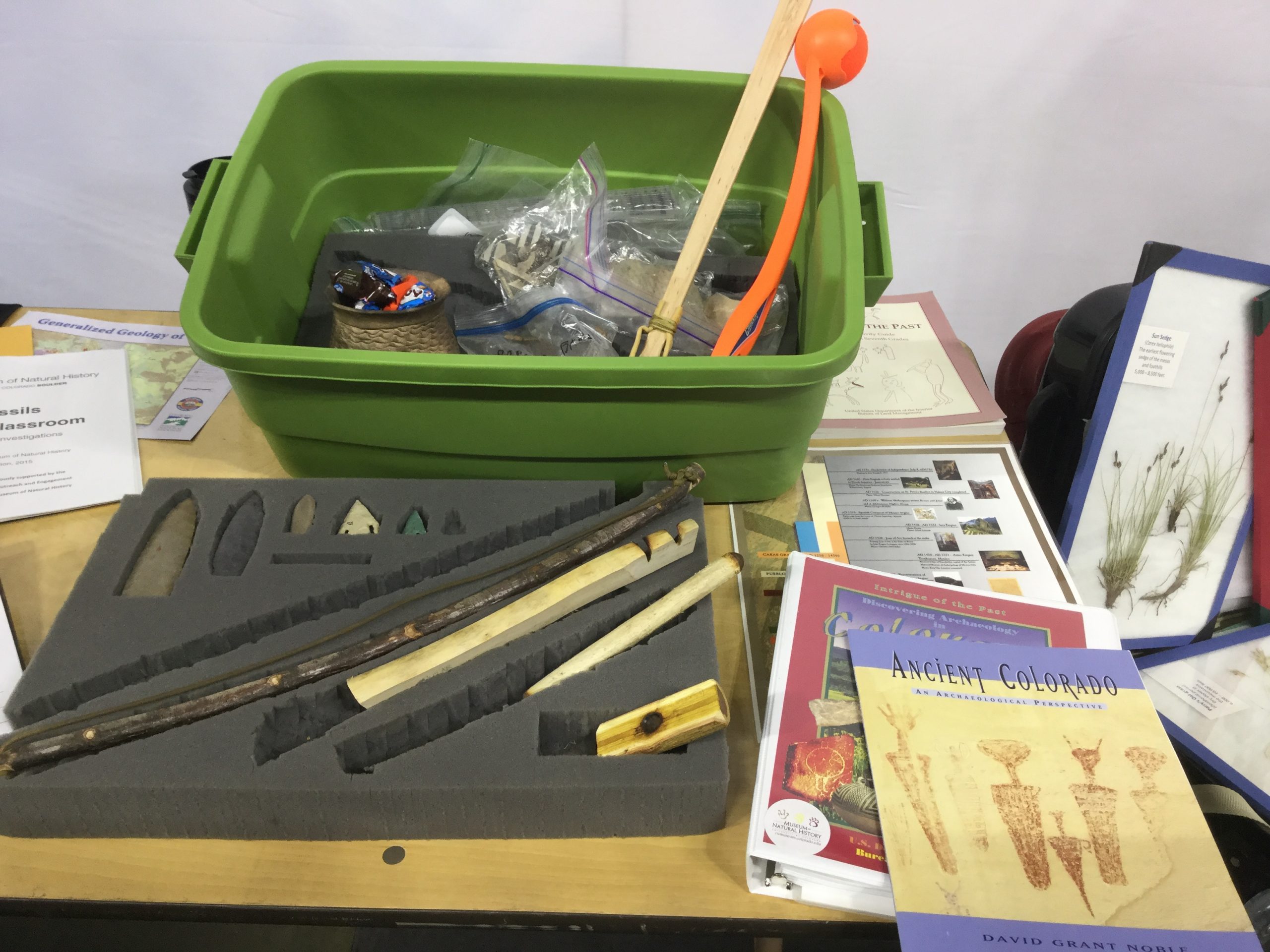 Program Contact
James Hakala
james.hakala@colorado.edu
The Colorado Archaeology in the Classroom project, modeled after the Fossils in the Classroom project,  provides hands-on resources on archaeology to teachers and students throughout Colorado. This project provides classroom kits featuring hands-on artifacts and casts, standards-based curriculum, in-district teacher professional development and a classroom presentation.
The project's goals are to engage elementary students and teachers in classrooms and communities across the state in the study of Colorado archaeology – science, geography and history – through hands-on experience with artifacts, methods and tools, and to get students turned on to Colorado history through archaeology in classrooms around the state. This project showcases the archaeological research of Dr. Stephen Lekson at the CU Museum of Natural History and strives to provide needed educational resources to schools with little or no access to CU Boulder resources.
Mesa Verde National Park provides educational materials for the Colorado Archaeology in the Classroom kits and collaborates in the in-district teacher training for the project.
The Mesa Verde Museum Association provides printed and digital educational materials for the Colorado Archaeology in the Classroom kits.
The Federal Bureau of Land Management's (BLM) "Discovering Archaeology in Colorado" and "Intrigue of the Past" is used with BLM's collaboration as the curriculum/teacher guide for the kits. This standards-based curriculum is widely used and well established in the field.
The Crow Canyon Archeological Center in Cortez, CO provided important visual timeline materials and pottery sherds for the kits.
The Maxwell Museum of Anthropology, University of New Mexico, provided hundreds of pottery sherds for the classroom kits.
CU Science Discovery advertises and manages the logistics for the Colorado Archaeology classroom presentation.
Colorado Archaeology Classroom Kits - Alamosa

Location

In Colorado

Alamosa

Public or Private

Private Program (by request only or for a specific audience or group)

Program Fee

No charge to attend/participate in activity or program

Colorado Archaeology Classroom Kits - Arvada

Location

In Colorado

Arvada

Public or Private

Private Program (by request only or for a specific audience or group)

Program Fee

No charge to attend/participate in activity or program

Colorado Archaeology Classroom Kits - Aurora

Location

In Colorado

Aurora

Public or Private

Private Program (by request only or for a specific audience or group)

Program Fee

No charge to attend/participate in activity or program

Colorado Archaeology Classroom Kits - Bayfield

Location

In Colorado

Bayfield

Public or Private

Private Program (by request only or for a specific audience or group)

Program Fee

No charge to attend/participate in activity or program

Colorado Archaeology Classroom Kits - Bennett

Location

In Colorado

Bennett

Public or Private

Private Program (by request only or for a specific audience or group)

Program Fee

No charge to attend/participate in activity or program

Colorado Archaeology Classroom Kits - Black Hawk

Location

In Colorado

Black Hawk

Public or Private

Private Program (by request only or for a specific audience or group)

Program Fee

No charge to attend/participate in activity or program

Colorado Archaeology Classroom Kits - Brighton

Location

In Colorado

Brighton

Public or Private

Private Program (by request only or for a specific audience or group)

Program Fee

No charge to attend/participate in activity or program

Colorado Archaeology Classroom Kits - Calhan

Location

In Colorado

Calhan

Public or Private

Private Program (by request only or for a specific audience or group)

Program Fee

No charge to attend/participate in activity or program

Colorado Archaeology Classroom Kits - Carbondale

Location

In Colorado

Carbondale

Public or Private

Private Program (by request only or for a specific audience or group)

Program Fee

No charge to attend/participate in activity or program

Colorado Archaeology Classroom Kits - Cheraw

Location

In Colorado

Cheraw

Public or Private

Private Program (by request only or for a specific audience or group)

Program Fee

No charge to attend/participate in activity or program

Colorado Archaeology Classroom Kits - Colorado Springs

Location

In Colorado

Colorado Springs

Public or Private

Private Program (by request only or for a specific audience or group)

Program Fee

No charge to attend/participate in activity or program

Colorado Archaeology Classroom Kits - Cortez

Location

In Colorado

Cortez

Public or Private

Private Program (by request only or for a specific audience or group)

Program Fee

No charge to attend/participate in activity or program

Colorado Archaeology Classroom Kits - Cotopaxi

Location

In Colorado

Cotopaxi

Public or Private

Private Program (by request only or for a specific audience or group)

Program Fee

No charge to attend/participate in activity or program

Colorado Archaeology Classroom Kits - Crawford

Location

In Colorado

Crawford

Public or Private

Private Program (by request only or for a specific audience or group)

Program Fee

No charge to attend/participate in activity or program

Colorado Archaeology Classroom Kits - Delta

Location

In Colorado

Delta

Public or Private

Private Program (by request only or for a specific audience or group)

Program Fee

No charge to attend/participate in activity or program

Colorado Archaeology Classroom Kits - Dove Creek

Location

In Colorado

Dove Creek

Public or Private

Private Program (by request only or for a specific audience or group)

Program Fee

No charge to attend/participate in activity or program

Colorado Archaeology Classroom Kits - Durango

Location

In Colorado

Durango

Public or Private

Private Program (by request only or for a specific audience or group)

Program Fee

No charge to attend/participate in activity or program

Colorado Archaeology Classroom Kits - Eads

Public or Private

Private Program (by request only or for a specific audience or group)

Program Fee

No charge to attend/participate in activity or program

Colorado Archaeology Classroom Kits - Fort Collins

Location

In Colorado

Fort Collins

Public or Private

Private Program (by request only or for a specific audience or group)

Program Fee

No charge to attend/participate in activity or program

Colorado Archaeology Classroom Kits - Fort Morgan

Location

In Colorado

Fort Morgan

Public or Private

Private Program (by request only or for a specific audience or group)

Program Fee

No charge to attend/participate in activity or program

Colorado Archaeology Classroom Kits - Gilcrest

Location

In Colorado

Gilcrest

Public or Private

Private Program (by request only or for a specific audience or group)

Program Fee

No charge to attend/participate in activity or program

Colorado Archaeology Classroom Kits - Glenwood Springs

Location

In Colorado

Glenwood Springs

Public or Private

Private Program (by request only or for a specific audience or group)

Program Fee

No charge to attend/participate in activity or program

Colorado Archaeology Classroom Kits - Golden

Location

In Colorado

Golden

Public or Private

Private Program (by request only or for a specific audience or group)

Program Fee

No charge to attend/participate in activity or program

Colorado Archaeology Classroom Kits - Greeley

Location

In Colorado

Greeley

Public or Private

Private Program (by request only or for a specific audience or group)

Program Fee

No charge to attend/participate in activity or program

Colorado Archaeology Classroom Kits - Greenwood Village

Location

In Colorado

Greenwood Village

Public or Private

Private Program (by request only or for a specific audience or group)

Program Fee

No charge to attend/participate in activity or program

Colorado Archaeology Classroom Kits - Gunnison

Location

In Colorado

Gunnison

Public or Private

Private Program (by request only or for a specific audience or group)

Program Fee

No charge to attend/participate in activity or program

Colorado Archaeology Classroom Kits - Haxtun

Location

In Colorado

Haxtun

Public or Private

Private Program (by request only or for a specific audience or group)

Program Fee

No charge to attend/participate in activity or program

Colorado Archaeology Classroom Kits - Ignacio

Location

In Colorado

Ignacio

Public or Private

Private Program (by request only or for a specific audience or group)

Program Fee

No charge to attend/participate in activity or program

Colorado Archaeology Classroom Kits - Keenesburg

Location

In Colorado

Keenesburg

Public or Private

Private Program (by request only or for a specific audience or group)

Program Fee

No charge to attend/participate in activity or program

Colorado Archaeology Classroom Kits - Kersey

Location

In Colorado

Kersey

Public or Private

Private Program (by request only or for a specific audience or group)

Program Fee

No charge to attend/participate in activity or program

Colorado Archaeology Classroom Kits - Lake City

Location

In Colorado

Lake City

Public or Private

Private Program (by request only or for a specific audience or group)

Program Fee

No charge to attend/participate in activity or program

Colorado Archaeology Classroom Kits - Leadville

Location

In Colorado

Leadville

Public or Private

Private Program (by request only or for a specific audience or group)

Program Fee

No charge to attend/participate in activity or program

Colorado Archaeology Classroom Kits - Littleton

Location

In Colorado

Littleton

Public or Private

Private Program (by request only or for a specific audience or group)

Program Fee

No charge to attend/participate in activity or program

Colorado Archaeology Classroom Kits - Loveland

Location

In Colorado

Loveland

Public or Private

Private Program (by request only or for a specific audience or group)

Program Fee

No charge to attend/participate in activity or program

Colorado Archaeology Classroom Kits - Mancos

Location

In Colorado

Mancos

Public or Private

Private Program (by request only or for a specific audience or group)

Program Fee

No charge to attend/participate in activity or program

Colorado Archaeology Classroom Kits - Monte Vista

Location

In Colorado

Monte Vista

Public or Private

Private Program (by request only or for a specific audience or group)

Program Fee

No charge to attend/participate in activity or program

Colorado Archaeology Classroom Kits - Montrose

Location

In Colorado

Monte Vista

Public or Private

Private Program (by request only or for a specific audience or group)

Program Fee

No charge to attend/participate in activity or program

Colorado Archaeology Classroom Kits - Monument

Location

In Colorado

Monument

Public or Private

Private Program (by request only or for a specific audience or group)

Program Fee

No charge to attend/participate in activity or program

Colorado Archaeology Classroom Kits - Northglenn

Location

In Colorado

Northglenn

Public or Private

Private Program (by request only or for a specific audience or group)

Program Fee

No charge to attend/participate in activity or program

Colorado Archaeology Classroom Kits - Norwood

Location

In Colorado

Norwood

Public or Private

Private Program (by request only or for a specific audience or group)

Program Fee

No charge to attend/participate in activity or program

Colorado Archaeology Classroom Kits - Ouray

Location

In Colorado

Ouray

Public or Private

Private Program (by request only or for a specific audience or group)

Program Fee

No charge to attend/participate in activity or program

Colorado Archaeology Classroom Kits - Pagosa Springs

Location

In Colorado

Pagosa Springs

Public or Private

Private Program (by request only or for a specific audience or group)

Program Fee

No charge to attend/participate in activity or program

Colorado Archaeology Classroom Kits - Palmer Lake

Location

In Colorado

Palmer Lake

Public or Private

Private Program (by request only or for a specific audience or group)

Program Fee

No charge to attend/participate in activity or program

Colorado Archaeology Classroom Kits - Peetz

Location

In Colorado

Peetz

Public or Private

Private Program (by request only or for a specific audience or group)

Program Fee

No charge to attend/participate in activity or program

Colorado Archaeology Classroom Kits - Peyton

Location

In Colorado

Peyton

Public or Private

Private Program (by request only or for a specific audience or group)

Program Fee

No charge to attend/participate in activity or program

Colorado Archaeology Classroom Kits - Pritchett

Location

In Colorado

Pritchett

Public or Private

Private Program (by request only or for a specific audience or group)

Program Fee

No charge to attend/participate in activity or program

Colorado Archaeology Classroom Kits - Pueblo

Location

In Colorado

Pueblo

Public or Private

Private Program (by request only or for a specific audience or group)

Program Fee

No charge to attend/participate in activity or program

Colorado Archaeology Classroom Kits - Raymer

Location

In Colorado

Raymer

Public or Private

Private Program (by request only or for a specific audience or group)

Program Fee

No charge to attend/participate in activity or program

Colorado Archaeology Classroom Kits - Ridgway

Location

In Colorado

Ridgway

Public or Private

Private Program (by request only or for a specific audience or group)

Program Fee

No charge to attend/participate in activity or program

Colorado Archaeology Classroom Kits - Rifle

Location

In Colorado

Rifle

Public or Private

Private Program (by request only or for a specific audience or group)

Program Fee

No charge to attend/participate in activity or program

Colorado Archaeology Classroom Kits - Salida

Location

In Colorado

Salida

Public or Private

Private Program (by request only or for a specific audience or group)

Program Fee

No charge to attend/participate in activity or program

Colorado Archaeology Classroom Kits - Sheridan Lake

Location

In Colorado

Sheridan Lake

Public or Private

Private Program (by request only or for a specific audience or group)

Program Fee

No charge to attend/participate in activity or program

Colorado Archaeology Classroom Kits - Silverton

Location

In Colorado

Silverton

Public or Private

Private Program (by request only or for a specific audience or group)

Program Fee

No charge to attend/participate in activity or program

Colorado Archaeology Classroom Kits - Telluride

Location

In Colorado

Telluride

Public or Private

Private Program (by request only or for a specific audience or group)

Program Fee

No charge to attend/participate in activity or program

Colorado Archaeology Classroom Kits - Wiggins

Location

In Colorado

Wiggins

Public or Private

Private Program (by request only or for a specific audience or group)

Program Fee

No charge to attend/participate in activity or program

Colorado Archaeology Classroom Kits - Woodland Park

Location

In Colorado

Woodland Park

Public or Private

Private Program (by request only or for a specific audience or group)

Program Fee

No charge to attend/participate in activity or program

Colorado Archaeology Classroom Kits -Denver

Location

In Colorado

Denver

Public or Private

Private Program (by request only or for a specific audience or group)

Program Fee

No charge to attend/participate in activity or program

Colorado Archaeology Classroom Kits -Dolores

Location

In Colorado

Dolores

Public or Private

Private Program (by request only or for a specific audience or group)

Program Fee

No charge to attend/participate in activity or program
Sponsoring Units
University of Colorado Museum of Natural History

Research Institutes
Program Partners
Mesa Verde National Park
Mesa Verde Museum Association
Federal Bureau of Land Management
Crow Canyon Archeological Center
Maxwell Museum of Anthropology
CU Science Discovery
Audiences Served
Rural Communities
Socio-Economic Disadvantaged
Students - Early Learning
Students - Elementary School
Students - Middle School
Students - Homeschooled
Teachers - Early Learning
Teachers - Elementary School
Teachers - Middle School
Urban Communities