Colorado European Union Center of Excellence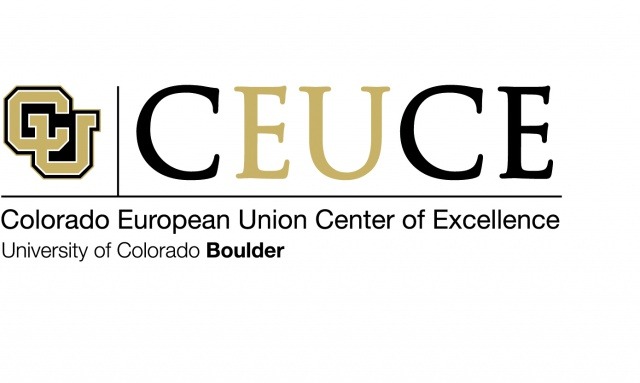 Program Contact
Colorado European Union Center of Excellence
ceuce@colorado.edu
303-492-0828
The Colorado European Union Center of Excellence (CEUCE) aims to foster links between the United States Mountain West and the European Union by promoting mutual understanding and engagement among students, educators, researchers, policymakers, business and legal practitioners, and the general public. We envision CEUCE as a physical and virtual space within which these encounters among individuals from both sides of the Atlantic can be identified, explored, advanced and brought to fruition.
CEUCE was founded in 2008 with primary support from the European Commission through the Delegation of the European Union to the United States in Washington, DC. It is one of eight partner institutions forming the Network of EU Centers of Excellence in the US. CEUCE promotes transatlantic people-to-people links through teaching, research and outreach activities; the first two of which are campus-centered and the last of which engages us with partners and interlocutors from across the Mountain West region.
On the campus of the University of Colorado at Boulder and within our Mountain West Network of university partners CEUCE promotes teaching and research related to the European Union and Transatlantic Relations. Our teaching activities span K-12, undergraduate, and graduate students, in addition to the local communities. By awarding various grants, we generate courses and curricula on the European Union. We also fund learning opportunities for undergraduate students such as study abroad scholarships, Model EU, and internships. We also host secondary school seminars with a number of partners.
Our research activities involve conducting and supporting scholarly and applied research on the European Union. Each year CEUCE brings in scholars focusing on many areas of the EU to lecture in the Mountain West Region. In addition to these speakers, we host a number of academic conferences and workshops with both American and European academicians to facilitate critical review and collaborations on many bodies of research on the EU. Moreover, CEUCE has a number of faculty and graduate research grants awarded annually to fund innovative research on the European Union in all areas of study.
Beyond campus, our outreach activities engage us with policy-makers, the private-sector, non-profits, public officials, journalists, and the informed public. Recognizing the rich and growing, cultural, social, political, and economic ties between the Mountain West and the European Union, we promote understanding, dialogues, and engagement through special lectures, workshops, symposia, and partnerships to bring all these parties together to focus on the European Union.
CEUCE aims to become the focal point, the central node, in all of the networks linking our region of the United States with the European Union, committed to the belief that existing and potential transatlantic bonds will decisively shape our shared fates.
Program Activity

Location

On Campus

Koelbel Building
University Club

Public or Private

Public Program (open to the public)

Program Fee

Not Applicable

Program Activity

Location

In Colorado

Boulder

Public or Private

Public Program (open to the public)

Program Fee

Not Applicable

Program Activity

Location

Outside Colorado

Laramie, Wyoming, USA Missoula, Montana, USA Albuquerque, New Mexico, USA Santa Fe, New Mexico, USA

Public or Private

Public Program (open to the public)

Program Fee

Not Applicable
Sponsoring Units
Colorado European Union Center of Excellence (CEUCE)
Program Partners
University of Pittsburgh
University of Wyoming
University of New Mexico
University of Denver Sturm College of Law
University of Oslo Faculty of Law
University of Copenhagen Faculty of Law
World Trade Center Denver
International Business Circle
Consular Corps of Colorado
Colorado Office of Economic Development & International Trade
Santa Fe World Affairs Forum
Chamber of the Americas
Audiences Served
Adult Learners
General Public
Government
Non-Profit Organization
Students - High School
Teachers - High School
International