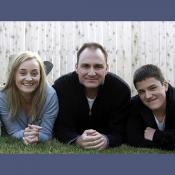 Program Contact
Anna Frye
Study Coordinator
cfp.clinic@colorado.edu
303-492-1668
The Colorado Family Project, a group of clinicians and researchers at the University of Colorado, is conducting a study of family-based therapy for youth ages 9-17 who have mood swings and a second or first degree relative with bipolar disorder.
Treatment focuses on helping children and their families understand and cope with mood swings, develop plans for preventing moods from getting worse, communicate more effectively, and solve family problems. Treatment and psychiatric consultation are free of charge, and families are compensated for participation in a full diagnostic assessment and regular research interviews.
More information regarding the program can be found at the program's website, below.
Program Activity

Location

On Campus

Center for Community Center for Innovation & Creativity

Program Activity
Sponsoring Units
College of Arts & Sciences

Department of Psychology & Neuroscience
Program Partners
Department of Psychology and Neuroscience, University of Colorado at Boulder
Children's Hospital Colorado
University of Colorado Depression Center
Department of Psychiatry, University of Colorado Anschutz Medical Campus
Audiences Served
At-Risk Youth
Children & Youth (outside school)
Families
Minority Group(s)
Students - Elementary School
Students - Middle School
Students - High School