Colorado Water and Energy Research Center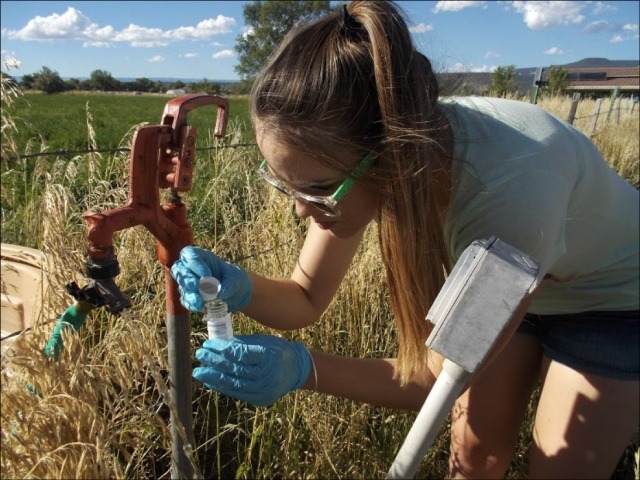 Program Contact
Katya Hafich
katya.hafich@colorado.edu
Colorado's water and energy resources are inextricably linked. Whether you're talking about the rivers that power hydroelectricity, the steam that spins turbines at coal- or nuclear-fired power plants, or the aquifers that neighbor natural gas deposits underground, it's nearly impossible to mention one resource category without implicating the other.
The Office for University Outreach has launched the Colorado Water and Energy Research Center (CWERC) in recognition of this interdependence, and with the goal of providing first-class outreach and research regarding one increasingly contentious topic at the energy-water nexus: the potential effects of Colorado's natural gas boom on the state's groundwater and surface water quality.
CWERC will serve as a neutral clearinghouse of information on this subject – an honest broker amidst the rancor of international debate over hydraulic fracturing (a.k.a., "fracking" or "fracing") as a natural gas extraction mechanism, among other topics.
Colorado residents make up CWERC's target audience, particularly those living in areas of natural gas development with concerns about the welfare of their watersheds and private water wells.
CWERC is helmed by Dr. Mark Williams, professor of Geography and principal investigator of the Niwot Ridge Long Term Ecological Research site, and Dr. Joseph Ryan, professor of Environmental Engineering. Williams and Ryan have previously conducted research and outreach activities on natural gas extraction in two of Colorado's busiest natural gas regions, the San Juan Basin in the Four Corners area and the Piceance Basin on the Western Slope.
Goals of CWERC:
• Provide a neutral clearinghouse for information on the potential hydrologic impacts of natural gas development;
• Develop easy-to-understand guide and protocols for setting up a groundwater/surface water monitoring program to acquire baseline data on aquifer and/or stream health;
• Host workshops to facilitate exchange of information and expertise among researchers and regulators working on natural gas extraction;
• Develop and disseminate best practices recommendations for industry mitigation activities.
Program Activity

Program Activity

Program Activity
Sponsoring Units
Division of Continuing Education

College of Engineering & Applied Science

Office for Outreach and Engagement
Program Partners
Institute of Arctic and Alpine Research
AirWaterGas Sustainability Research Network
Western Slope Conservation Center
Audiences Served
General Public
Non-Profit Organization
Rural Communities