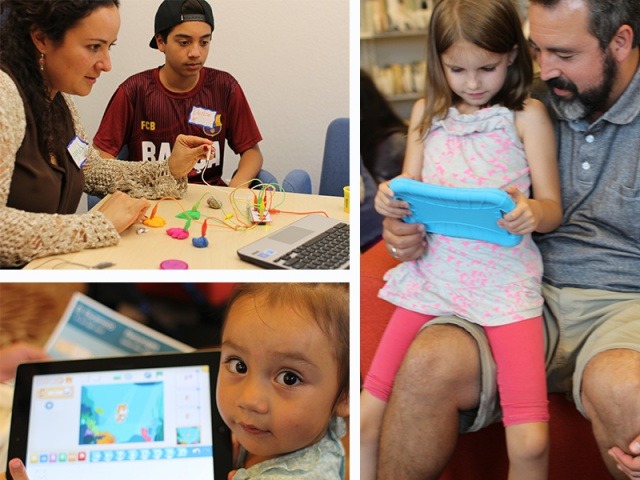 Program Contact
Eliana Colunga
colunga@colorado.edu
The ability to create and express oneself with technology is important for full participation in today's digital society. However, troubling participation gaps still persist among underrepresented groups such as African-American and Latino-American youth.
Communities Code aims to create high quality computing experiences for young people and to strengthen their social support by engaging their peers in after school programs, supporting their teachers through professional development, and inviting their families to learn alongside them.
Communities Code builds on Kids Code, a two-year outreach project funded by the CU Boulder Outreach Award, which focused on expanding computer science opportunities for K-8 students and developing professional development for teachers. Communities Code also builds on the Family Creative Learning project, which engages families to create and learn together with computing.
This project supports a collaboration between CU Boulder faculty and students and CU Science Discovery with community partners around Colorado to develop a more ecological approach to supporting computer science and computing education across people and settings.
Hour of Code

Location

In Colorado

Boulder

Public or Private

Private Program (by request only or for a specific audience or group)

Program Fee

No charge to attend/participate in activity or program
Sponsoring Units
College of Arts & Sciences

Department of Psychology & Neuroscience

College of Media, Communication and Information

Department of Information Science
Program Partners
CU Science Discovery
Boulder Housing Partners
Boulder Public Library
Denver Public Library
Schools such as Columbine Elementary, Whittier Elementary, and Crest View Elementary
Audiences Served
Adult Learners
At-Risk Youth
Children & Youth (outside school)
Families
Minority Group(s)
Non-Profit Organization
Socio-Economic Disadvantaged
Students - Early Learning
Students - Elementary School
Students - ESL
Students - Middle School
Teachers - Early Learning
Teachers - Elementary School
Teachers - Middle School
Urban Communities