Continuing Education at CU Boulder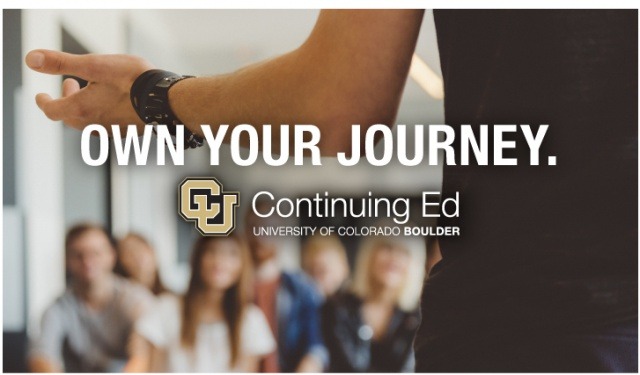 Program Contact
Enrollment Services
ceregistration@colorado.edu
303.492.5148
Established in 1911, the Division of Continuing Education's mission is to provide quality, innovative lifelong-learning opportunities to diverse student populations by extending the educational resources of the University of Colorado Boulder. Since learning needs are unique and don't always follow the traditional college student path, Continuing Education offers a variety of programs–from individual courses and degree programs to science education for elementary and secondary students. Continuing Education also provides students with academic advising, enrollment support, financial aid planning and other helpful services.
Continuing Education programs
Evening Credit
Online Credit
ACCESS
Summer Session
Winter Session
Post-Baccalaureate Health Professions Program
Master of Science in Organizational Leadership (MSOL) Program
Master of Arts in Journalism Entrepreneurship
Bachelor of Arts in Interdisciplinary Studies
CU Complete
High School Dual Enrollment
Office for Outreach and Engagement
International English Center
Science Discovery
Certificates
Applied Music
Program Activity

Location

On Campus

Continuing Education

Public or Private

Public Program (open to the public)

Additional Info

Continuing Education offers a variety of programs and services for nontraditional students and community members to engage with CU resources.

Learn more about our programs and services at ce.colorado.edu.
Sponsoring Units
Division of Continuing Education
Program Partners
Graduate School
School of Education
School of Music
College of Media, Communication and Information
College of Arts & Sciences
Leeds School of Business
College of Engineering and Applied Science
University of Colorado Law School
Audiences Served
Adult Learners
Alumni/Parents/Friends
Children & Youth (outside school)
Families
General Public
Senior Citizens
Socio-Economic Disadvantaged
Students - ESL
Students - High School
International