Coproduction of Embodied Climate Curriculum Gains STEAM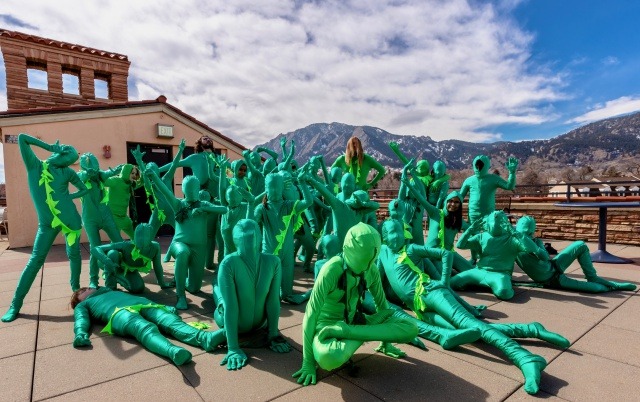 Program Contact
Beth Osnes
beth.osnes@colorado.edu
303.243.2519
Beth Osnes (Theatre), Carl Simpson (CU Museum of Natural History), Jim Hakala (CU Museum of Natural History), and Patrick Chandler (Environmental Studies PhD student) are piloting a curriculum coproduced with Jefferson County (JeffCO) School District teachers and staff that focuses on the embodied exploration of fossils, energy, and climate for 4th/5th grade students in Colorado. The program is being piloted with diverse schools districtwide in the 2021-2022 school year with a focus on reaching schools with at least 50% of students in the free and reduced lunch program.
The program offers an embodied, tactile experience through which students learn about geologic processes, energy, and climate change. Sample activities include hands-on experiences with real fossils and dramatization of the death of an ancient plant or animal and the processes that transformed them into a fossil fuel, a fossil, or soil.
After the pilot, the CU Boulder-JeffCO team will finalize a curriculum timed to align with the introduction of new Colorado science standards. Our objective is to have a classroom-tested curriculum for implementation in the JeffCO school district to help meet their "Generation" standards for 21st Century Learners. Generation standards seek to engage the whole student beyond mere content mastery to develop skills in cooperation, self-authorship, and problem-solving – all of which our curriculum fosters through active learning with plenty of voice and choice for the student. The project team will also publish the framework used in the coproduction process and distribute the curriculum through national networks such as the Climate Literacy and Energy Action Network (CLEAN).
In response to some of our plans being disrupted by the global pandemic and the transition to online learning, we have also translated all 82 Project Drawdown climate solutions for use in in a 5th grade curriculum. To ensure accessibility of the top solutions for reversing global warming and promote 4th & 5th grade student authorship of high impact local solutions, the CU team engaged University Hill Elementary School 5th graders and their teachers in expert peer review of all materials. The results can be found at www.enactingclimate.org.
This curriculum is currently undergoing final edits and will be available and actively disseminated to schools as an open educational resource very soon. Contact beth.osnes@colorado.edu if you are interested in receiving professional development to use this curriculum in your school.
Jefferson County Schools Program

---

Location

in colorado

Lakewood

Public or Private

Private Program (by request only or for a specific audience or group)

Program Fee

Not Applicable
Program Partners
Jeffco School District
Inside the Greenhouse
Audiences Served
Students - Elementary School
Teachers - Elementary School
Urban Communities