CU Science Discovery Classroom Presentations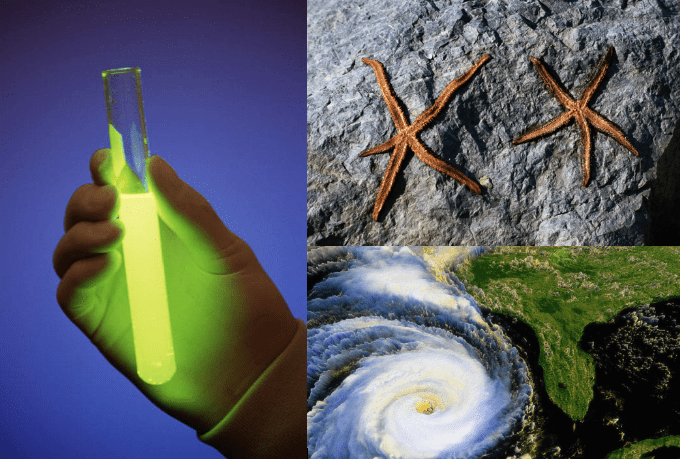 Program Contact
Scott Sieke
STEM Education Designer
scott.sieke@colorado.edu
303.492.3992
Since 1988, Science Discovery's Classroom Presentations program has traveled throughout Colorado bringing engaging hands-on science to schools, libraries and community centers.  Standards-based Classroom Presentations visit K-12 classrooms with 30+ topics in engineering and physical, life, and earth sciences.  These one-hour presentations facilitate interactive study through audience participation and experiments featuring museum collections and university science equipment.  Classroom Presentations are a great way to build inquiry and science process skills while engaging the whole class with exciting science from the University of Colorado Boulder.  Presentation topics include:
Discovering Dinosaurs
Rock On!
Marine Biology
DNA
Weather Works
Robotics
Explore the Force: The Science of Star Wars
Waves, Technology and Innovation
Cool and Creative Chemistry
and more!
Program Activity

Location

In Colorado

Longmont

Dates

9/4/2019 - 9/4/2019

Public or Private

Private Program (by request only or for a specific audience or group)

Additional Info

Alien Empire: The Wonderful World of Insects

Program Activity

Location

In Colorado

Louisville

Dates

9/23/2019 - 9/23/2019

Public or Private

Private Program (by request only or for a specific audience or group)

Additional Info

Waves in Earth Science

Program Activity

Location

In Colorado

Louisville

Dates

10/21/2019 - 10/21/2019

Public or Private

Private Program (by request only or for a specific audience or group)

Additional Info

Alien Empire: The Wonderful World of Insects

Program Activity

Location

In Colorado

Aurora

Dates

11/9/2019 - 11/9/2019

Public or Private

Private Program (by request only or for a specific audience or group)

Additional Info

Meet Edison (Robotics)

Program Activity

Location

In Colorado

Frederick

Dates

11/20/2019 - 11/20/2019

Public or Private

Private Program (by request only or for a specific audience or group)

Additional Info

Invention Literacy with Makey Makey and Scratch

Program Activity

Location

In Colorado

Louisville

Dates

12/2/2019 - 12/2/2019

Public or Private

Private Program (by request only or for a specific audience or group)

Additional Info

Meet Edison (Robotics)

Program Activity

Location

In Colorado

Louisville

Dates

12/3/2019 - 12/3/2019

Public or Private

Private Program (by request only or for a specific audience or group)

Additional Info

Invention Literacy with Makey Makey and Scratch

Program Activity

Location

In Colorado

Boulder

Dates

12/12/2019 - 12/12/2019

Public or Private

Private Program (by request only or for a specific audience or group)

Additional Info

Alien Empire: The Wonderful World of Insects

Program Activity

Location

In Colorado

Longmont

Dates

1/10/2020 - 1/10/2020

Public or Private

Private Program (by request only or for a specific audience or group)

Program Activity

Location

In Colorado

Denver

Dates

1/15/2020 - 1/15/2020

Public or Private

Private Program (by request only or for a specific audience or group)

Additional Info

Discovering Dinosaurs

Program Activity

Location

In Colorado

Platteville

Dates

1/16/2020 - 1/16/2020

Public or Private

Private Program (by request only or for a specific audience or group)

Additional Info

Explore the Force: The Science of Star Wars

Program Activity

Location

In Colorado

Denver

Dates

1/23/2020 - 1/23/2020

Public or Private

Private Program (by request only or for a specific audience or group)

Program Activity

Location

In Colorado

Denver

Dates

1/23/2020 - 1/23/2020

Public or Private

Private Program (by request only or for a specific audience or group)

Additional Info

Explore the Force: The Science of Star Wars

Program Activity

Location

In Colorado

Broomfield

Dates

1/23/2020 - 1/23/2020

Public or Private

Private Program (by request only or for a specific audience or group)

Additional Info

The Key to Classification

Program Activity

Location

In Colorado

Boulder

Dates

1/24/2020 - 1/24/2020

Public or Private

Private Program (by request only or for a specific audience or group)

Additional Info

Marine Biology

Program Activity

Location

In Colorado

Longmont

Dates

2/5/2020 - 2/5/2020

Public or Private

Private Program (by request only or for a specific audience or group)

Additional Info

DNA 1: DNA Extraction

Program Activity

Location

In Colorado

Colorado Springs

Dates

2/7/2020 - 2/7/2020

Public or Private

Private Program (by request only or for a specific audience or group)

Additional Info

Discovering Dinosaurs

Program Activity

Location

In Colorado

Thornton

Dates

2/8/2020 - 2/8/2020

Public or Private

Private Program (by request only or for a specific audience or group)

Additional Info

Muggle Magic

Program Activity

Location

In Colorado

Denver

Dates

2/13/2020 - 2/13/2020

Public or Private

Private Program (by request only or for a specific audience or group)

Additional Info

Weather Works

Program Activity

Location

In Colorado

Broomfield

Dates

2/19/2020 - 2/19/2020

Public or Private

Private Program (by request only or for a specific audience or group)

Additional Info

Force and Motion

Program Activity

Location

In Colorado

Broomfield

Dates

2/19/2020 - 2/19/2020

Public or Private

Private Program (by request only or for a specific audience or group)

Additional Info

Cardiovascular Physiology

Program Activity

Location

In Colorado

Basalt

Dates

2/21/2020 - 2/21/2020

Public or Private

Private Program (by request only or for a specific audience or group)

Additional Info

Weather Works

Program Activity

Location

In Colorado

Denver

Dates

2/25/2020 - 2/25/2020

Public or Private

Private Program (by request only or for a specific audience or group)

Additional Info

Cardiovascular Physiology

Program Activity

Location

In Colorado

Littleton

Dates

2/26/2020 - 2/26/2020

Public or Private

Private Program (by request only or for a specific audience or group)

Program Activity

Location

In Colorado

Thornton

Dates

2/27/2020 - 2/27/2020

Public or Private

Private Program (by request only or for a specific audience or group)

Additional Info

Invention Literacy with Makey Makey and Scratch

Program Activity

Location

In Colorado

Basalt

Dates

2/27/2020 - 2/27/2020

Public or Private

Private Program (by request only or for a specific audience or group)

Additional Info

Key to Classification

Program Activity

Location

In Colorado

Broomfield

Dates

2/28/2020 - 2/28/2020

Public or Private

Private Program (by request only or for a specific audience or group)

Additional Info

Fur, Feathers and Fins

Program Activity

Location

In Colorado

Conifer

Dates

3/6/2020 - 3/6/2020

Public or Private

Private Program (by request only or for a specific audience or group)

Additional Info

Motion, Movement and Biomechanics

Program Activity

Location

In Colorado

Littleton

Dates

3/11/2020 - 3/11/2020

Public or Private

Private Program (by request only or for a specific audience or group)

Additional Info

Marine Biology

Program Activity

Location

In Colorado

Basalt

Dates

3/12/2020 - 3/12/2020

Public or Private

Private Program (by request only or for a specific audience or group)

Additional Info

Acoustics, Waves and Human Body Systems

Program Activity

Location

In Colorado

Basalt

Dates

3/13/2020 - 3/13/2020

Public or Private

Private Program (by request only or for a specific audience or group)

Additional Info

Motion, Movement and Biomechanics
Sponsoring Units
Division of Continuing Education

Science Discovery
Program Partners
CU Museum of Natural History
CU Wizards
Soft Materials Research Center
Audiences Served
Children & Youth (outside school)
Families
Rural Communities
Students - Early Learning
Students - Elementary School
Students - ESL
Students - Middle School
Students - Homeschooled
Teachers - Elementary School
Teachers - Middle School
Urban Communities