Demystifying Entrepreneurship Rural Colorado Workshop Series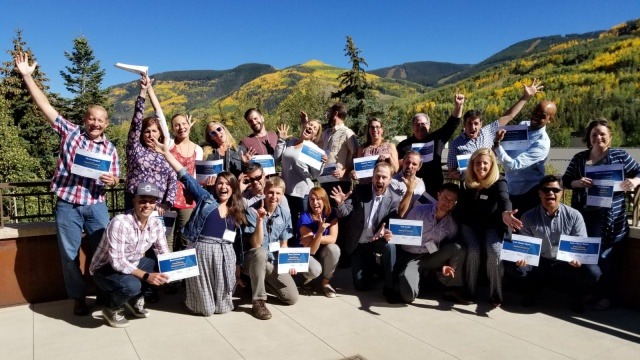 Program Contact
Maddie Light
Program Coordinator
madeleine.light@colorado.edu
802.324.5555
Demystifying Entrepreneurship workshops, hosted across the state of Colorado, are an interactive certificate course for anyone interested in launching his or her own business or improving upon an existing business. It provides a fundamental framework and toolset that helps entrepreneurs develop sought-after products and services, avoid pitfalls and succeed at entrepreneurship. These unique programs allow the University of Colorado Boulder and Leeds School greater exposure to mountain communities and potential partnerships in the future. Exposure to these mountain communities will provide potential data sources for research in the future. In turn, the small mountain communities are impacted through the University of Colorado Boulder's knowledge that will lead to better economic viability and sustainability.
Demystifying Entrepreneurship provides an introduction to entrepreneurship and is geared toward anyone considering launching their own business or improving their existing small business. Taught by Erick Mueller & distinguished faculty, entrepreneurs and award-winning professors at the Leeds School of Business, this two-day virtual short course will impart a framework and toolkit in order to develop sought-after products and services, avoid pitfalls, and succeed at entrepreneurship.
Learning Objectives:
Develop an understanding of what it takes to be an entrepreneur
Understand the process to create a value proposition
Determine ways to be different and establish a competitive advantage
How to get your first ten customers
Grasp entrepreneurial economics and fundraising
Benefits:
Set yourself up to plant the seed, stir the creativity, and hit the ground running
Grow your entrepreneurial toolkit
Leave motivated toward supporting and cultivating your entrepreneurial bug
Receive a University of Colorado Boulder Leeds School of Business Certificate of Completion
Who should attend?
Aspiring entrepreneurs
Existing small business owners interested in building and growing their business
Local leaders wanting to support entrepreneurial growth
For individual workshop and registration information, please email us!
Demystifying Entrepreneurship - Northwest Colorado

Location

In Colorado

Hayden

Dates

10/22/2021 - 10/23/2021

Public or Private

Public Program (open to the public)

Additional Info

Taught by Erick Mueller & Eric Bruno, entrepreneurs and award-winning professors at the Leeds School of Business, this two-day short course will impart a framework and toolkit in order to develop sought-after products and services, avoid pitfalls, and succeed at entrepreneurship.

To register, visit https://clients.coloradosbdc.org/workshop.aspx?ekey=140410059

Shoring Up, Final Year - Central Colorado & Vail Valley

Dates

10/8/2021 - 10/9/2021

Public or Private

Public Program (open to the public)

Additional Info

Taught by Erick Mueller & Cynthia Banks, entrepreneurs and award-winning professors at the Leeds School of Business, this two-day short course will impart a framework and toolkit in order to develop sought-after products and services, avoid pitfalls, and succeed at entrepreneurship. For more information, email Deming@colorado.edu!

Native Entrepreneurship - Southwest Colorado

Dates

9/24/2021 - 9/25/2021

Public or Private

Public Program (open to the public)

Additional Info

Taught by Erick Mueller & Visda Carson, entrepreneurs and award-winning professors at the Leeds School of Business, this two-day short course will impart a framework and toolkit in order to develop sought-after products and services, avoid pitfalls, and succeed at entrepreneurship.

Register online at https://4cornersevents.primoticketing.com/.



Startup to Scaleup - Southwest Colorado

Location

In Colorado

Telluride

Dates

9/10/2021 - 9/11/2021

Public or Private

Public Program (open to the public)

Additional Info

Taught by Erick Mueller & Brad Werner, entrepreneurs and award-winning professors at the Leeds School of Business, the two-day short course is designed for second-stage small businesses and organizations, specifically, those looking or needing to shift out of their startup phase and into "what's next."

https://www.eventbrite.com/e/startup-to-scaleup-tickets-164517047919?aff=ebdsoporgprofile

StartUp to ScaleUp - Southeast Colorado

Location

In Colorado

Trinidad

Dates

7/23/2021 - 7/24/2021

Public or Private

Public Program (open to the public)

Additional Info

Taught by Erick Mueller & Visda Carson, entrepreneurs and award-winning professors at the Leeds School of Business, the two-day short course is designed for second-stage small businesses and organizations, specifically, those looking or needing to shift out of their startup phase and into "what's next."

To register, please visit https://www.centerci.org/cuboulder.

StartUp to ScaleUp - Northeast Colorado

Location

In Colorado

Sterling

Dates

7/16/2021 - 7/17/2021

Public or Private

Public Program (open to the public)

Additional Info

Taught by Erick Mueller & Hunter Albright, entrepreneurs and award-winning professors at the Leeds School of Business, the two-day short course is designed for second-stage small businesses and organizations, specifically, those looking or needing to shift out of their startup phase and into "what's next."
Sponsoring Units
Leeds School of Business

Deming Center for Entrepreneurship
Program Partners
Yampa Valley Entrepreneurship Center, Colorado Mountain College
Craig Chamber of Commerce
Town of Hayden
Northwest SBDC
Steamboat Springs Chamber of Commerce
Northwestern Community College
Telluride Venture Fund
Town of Vail
Audiences Served
Business
General Public
Government
Non-Profit Organization
Rural Communities
Socio-Economic Disadvantaged
Students - High School