Everyday Colorado: Generating Local Knowledge about Health & Environment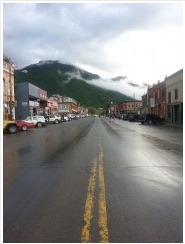 Program Contact
Jill Litt
jill.litt@colorado.edu
Colorado is facing dramatic changes in industrial activities, environmental conditions, and land use development patterns. Extreme heat, together with severe drought conditions and extensive soil erosion, are creating conditions that could have dramatic health impacts. Colorado is also home to extensive energy development, resulting in questions about safety, health and environmental impact. Moreover, animal and livestock feeding operations are giving way to groundwater pollution from nitrate and other contaminants. These environmental pressures raise questions about whether Colorado is prepared to handle the human health impacts of such changes.
This project builds on a study aimed to explore priorities and practices among professionals working at the intersection of environment and health. It will work to realize a path forward in framing and assessing contemporary environmental health issues and leading necessary research to inform public policy and public health practice. CU Boulder faculty and students will work with over 100 state and local organizations and activate their networks to disseminate a public engagement tool to generate community knowledge among 1,500 residents. The outreach grant will profile contemporary concerns from Colorado citizens and diffuse results to shape environmental decision making at state and local levels.
"Everyday Colorado" aims to reach Coloradans from diverse backgrounds and geographic areas by achieving the following:
• Activate public engagement plan to reach over 100 state and local organizations that have expressed interest in partnering with the Everyday Colorado team through calls, emails, and in-person visits.
• Target outreach, using the Everyday Colorado tool, to include public events in select regions of the state to generate local knowledge about regionally specific issues (e.g., Concentrated animal and livestock feeding operations in Weld County; Oil and gas development in Garfield County; Dust storms in Southwest Colorado).
• Disseminate results and share with the Colorado Department of Public Health and Environment Office of Environmental Epidemiology and Public Health Tracking to align local concerns with state-level practices and priorities and inform future directions.
• Develop a Research to Action proposal to the National Institutes of Health that uses community-engaged research methods to investigate potential health risks of environmental exposures of concern to the community and implement an environmental public health action plan based on research findings.
Program Activity

Program Activity
Sponsoring Units
College of Arts & Sciences

Environmental Studies Program
Program Partners
Sustainability Research Network at CU Boulder
Tri-County Health Department
Colorado State University
Colorado School of Public Health
Environmental Health Directors of Colorado
Colorado Department of Public Health and Environment
Colorado Alliance of Local Public Health Officials (CALPHO)
Audiences Served
Adult Learners
General Public
Government
Minority Group(s)
Non-Profit Organization
Rural Communities
Socio-Economic Disadvantaged
Urban Communities