Fumble Forward: Teaching Anti-Bias Tools Through Community Outreach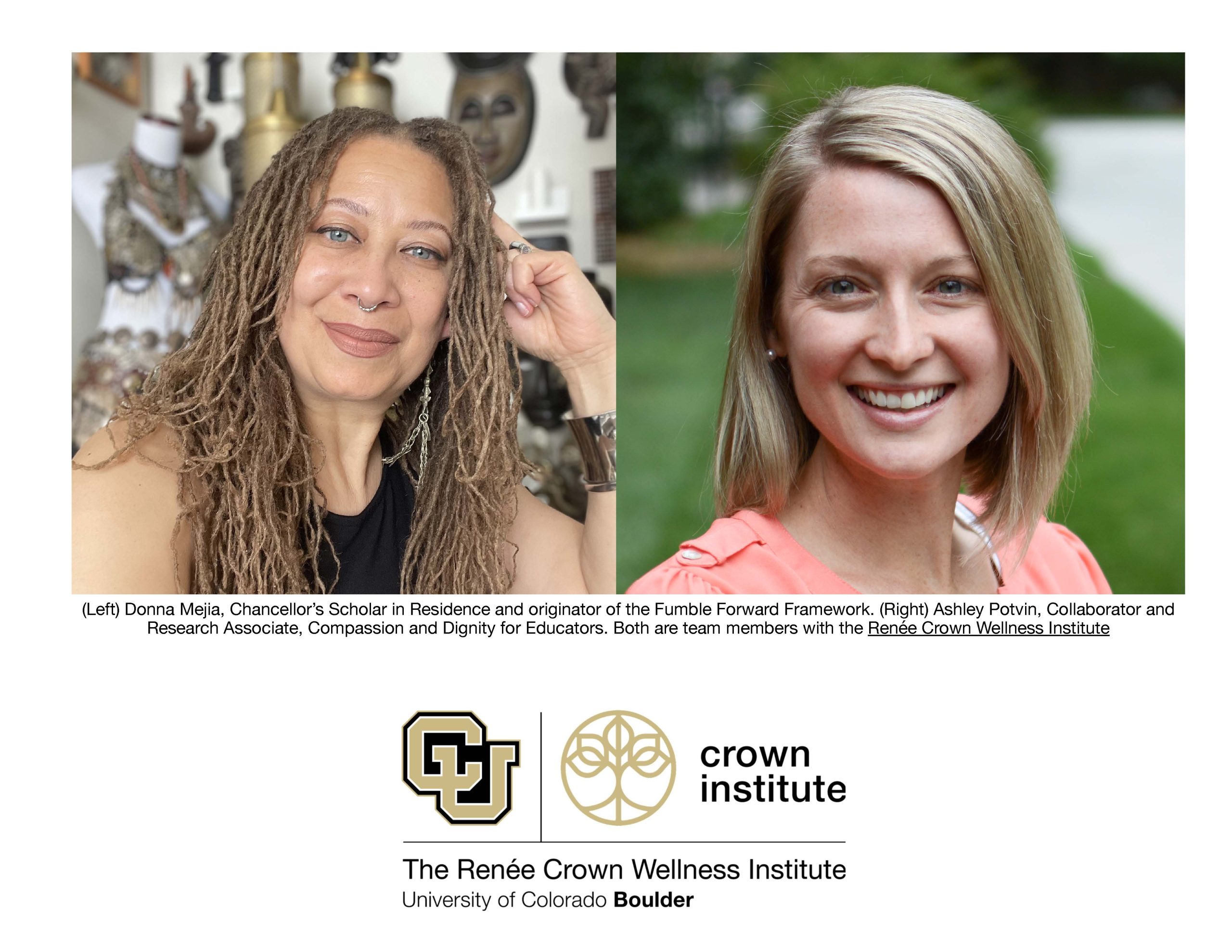 Program Contact
Donna Mejia
Chancellor's Scholar in Residence, Associate Professor
donna.mejia@colorado.edu
720.761.4717
Donna Mejia, Chancellor's Scholar in Residence with the Renée Crown Wellness Institute, has adapted her publication of tested pedagogy tools into a discovery and training series for communities both in and beyond institutions of learning. The Fumble Forward Toolkit provides accessible information on developing intellectual humility, deconstructing ethnocentric assumptions, formulating effective questions, and curating cultures of repair for when missteps occur.
We customize and adapt the Fumble Forward Toolkit training for our community partners, beginning with Colorado K-12 educators, global participants in the Dalai Lama Fellows Program, and employees of Denver 7 Television. Based on feedback and data, we have revised and scaled these offerings for wider distribution to the general public.
The Fumble Forward Toolkit training will be offered throughout the 2022-2023 year and includes workbook materials and practice sessions in the framework. The training and workshops can be virtual and/or in-person, depending upon a community's unique needs, demographics, and contexts.
We welcome inquiries and look forward to connecting with you. For more information, contact Donna Mejia at donna.mejia@colorado.edu.
Fumble Forward Toolkit training for Colorado K-12 educators

Public or Private

Private Program (by request only or for a specific audience or group)

Program Fee

No charge to attend/participate in activity or program

Fumble Forward Toolkit training for Denver 7 Television employees

Public or Private

Private Program (by request only or for a specific audience or group)

Program Fee

No charge to attend/participate in activity or program

Fumble Forward Toolkit training for international participants in the Dalai Lama Fellows Program

Public or Private

Private Program (by request only or for a specific audience or group)

Program Fee

No charge to attend/participate in activity or program
Sponsoring Units
Center for Teaching and Learning (CTL)

College of Arts & Sciences

Department of Theatre and Dance

Research Institutes

Renée Crown Wellness Institute
Program Partners
Renée Crown Wellness Institute partner school districts
Dalai Lama Fellows Program
Denver 7 Television
Additional groups welcomed - please inquire
Audiences Served
Adult Learners
Alumni/Parents/Friends
Business
Children & Youth (outside school)
Families
General Public
Government
Historically Excluded/Marginalized/Non-dominant Group(s)
Immigrant Individuals/Communities
Incarcerated People And Their Communities
Indigenous Populations
Informal Settlement Communities
International
LGBTQ+
Manufactured Homes/ Mobile Home Communities
Media
Native American/American Indian
Non-Profit Organization
People Of Color
People Who Identify As Women, Girls, and/or Females
People With Disabilities
Refugee Individuals/Communities
Rural Communities
Senior Citizens
Service Club(s)
Socioeconomically Disadvantaged
Students - Community College
Students - Early Learning
Students - Elementary School
Students - English Language Learners (ELL)/Emergent Bilingual
Students - First Generation College - going/bound
Students - Homeschooled
Students - High School
Students - Middle School
Teachers - Early Learning
Teachers - Elementary School
Teacher - English Language Development (ELD)
Teachers - Middle School
Teachers - High School
Unhoused Individuals/Communities
Urban Communities
Youth Placed At Risk