Girls At the Museum Exploring Science (GAMES)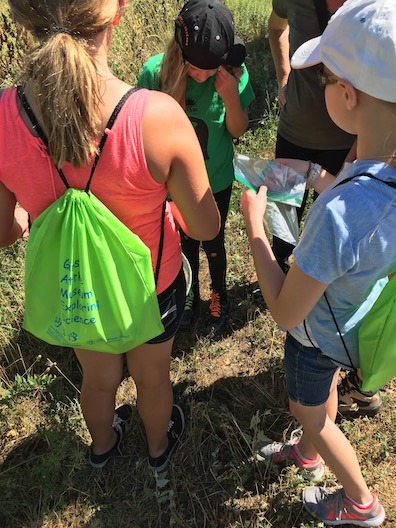 Program Contact
Gianna Sullivan
gianna.sullivan@colorado.edu
Girls at the Museum Exploring Science (GAMES) is a unique program designed to encourage interest and excitement about science in 4th and 5th grade girls.
Academic Year Program
The GAMES program consists of six or more weekly after school meetings with the University of Colorado Museum of Natural History (CU Museum) staff and CU Boulder student mentors. Participants will explore the sciences of archaeology, botany, entomology, paleontology and zoology through hands-on activities using real museum specimens, in-person tours, and virtual interaction with scientists and museum professionals. Scientific toolkits will be provided for the participants to keep as part of this program.
The culminating session is a Family Science Event where extended families are invited to support the students by coming together and enjoying a pizza dinner while participants present their work as part of the celebration.
Funding from CU Boulder's Office for Outreach and Engagement and the Jared Polis Foundation allows us to offer the program free of charge to schools that meet our guidelines for having a percentage of students who qualify for free and reduced lunch programs.
Girls participate as a cohort from a single school. If you would like girls from your school to participate, please send an email to museumed@colorado.edu
Summer Program
Moving On to Research Experience (MORE) will allow GAMES participants to extend and deepen their connection with the University of Colorado Boulder and science. During summer sessions, participants will meet at the CU Museum to go behind the scenes at the museum, meet with CU Boulder research scientists, venture out into the field, and create their own exhibit to be displayed at the museum. Students will experience the interdisciplinary nature of science and its natural overlap with art. This program is FREE to attend based on the same qualifications as GAMES. Bus passes, lunch and scientific tool kits will be provided. Email museumed@colorado.edu for more information.
Summer GAMES

Additional Info

Summer GAMES offers two weeks of camp for students to engage more deeply with science and scientists. Reach out to museumed@colorado.edu for more information.

---

Location

in colorado

Boulder

Dates

6/14/2021 - 6/25/2021

Public or Private

Public Program (open to the public)

Program Fee

No charge to attend/participate in activity or program

GAMES (in person or virtual)

Additional Info

This multi-week program is offered each fall and spring. As of 2021 the program is available in a virtual format to more remote areas of Colorado. Please reach out to museumed@colorado.edu for more information.

---

Location

in colorado

Boulder

Public or Private

Private Program (by request only or for a specific audience or group)

Program Fee

No charge to attend/participate in activity or program
Program Partners
SciAll.org
Fiske Planetarium
Boulder Valley School District
Jared Polis Foundation
Audiences Served
Children & Youth (outside school)
Rural Communities
Students - Elementary School
Students - Middle School
Youth Placed At Risk