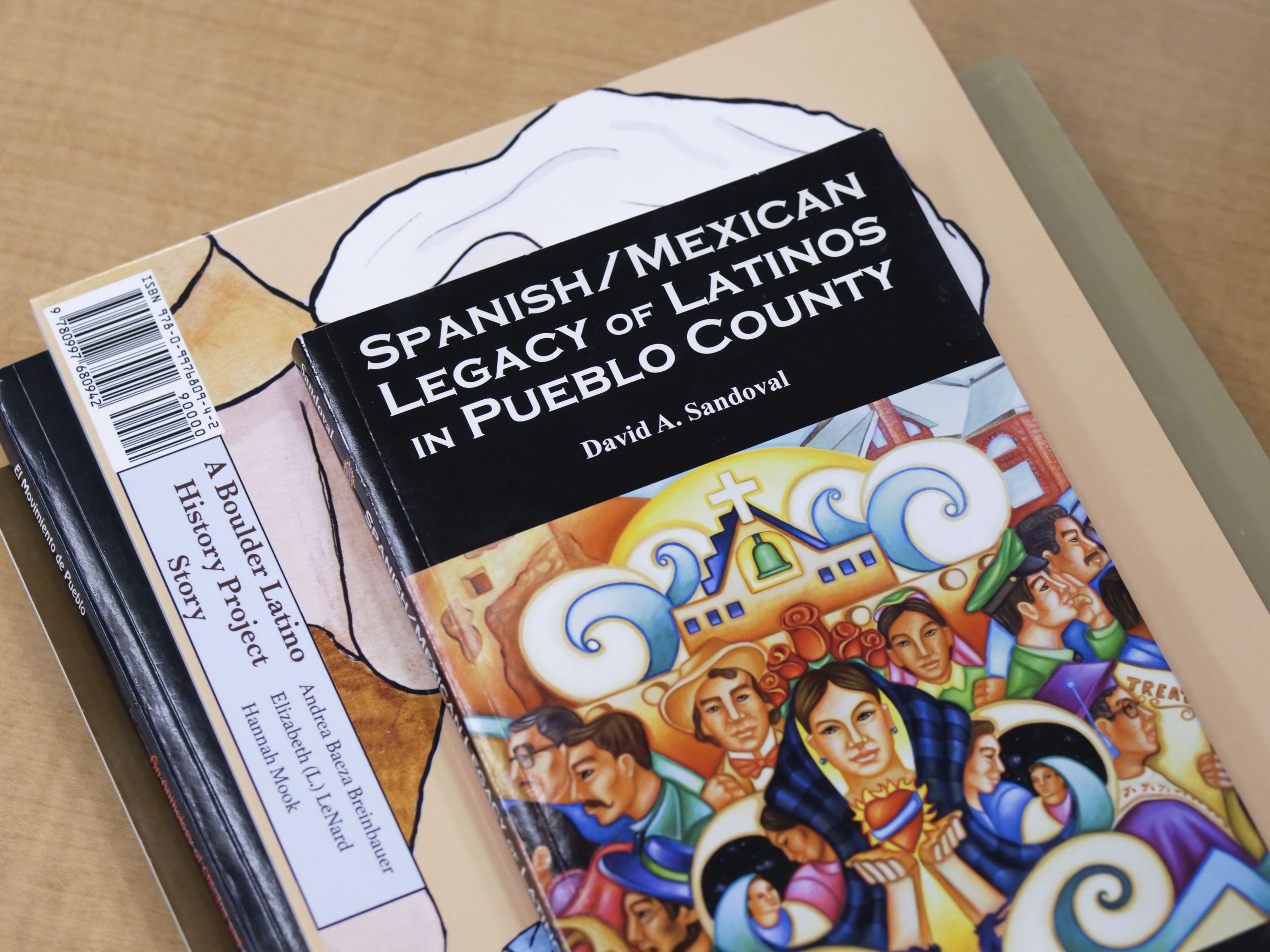 Program Contact
Jason Romero
jason.romerojr@colorado.edu
The Latino History Project helps to correct the widespread omission of Latinos from local history books and school curriculums. It began in 2013 as a community-based initiative in Boulder County to document and make known the previously invisible experiences of Latinos in Longmont, Lafayette, and Boulder over the past century.
The project's 100 volunteers and interns assembled 1,600 primary sources of many types: oral history interviews and other biographical materials, family photographs, information from old newspapers, school records, U.S. Censuses, and data about the occupations and employers of Latinos and where they lived over time. This rich collection of material is available on the initiative's website. Members of the project have given many presentations to local groups and produced an exhibit about Mexican American history in the Southwest, which has been displayed in libraries throughout the county and in Denver. Prof. Emerita Marjorie McIntosh wrote a pair of books about what the project has learned: "Latinos of Boulder County, Colorado, 1900-1980."
The LHP also works to get material about local Latinos into PreK-12 classrooms. Preparing students to become good citizens in a multicultural society requires knowing about and honoring everyone who has been part of our history and all the people who contribute to our communities today. Latino students gain a greater sense of pride and a more positive identity from learning about their own heritage. To this end, the project has run workshops each summer since 2014 to introduce teachers in Boulder County and adjoining regions to primary sources about Latino history and culture, work with them in developing lesson plans that incorporate such material, and talk about how to discuss difficult issues of race, ethnicity, and privilege with their students. All of the project's Primary Source Sets and Lesson Plans are available on our website, along with many other educational resources.
Since 2017, the Latino History Project has been building partnership with other communities and school districts in Colorado. In 2019-20 we will hold workshops together with local organizations in Alamosa/the southern San Luis Valley, Trinidad/Los Animas County, and Pueblo. For each place we have developed and put onto a website Primary Source Sets of material about local Latino lives and culture as well as sample Lesson Plans (latinohistoryproject.org). Some of the workshops will be for preK-12 educators, while others are for community members and students about why it is important to preserve the sources that document the experiences of local Latinos and how to take care of these materials so they will last into the future. This exciting expansion is helping to bring a greater appreciation for Latino history and culture to places throughout Colorado.
About Face

Location

in colorado

Boulder

Public or Private

Private Program (by request only or for a specific audience or group)

Program Fee

Not Applicable

Additional Info

Based on professor Chris Carruth's About Face project, students at Columbine Elementary and Casey Middle School will meet after-school over the course of several months. The project aims to create space for participants to represent themselves, their families, and their communities via images and words to connect with and share their understandings of place, identity, and heritage in Boulder.

Bringing Colorado's Chicano Movement to Classrooms

Public or Private

Public Program (open to the public)

Program Fee

No charge to attend/participate in activity or program

Additional Info

Project goals are to create a centralized collection of materials and activities related to the people, organizations, campaigns, issues, and actions that made up Colorado's Chicano Movement in order to Increase knowledge among preK-12 students of the contributions made by BIPOC to our communities; Work with local community members and; provide CUB students with experiences in education.

Latino History Project Website

Public or Private

Public Program (open to the public)

Program Fee

Not Applicable

Additional Info

Find curricular resources created by teachers for k12 learning and more in this site.
Sponsoring Units
College of Arts & Sciences

Department of Ethnic Studies
Department of History

School of Education

BUENO Center for Multicultural Education
Latino History Project
Program Partners
Boulder Valley School District (www.bvsd.org)
Carbondale Arts (www.carbondalearts.com)
Carnegie Branch Library for Local History, Boulder Library (boulderlibrary.org/carnegie)
Carnegie Library of Trinidad (www.carnegiepubliclibrary.org)
Colorado Chapter, AARP (states.aarp.org/category/colorado)
Colorado Division of Mine Safety and Reclamation
Colorado Health Foundation
Colorado State University Pueblo-Archives (www.csupueblo.edu/library/archives/index.html)
Community Foundation Serving Boulder County (www.commfound.org/about)
El Comité de Longmont (www.elcomitedelongmont.org)
El Pueblo Museum, Pueblo (www.historycolorado.org/el-pueblo-history-museum)
Fort Garland Museum (History Colorado)
Longmont Museum (www.ci.longmont.co.us/museum)
Maria Rogers Oral History Program, Carnegie Branch Library for Local History (boulderlibrary.org/carnegie/collections/mrohp.html)
Pueblo City/County Public Library (www.pueblolibrary.org)
Sangre de Cristo National Heritage Area, San Luis Valley (sdcnha.org/wp/)
Southern Colorado Coal Miner's Museum, Trinidad (no website)
St. Vrain Valley School District (www.svvsd.org)
Steelworks Center of the West, Pueblo
Teaching Primary Sources project (Library of Congress, based at Metro)
Trinidad History Museum (part of History Colorado) (www.historycolorado.org/museums/trinidad-history-museum-0)
Audiences Served
Adult Learners
Children & Youth (outside school)
General Public
Historically Excluded/Marginalized/Non-dominant Group(s)
Non-Profit Organization
Rural Communities
Socioeconomically Disadvantaged
Students - Early Learning
Students - Elementary School
Students - English Language Learners (ELL)/Emergent Bilingual
Students - Homeschooled
Students - High School
Students - Middle School
Teachers - Early Learning
Teachers - Elementary School
Teachers - Middle School
Teachers - High School
Urban Communities
Youth Placed At Risk