Philosophy Outreach Program of Colorado (POPCO)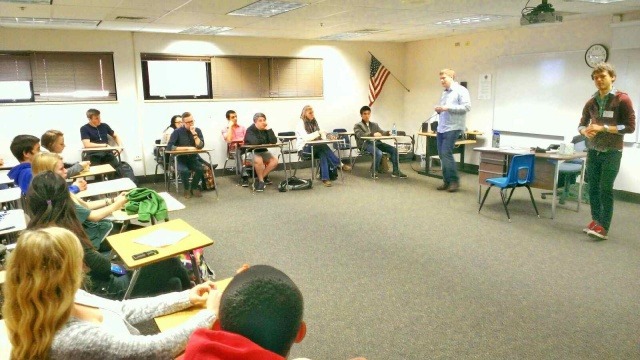 Program Contact
Dawn Jacob, Connor Kianpour
Graduate Co-Directors
popco@colorado.edu
720.924.1548
Philosophy is about universally interesting questions: What makes a life good? How should we pursue wisdom? What is it to be human? However, people are rarely supported in thinking about philosophical questions outside college classrooms. Philosophy Outreach Program of Colorado (POPCO) aims to change this by building bridges between academic philosophy and other communities.
All POPCO visits are free to the host institutions. POPCO has operated since 1995 and is supported by the Department of Philosophy and CU Boulder's Office for Outreach and Engagement.
Current POPCO Programing
K-12 classroom visits
Through POPCO, philosophy graduate students visit Colorado K-12 classrooms to conduct custom-tailored philosophical discussions about a variety of topics. These discussions encourage students to think carefully and creatively about challenging questions such as the following:
What makes something science as opposed to pseudo-science?
Do the laws of physics and biology allow for free will?
Under what conditions is war ethically acceptable?
Do minds require brains?
What are the limits of civil disobedience?
Could robots have rights?
A POPCO discussion can also support teaching critical thinking skills, by challenging students to comprehend new ideas, analyze cause and effect relationships, and differentiate facts from emotional appeals.
Support for National High School Ethics Bowl teams
National High School Ethics Bowl invites students to engage in thoughtful, collaborative discussion on ethically complex cases. The regional competition takes place at CU Boulder during winter, before successful teams advance to the spring national competition. Area high schools interested in fielding an Ethics Bowl team can receive startup guidance and coaching assistance from POPCO.
Check out our website to learn more about POPCO or the annual Ethics Bowl.
Public reading groups in collaboration with local libraries
In partnership with Boulder Public Library and Longmont Public Library, POPCO instructors facilitate monthly philosophy reading groups for the public. Participants read a short work of philosophy, then meet to discuss it with one another. Facilitators gently guide the discussion, encouraging participants to think through the ideas raised in the text and consider their import. New participants are always welcome. Recommended for ages 16 and older.
The Boulder Public Library group meets the 2nd Monday of each month, 7pm-8:30pm (Mountain).  More information can be found at https://bit.ly/classics-phil
The Longmont Public Library group meets the 4th Monday of each month, 7pm-8:30pm (Mountain).  More information can be found at https://bit.ly/phil-reading-group
"Act Ethically"
Communities of practice with area middle school teachers that equip teachers with skills for leading ethical discussions in their classrooms on a variety of topics. (https://actethically.com)
K-12 classroom visits

Additional Info

Through POPCO, philosophy graduate students visit Colorado K-12 classrooms to conduct custom-tailored philosophical discussions on a variety of topics. These discussions encourage students to think carefully and creatively about challenging questions. Visits are free to partner schools/teachers.

---

Location 1

in colorado

Greeley

Public or Private

Private Program (by request only or for a specific audience or group)

Program Fee

No charge to attend/participate in activity or program

---

Location 2

in colorado

Boulder

Public or Private

Private Program (by request only or for a specific audience or group)

Program Fee

No charge to attend/participate in activity or program

---

Location 3

in colorado

Arvada

Public or Private

Private Program (by request only or for a specific audience or group)

Program Fee

No charge to attend/participate in activity or program

---

Location 4

in colorado

Fort Collins

Public or Private

Private Program (by request only or for a specific audience or group)

Program Fee

No charge to attend/participate in activity or program

---

Location 5

in colorado

Greenwood Village

Public or Private

Private Program (by request only or for a specific audience or group)

Program Fee

No charge to attend/participate in activity or program

---

Location 6

in colorado

Lafayette

Public or Private

Private Program (by request only or for a specific audience or group)

Program Fee

No charge to attend/participate in activity or program

---

Location 7

in colorado

Broomfield

Public or Private

Private Program (by request only or for a specific audience or group)

Program Fee

No charge to attend/participate in activity or program

Community Reading Group - Boulder Public Library

Additional Info

This is a monthly reading group sponsored by Boulder Public Library. Registration is open to the public at https://sites.google.com/colorado.edu/classics-phil-reading-group

---

Location

in colorado

Broomfield

Public or Private

Public Program (open to the public)

Program Fee

No charge to attend/participate in activity or program

Community Reading Group - Longmont Public Library

Additional Info

This reading group meets monthly with the sponsorship of Longmont Public Library. Registration is through the library website. Details an be found here: https://sites.google.com/view/phil-reading-group/home

---

Location

in colorado

Lafayette

Public or Private

Public Program (open to the public)

Program Fee

No charge to attend/participate in activity or program

Guest Coaching and Startup Advice for National High School Ethics Bowl teams

Additional Info

National High School Ethics Bowl invites students to engage in thoughtful, collaborative discussion on ethically complex cases. The regional competition takes place at CU Boulder in winter before successful teams advance to the spring national competition. Area high schools interested in fielding an Ethics Bowl team can receive startup guidance and coaching assistance from POPCO.

---

Location 1

in colorado

Parker

Public or Private

Private Program (by request only or for a specific audience or group)

Program Fee

No charge to attend/participate in activity or program

---

Location 2

in colorado

Boulder

Public or Private

Private Program (by request only or for a specific audience or group)

Program Fee

No charge to attend/participate in activity or program

---

Location 3

in colorado

Lafayette

Public or Private

Private Program (by request only or for a specific audience or group)

Program Fee

No charge to attend/participate in activity or program

---

Location 4

in colorado

Lakewood

Public or Private

Private Program (by request only or for a specific audience or group)

Program Fee

No charge to attend/participate in activity or program

"Act Ethically" commumnity of practice for area middle school teachers

Additional Info

We develop and offer resources to help K-12 teachers engage their students in thoughtful ethical discussions that are grounded in philosophical methods and theories.

Teacher training is offered in a community of practice format that brings together teachers from different schools and subject areas with a trained philosopher who specializes in ethics and philosophical pedagogy.

---

Location 1

in colorado

Greenwood Village

Dates

1/16/2023 - 8/1/2023

Public or Private

Private Program (by request only or for a specific audience or group)

Program Fee

No charge to attend/participate in activity or program

---

Location 2

in colorado

Longmont

Dates

1/16/2023 - 8/1/2023

Public or Private

Private Program (by request only or for a specific audience or group)

Program Fee

No charge to attend/participate in activity or program
Sponsoring Units
College of Arts & Sciences

Center for Values and Social Policy
Department of Philosophy
Program Partners
Boulder Public Library
Longmont Public Library
Altona Middle School
Flagstaff Academy
Horizons K-8
Peak to Peak Charter School
Dawson School
Colorado Academy
Boulder High School
Fort Collins High School
Fairview High School
Cherry Creek High School
Colorado Early Colleges - Parker
Pomona High School
Greeley Central High School
Broomfield High School
Audiences Served
Adult Learners
General Public
Historically Excluded/Marginalized/Non-dominant Group(s)
Senior Citizens
Students - Elementary School
Students - High School
Students - Middle School