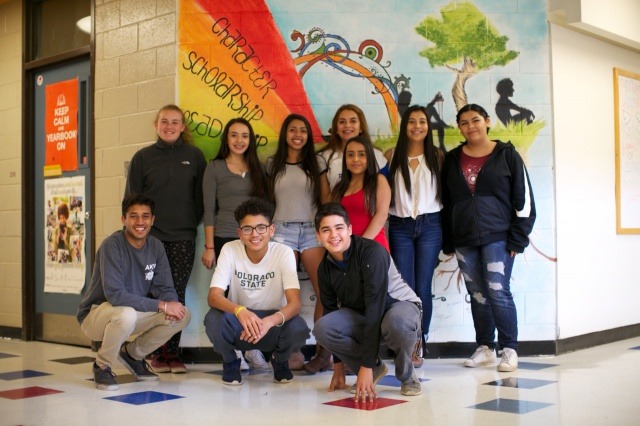 Program Contact
Charla Agnoletti
Director of Public Achievement
charla.agnoletti@colorado.edu
303.492.7981
Public Achievement invites K-12 students to find solutions to public issues relevant to their lives that reflect their own values, identities and experiences. This program is administered by CU Engage: Center for Community-Based Learning and Research in the School of Education.
CU Boulder undergraduates, who are enrolled in the course EDUC 2919: Renewing Democracy in Communities and Schools, learn about education for democracy and social change and serve as Public Achievement coaches.  These coaches guide K-12 students throughout the course of a year as they research and develop community action plans to address social injustices in students school or community. Coaches and K-12 students foster a commitment to critical civic engagement and connection to CU Boulder through campus visits, special community events and sustained relationships with college students who are first-generation as well as Black, Indigenous and people of color.
During the 2021-22 academic year, Public Achievement will be at Centaurus High School, Casey Middle School and Angevine Middle School students involved in the AVID (Advancement Via Individual Determination) program. Public Achievement has been institutionalized as part of the AVID curriculum and as a community partner.
Public Achievement

---

Public or Private

Private Program (by request only or for a specific audience or group)

Program Fee

Not Applicable
Sponsoring Units
School of Education

CU Engage: Center for Community Based Learning and Research
Program Partners
Boulder Valley School District (Angevine Middle School, Centaurus High School, Casey Middle School)
AVID (Advancement Via Individual Determination)
City of Boulder
City of Lafayette
Voces Unidas of Boulder County
NAACP Youth Council of Boulder County
Aquetza
Multicultural Leadership Scholars
The Community Foundation
Center for Democracy & Citizenship, Augsburg College
Center for Community Engagement and Service Learning, University of Denver
Student Leadership Involvement and Community Engagement (SLICE) Center, Colorado State University
Collaborative for Community Engagement, Colorado College
Audiences Served
Children & Youth (outside school)
General Public
Historically Excluded/Marginalized/Non-dominant Group(s)
Non-Profit Organization
Socioeconomically Disadvantaged
Students - Elementary School
Students - English Language Learners (ELL)/Emergent Bilingual
Students - High School
Students - Middle School
Teachers - Elementary School
Teachers - Middle School
Teachers - High School
Youth Placed At Risk