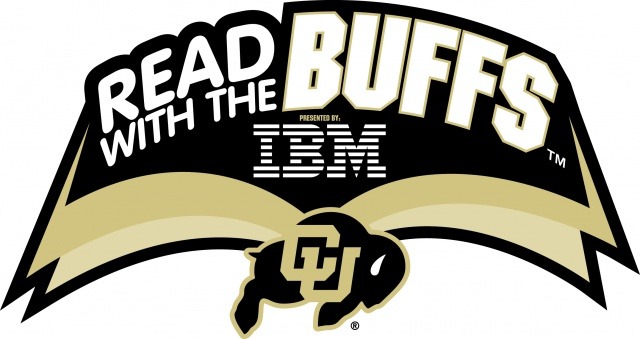 Program Contact
Rachel Ripken
rachel.ripken@colorado.edu
The University of Colorado Athletic Department along with IBM is promoting the importance of reading and is proud to present Read with the Buffs; a reading incentive program geared toward 2nd-4th grade students. As part of the program, CU student-athlete(s) make a visit to each participating school for a classroom visit. Those elementary school students that complete the program are invited to celebrate their achievements at a CU Women's Basketball game.
Program runs from October through February.
Classes sign up on a first come, first served basis. Participating students take part in a reading challenge for a six week period between the months of October through February. Teachers can pick any six week block of time between October and February. If students complete their goals they are invited to celebrate their accomplishments at a CU Women's Basketball game. As part of the program, CU student-athletes visit each participating classroom and read a pre-selected book with a positive moral message about determination, overcoming adversity, and how hard work is the foundation for success. During the visit, student-athlete(s) will engage the students in a "Question and Answer" session and will give out prizes. Student-athlete(s) will share their thoughts on the importance of school as well as their experience at CU Boulder.
Program Activity

Location

In Colorado

Boulder

Dates

10/1/2018 - 2/25/2019
Sponsoring Units
Senior Vice Chancellor, Division of the

Atheletics Department
Audiences Served
Students - Early Learning
Students - Elementary School
Students - ESL