Reflections on the Future Art Exhibit and Installation Event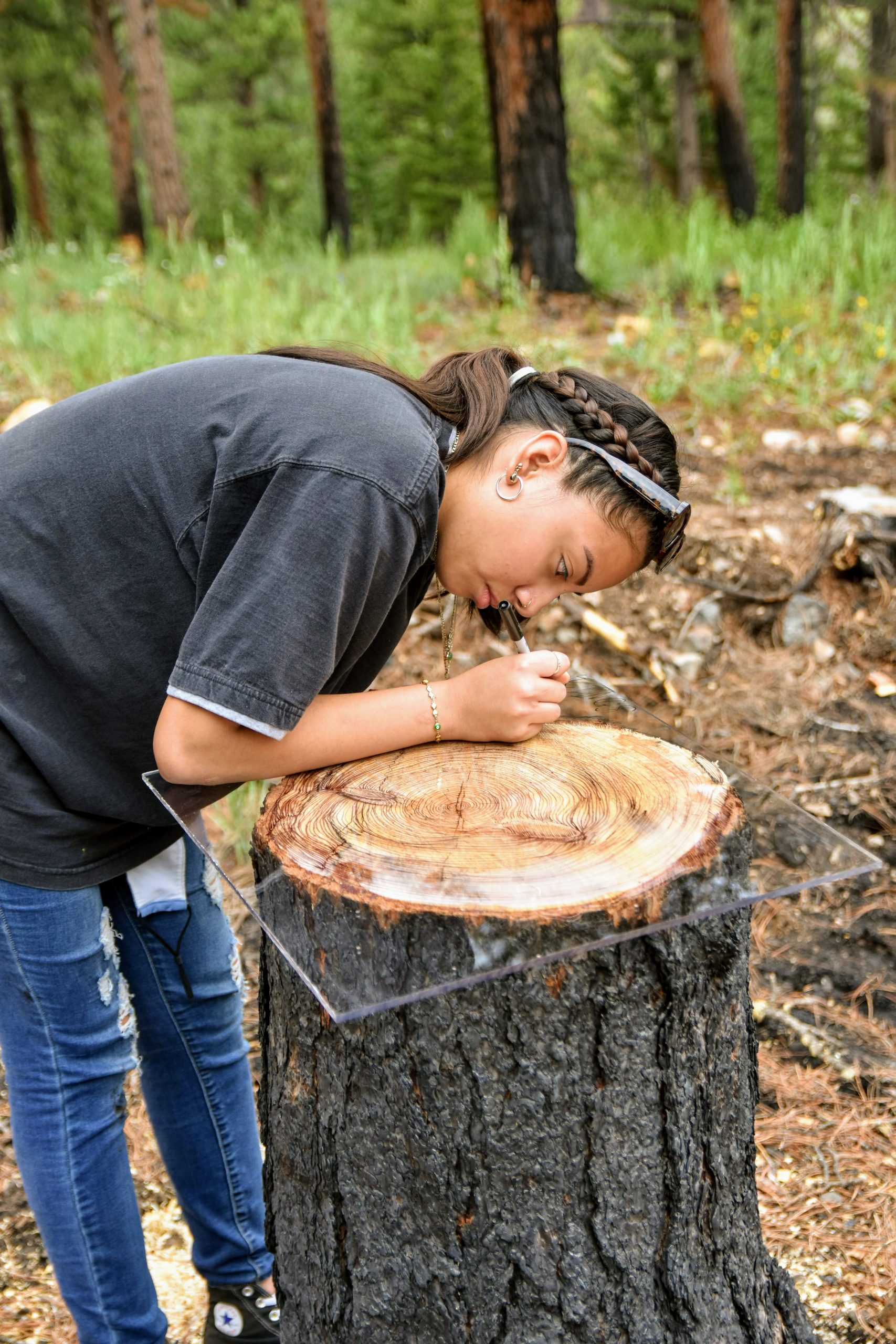 Program Contact
Alexandra Rose
alexandra.rose@colorado.edu
The Cal-Wood Restoration Crew (CRC) project was implemented during summer 2021 with a residential outdoor STEM education program focused on wildfire ecology, mitigation and restoration. This pilot project was led by CU Science Discovery in collaboration with Cal-Wood Education Center, Thorne Nature Experience, and Nature Kids/Jóvenes de la Naturaleza. It engaged 12 Latino, low-income, and first-generation-college-student-teens from Lafayette and across the region, in research related to fire ecology and forest management. The project was supported by a Community Impact grant from the CU Boulder Office for Outreach and Community Engagement. 
To involve teens in a holistic way with the Cal-Wood fire, we partnered with Masters in Fine Arts candidate Amy Hoagland. During the week at Cal-Wood, she facilitated a collaborative art-making experience where CRC teens traced tree rings from stumps in the Cal-Wood burn area and worked with a poet to capture their hopes for the future of the forest, and themselves, in writing. Leadership at Cal-Wood expressed interest in making the tree ring art a permanent installation at the site. 
Now, with additional funding from the Office for Outreach and Engagement, the tree ring drawings will be etched into mirror-polished stainless steel. The steel will be installed on top of the stumps and will reflect the surrounding landscape, as a permanent memorial to the forest.
The installation of Reflections on the Future will be part of a free community event for the teen participants, their families, and mentors. This event will coincide with the first anniversary of the fire and will provide an opportunity for mourning and celebration. It will also support collective recognition of the impacts of climate change on the local landscape, with an audience disproportionately impacted by climate change and matters of environmental justice, yet frequently left out of the decision- making process.
The project goals are:
1. Engage teens in the memorialization of the Cal-Wood forest through visual art and creative writing
2. Create a community event around the installation of the art piece, as an opportunity for teens to share their knowledge, understanding, and emotions about the fire and forest with their families and mentors
3. Document the event in such a way that others who are not able to attend can later share in the experience
Reflections on the Future installation and event will take place at Cal-Wood Environmental Education Center.
Reflections on the Future Art Installation and Community Gathering

Location

In Colorado

Jamestown

Dates

10/16/2021 - 10/16/2021

Public or Private

Private Program (by request only or for a specific audience or group)

Program Fee

No charge to attend/participate in activity or program
Sponsoring Units
College of Arts & Sciences

Department of Art and Art History

Division of Continuing Education

Science Discovery
Program Partners
Cal-Wood Education Center
Thorne Nature Experience
Nature Kids/Jovenes de la Naturaleza Lafayette
Arbor Institute
CU Science Discovery
CU School of Visual Arts
Engaged Arts and Humanities Cohort
Audiences Served
Adult Learners
At-Risk Youth
Children & Youth (outside school)
Families
Minority Group(s)
Socio-Economic Disadvantaged
Students - High School