Supporting Tribal Language Initiatives, Sovereignty with Visual Learning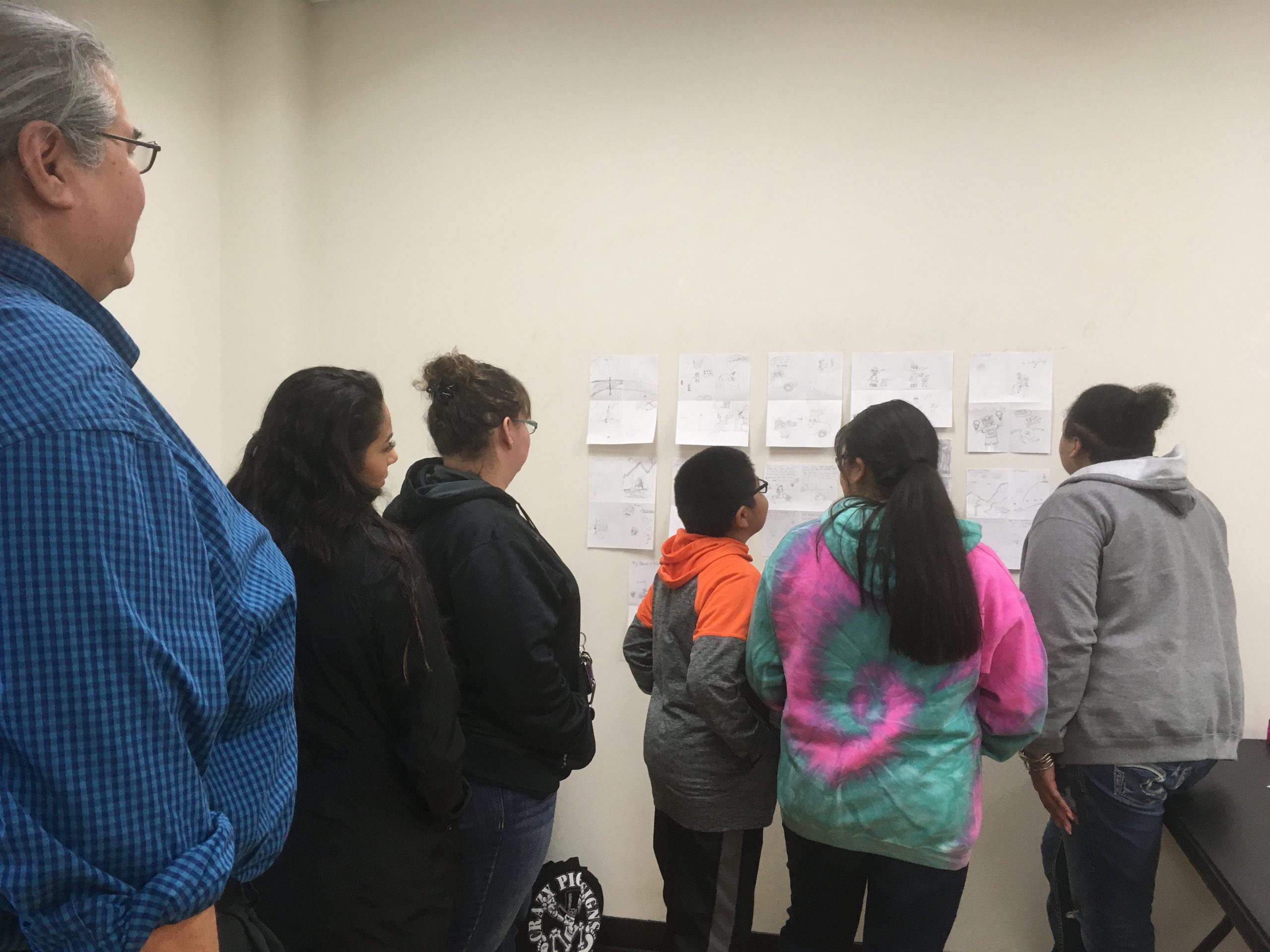 Program Contact
Jen Shannon
jshannon@colorado.edu
303.492.6276
Overview: 
Members of the Mandan Hidatsa Arikara Nation's Culture and Language Department (C&LD) are partnering with Jen Shannon and John Swogger, co-producers of NAGPRA (Native American Graves Protection and Repatriation Act) Comics, to assess the potential for language learning with comics. Swogger and Shannon facilitated comics workshops in 2019 at MHA Nation in coordination with Tony Lonefight, Director of the C&LD.
MHA Nation in North Dakota, also known as the Three Affiliated Tribes, each has its own language: Nueta (Mandan), Hidatsa, and Sahnish (Arikara). While these languages are treasured, according to Mr. Lonefight, the resources for revitalization are scarce. Although the MHA Nation has a rich source of traditional tribal stories and many have been translated from MHA languages into English, cultural protocols restrict these stories to certain people or to being told at certain times of year. Other stories are in academic publications and are difficult to access for beginning language learners. The language program needs stories about everyday life and language for everyday conversation, and they need more diverse resources for a broader range of ages and experience.
There is urgent need to create accessible and relatable resources to encourage language learners. This project will provide a proof of concept for comics as language resources, incorporate assessment and apprenticeship for department staff to continue making comics and multimedia language resources on their own, and demonstrate a pilot for applying to larger grants.
Goals:
(1) Create culturally appropriate and locally relevant Indigenous language learning resources. To do so, this project is committed to and combines complementary research methodologies: decolonizing methodologies and arts-based research. Committing to decolonizing research methodologies means the project is founded in respect and reciprocity, and Indigenous partners determine the research questions, appropriate methods, and outcomes for the project.
(2) Support more effective language learning. Separately, dual language books and visuals have been found to be particularly effective in second language learning. Through creating comics for one's own community, stories can be situated in real places on the reservation—creating culturally appropriate, and personally relevant, language resources for tribal members. Topics suggested include greetings, food, household, and prepositions.
Objectives:
(1) Increase resources available at MHA Nation for language learning;
(2) Assess the effectiveness of comics, video, and website formats for language learning;
(3) Create a proof of concept for a more sustained program;
(4) Build capacity by teaching the department how to create these materials and by providing editable digital files.
Deliverables:
(1) Three comics (English/Nueta; English/Hidatsa; English/Sahnish) that feature everyday conversations, each a 16-page comic including a cover, four pages of English and 4 pages of translated comics, two pages of activities with teacher notes, and a back cover explaining how to use the booklet;
(2) The original digital files;
(3) An evaluation report.
Sponsoring Units
College of Arts & Sciences

Department of Anthropology
Museum and Field Studies Program

Graduate School
Program Partners
Mr. Tony Lonefight (Mandan Hidatsa Arikara Nation) is the Director of the MHA Nation Culture & Language Department. Before returning to his home reservation to focus his energy on MHA Nation's tribal languages, he was a journalist for over 24 years in ND and NC after helping to launch the MHA Times. Mr. Lonefight is the project director; he articulated the need and formats for the language resources in this project. He is also an artist and will work with Swogger to learn comics creation and contribute artwork to the comics.
Dr. Logan Sutton is a linguist specializing in language documentation and revitalization and serves as language curriculum developer and language mentor in the C&LD. He will provide or facilitate, transcribe, and edit translations into the three languages for the comics, and consult on design of the linguistic content of the comics to facilitate language learning.
Mr. Elijah Benson (MHA Nation) is a Nueta (Mandan) language apprentice and media specialist in the C&LD. Mr. Benson will create a video that combines the comics and audio of elders speaking the phrases in the text bubbles.
Mr. John Swogger is a comics creator, co- producer of NAGPRA Comics, and archaeologist. He will work closely and in collaboration with the team to advise on story development, draft the panel layouts, and provide guidance for the comics artwork.
Audiences Served
Adult Learners
Children & Youth (outside school)
Families
Rural Communities
Senior Citizens
Students - Middle School
Students - High School
Teachers - Middle School
Teachers - High School
Tribal Communities (in U.S.)