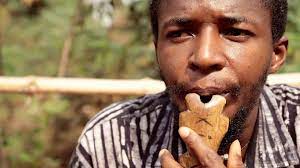 Program Contact
Chiamaka Odinenu
chiamaka.odinenu@colorado.edu
720.883.2266
The Soul of the Oja is a documentary project focused on exploring the musical tradition of the oja among the Igbo people of Nigeria. The oja is a traditional wind instrument that has featured prominently in Igbo cultural and social life. Historically, it was used to accompany the masquerade cult and men of the warrior class in battle. It was said to awaken and inspire the spirits. Over time, however, the use of the oja has been largely commercialized and secularized.
The Soul of the Oja documentary will tell the story of the oja and its cultural significance. The film will feature interviews with current music students from Nnamdi Azikiwe University and Ichokwu Academy who are learning the oja's modern applications as well members of the Igba egwuregwu ensemble community where traditional Oja practice is becoming extinct as the last generation of  seasoned oja players begins to die out. The film will hopefully inspire more Igbo people and the world at large to learn and appreciate this sacred instrument.
This project will be showcased in Boulder upon its completion in Spring 2023. In addition, it will be available for the general public via online platforms like YouTube.  Specific audiences include MAPE (Media and Public Engagement) students and faculty at CU Boulder as well as students of Nnamdi Azikiwe University in Awka, Nigeria.
Documentary showing via online platform

Public or Private

Public Program (open to the public)

Program Fee

No charge to attend/participate in activity or program

Additional Info

This activity will commence upon completion of the project during spring 2023. It will involve the release of the documentary project on at least one online platform, most likely YouTube.
Sponsoring Units
College of Media, Communication and Information

Department of Media Studies
Program Partners
Ichokwu academy, Anambra, Nigeria.
Audiences Served
Alumni/Parents/Friends
Children & Youth (outside school)
General Public
Indigenous Populations
Media