Bennett, others honored for outreach work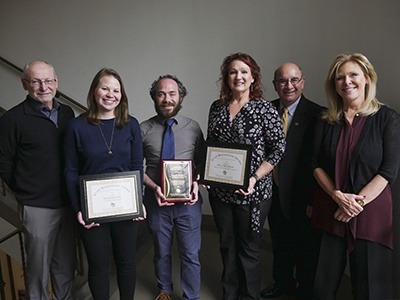 May 6, 2019 • By Sue Postema Scheeres
Front Range K-12 students and community members have access to hands-on STEM, business and diversity programs, thanks to the leadership of three CU Boulder staff members. These outreach professionals were recognized for their outstanding work at the annual CU Boulder Outreach Award luncheon on April 22.
Mike Bennett, director of educational outreach and research for Partnerships for Informal Science Education in the Community (PISEC) program within JILA, received the 2019 Anne K. Heinz Staff Award for Excellence in Outreach and Engagement, which honors staff members who have demonstrated outstanding professional commitments to and success with community outreach and engagement initiatives. Bennett also will receive $5,000 to support the program's outreach activities.
In addition, Sarah Cowan, manager of the Leeds Scholars and Honors programs, and Nola Salisbury, manager of programs and events for the Office of Diversity, Equity & Community Engagement, received special recognition awards and $1,000 for their programs.
Provost Russ Moore, Chancellor Phil DiStefano and Dean of Continuing Education and Vice Provost for Outreach and Engagement Sara Thompson presented the awards at the luncheon.
"On behalf of the division of Continuing Education and the offices of the chancellor and provost, I am thrilled to recognize the outreach work that Mike, Sarah and Nola are doing to connect CU Boulder STEM, business and diversity programs with communities along the Front Range," Thompson said. "Their leadership has helped K-12 students and community members discover the ways that CU Boulder is serving the lifelong learner."
Mike Bennett, 2019 Anne K. Heinz Staff Award for Excellence in Outreach and Engagement Winner
As the director of educational outreach and research at JILA since 2016, Mike Bennett oversees the Partnerships for Informal Science Education in the Community (PISEC) program and other STEM outreach initiatives. The program works with local schools to provide hands-on science programs, connecting CU Boulder mentors with K-12, mostly underrepresented students.
Under Bennett's leadership, PISEC has expanded, reaching nearly 100 students and involving 30+ university participants on a weekly basis. The program also provides training and mentoring opportunities for CU Boulder undergraduate, graduate and postdoctoral students, CU Boulder physics researchers Noah Finkelstein and Eric Cornell wrote in their nominating letter.
"Mike continually improves PISEC, which, under his supervision, demonstrates positive impacts for youth, communities, CU undergraduate and graduate students, and partnering institutions – both CU and school communities," Finkelstein and Cornell wrote.
In addition, Skyline High School and other St. Vrain Valley School District educators described Bennett's ability to connect with students as unparalleled. "Our students benefited tremendously. From getting feedback on projects by real engineers and scientists to learning more about CU students' research, the experiences gained through these mentors will not be forgotten quickly," they wrote in a support letter.
Bennett said PISEC's partnership-focused model creates a more equitable landscape for students to engage in authentic scientific practice, providing real opportunities for them to participate as members of the scientific community, while offering volunteers the opportunity to engage with the public.
"I'm extremely humbled to have received this award, and I think it speaks predominantly to the importance of the work we're partnering with local community members to undertake with PISEC," Bennett said. "Ultimately, through creating this blended community, the hope of the PISEC model is that all participants' scientific worldviews will be expanded, creating a more robust and inclusive scientific culture."
Sarah Cowan, Special Recognition Award Winner
Sarah Cowan manages the Leeds Scholars and Honors programs, which provide leadership, professional development and enhanced academic opportunities for high-achieving business students.
The Scholars Program requires a community outreach project, where students work in teams to develop projects with local organizations. This year's projects included raising money to buy shoes for the homeless, a service trip to help with hurricane relief in North Carolina, technology support for middle schoolers, working with the arts community and more.
Darrell Zechman, director of the Leeds Scholars and Honors programs, wrote in his nominating letter that Cowan helps students scale the project into a year-long initiative that meets community needs, advising students on how to develop a business plan, fundraise, marketing and more.
"Often times, students at this age don't realize the impact they can have, and Sarah's positive advising style combined with experience allows students to push themselves to do something great," Zechman wrote.
In her letter of support, Katie Edwards with Nonprofits Network Center in Denver, wrote: "Sarah Cowan is exactly the kind of person that community organizations like mine need in place to make connections and open new opportunities."
Nola Salisbury, Special Recognition Award Winner
As the manager of projects and events for the Office of Diversity, Equity and Community Engagement (ODECE), Nola Salisbury manages CU Boulder's Diversity and Inclusion Summits, the Equity and Excellence Award Program, the campus Martin Luther King Jr. event and more.
Salisbury is a member of the summit's steering committee and works closely with the city and county of Boulder as well as community partners to plan sessions.
According to nominator Alaina Beaver, ODECE's initiatives director of social climate strategy, Salisbury has built strong, collaborative relationships with groups and organizations at CU Boulder and in the community. This past fall, more than 700 people attended, the most on record.
"She routinely finds and develops new opportunities across these partnerships to keep the Summit's content fresh, interesting and of tremendous value to the CU community and beyond," Beaver wrote in her nominating letter.
In her letter of support, Jennifer Korbelik, former community partnership coordinator for the city of Boulder, wrote: "I have always been impressed by her hard-working ethos, her collaborative nature and her ability to make magic out of relatively few resources. With her help, we have been promoting the summit as a tremendous resource to city and county personnel for quite some time."
About the Awards
The Anne K. Heinz Staff Award for Excellence in Outreach and Engagement was named for Heinz, who retired as dean of Continuing Education in 2015, in recognition of more than 25 years of support to faculty and staff and her legacy of leadership in outreach and engagement efforts at CU Boulder.
The Outreach and Engagement Professionals Network launched the award in 2015 to increase recognition of campus outreach and engagement work. This group seeks to create a community of practice among CU Boulder outreach and engagement staff.
The awards are administered by the Office for Outreach and Engagement and the recipients were selected by a committee that includes Rachel Ripken, community outreach manager from the athletics department, Stacey Forsyth, director of the Science Discovery program, Amanda Giguere, outreach director for the Colorado Shakespeare Festival, Armando Pares, assistant dean in Continuing Education and Katie Skayhan, community engagement & social innovation coordinator in the College of Music.