CU on the Weekend lectures begin Jan. 26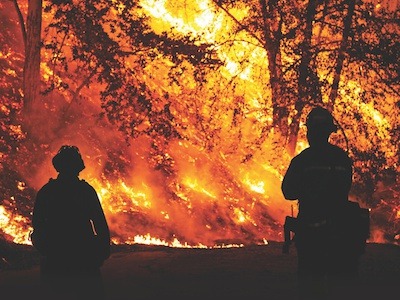 Jan. 3, 2019
Megafires, Cuban pop music, pseudo archaeology and medieval Spain take center stage this spring as part of the CU on the Weekend lecture lineup.
This free lecture series features some of CU Boulder's most dynamic faculty, and is offered on four Saturdays from January through April. The spring series begins Jan. 26.
All lectures are held in the Jennie Smoly Caruthers Biotechnology Building, Butcher Auditorium, 3415 Colorado Ave on the University of Colorado Boulder's East Campus. Doors open at 12:30 p.m. and advanced registration is not required.
The Office for Outreach and Engagement coordinates this public series, which is supported by the Office of the Chancellor, the Office of the Provost and the Division of Continuing Education.
Lectures include:
Learning to Live with Megafires
January 26 • 1–3 p.m.
Michael Kodas, Instructor
College of Media, Communication and Information (CMCI)
Pop Music Video and the Cuban Nation
February 23 • 1–3 p.m.
Susan Thomas, Professor, Music
Director, American Music Research Center
Ancient Aliens and Contemporary Archaeology
March 16 • 1–3 p.m.
Sarah Kurnick, Assistant Professor, Anthropology
Christians, Muslims and Jews in Medieval Spain
April 13 • 1–3 p.m.
Brian Catlos, Professor, Religious Studies
For more information and to sign up to receive event reminders, go to the CU on the Weekend website.