Expanding brain awareness in eastern Colorado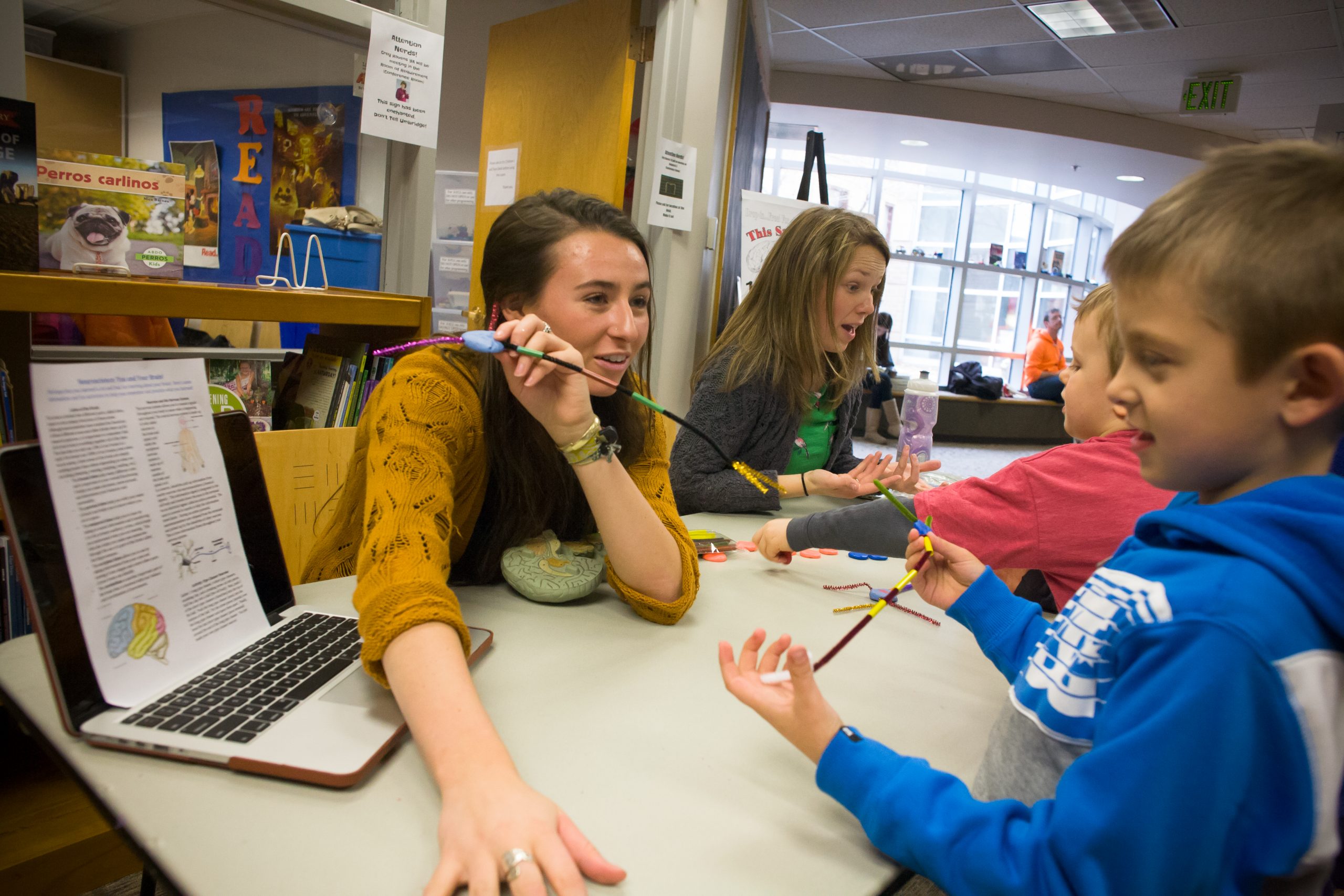 Jan. 31, 2019 • by Sue Postema Scheeres
Students from eastern Colorado will have a chance to learn more about the brain and how it functions, thanks to a University of Colorado Boulder neuroscience outreach program.
The Intermountain Neuroimaging Consortium's outreach program heads to Northeastern Junior College in Sterling, Colorado on Feb. 8 to provide hands-on activities for 120 third- through sixth-graders from Sterling, Peetz (Plateau), Julesburg, Haxtun, Akron, Strasburg, Idalia, Yuma, Holyoke, Limon and Burlington.
Nicole Speer, the consortium's director of operations, said the outreach program helps students discover how the brain works, learn how neuroscientists study the brain, and get excited about science in general and brain science in particular. The activities include acting out the parts of a neuron, wearing prism goggles during a bean bag toss game to explore memory, dropping eggs covered with a "helmet" to learn about brain injury prevention and more.
"Despite the fact that the brain is changing rapidly during late childhood and early adolescence, it is rare for neuroscience to be taught even at the high school level," Speer said. "It is critical for children and adolescents to learn about how their brains work and how they can keep their brains working well as they navigate the developmental changes that occur during adolescence."
The program is co-sponsored by the Northeast Board of Cooperative Educational Services (BOCES) and the East Central BOCES, which provide collaborative programs to rural Colorado school districts that have limited resources for gifted and talented programming, said Paula McGuire, gifted and talented coordinator for Northeast BOCES.
The event also will include a parent talk titled "Understanding inflammation and minimizing its effects on brain function and development" by CU Boulder graduate student Kelsey Loupy. This talk will discuss recent discoveries in neuroscience and physiology that explain how inflammation negatively affects the brain, how chronic physical, mental and emotional stress can lead to inflammation in the brain, and how to protect the brain from the negative effects of inflammation.
McGuire said the workshop allows gifted and talented students from different school districts to interact with each other, and to learn about ideas and concepts that are not part of the regular curriculum.
"This is a wonderful opportunity for high-ability students and their families to celebrate their love of learning through fun, interactive activities and to be together for a whole day," McGuire said.
The neuroimaging consortium is a state-of-the-art magnetic resonance imaging research facility located at CU Boulder's Institute of Cognitive Science that features the work of neuroscientists, physicists and engineers from across the Rocky Mountain region who study addiction, pain, emotion, attention, sleep, learning and memory and develop innovative MRI methods and analysis techniques.
The consortium's outreach programs, which are funded through a CU Boulder Outreach Award, bring this research to the community through neuroscience lessons and demonstrations on campus and in schools around the state, Speer said.