Giguere, others honored for outreach work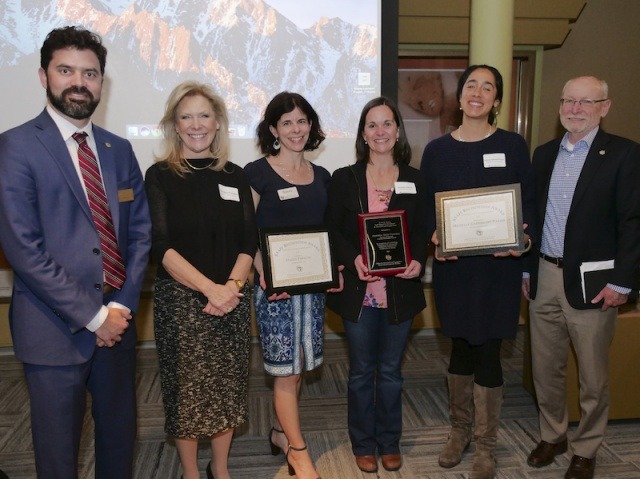 April 19, 2018 • by Sue Postema Scheeres
Each year, thousands of Coloradans statewide watch live Shakespeare performances, learn about cutting-edge science research or connect with sustainability programs, thanks in large part to the leadership of three CU Boulder staff members.
These outreach professionals were recognized for their outstanding work at the annual CU Boulder Outreach Award luncheon on April 12.
Amanda Giguere, outreach director for the Colorado Shakespeare Festival, received the 2018 Anne K. Heinz Staff Award for Excellence in Outreach and Engagement, which honors staff members who have demonstrated outstanding professional commitments to and success with community outreach and engagement initiatives. Giguere also will receive $5,000 to support the festival's outreach activities.
In addition, Stacey Forsyth, director of CU Science Discovery, and Michelle Gabrieloff-Parish, energy and climate justice program manager at the CU Environmental Center, received special recognition awards and $1,000 for their programs.
Provost Russ Moore and Dean of Continuing Education and Vice Provost for Outreach and Engagement Sara Thompson presented the awards at the luncheon.
"On behalf of the division of Continuing Education and the offices of the chancellor and provost, I am thrilled to recognize the work that Amanda, Stacey and Michelle have done to connect CU Boulder research, teaching and creative work with communities around the state," Thompson said. "Their leadership provides stellar examples of how outreach and engagement is contributing to the academic vitality of the university."
Amanda Giguere, 2018 Anne K. Heinz Staff Award for Excellence in Outreach and Engagement
As the festival's outreach director since 2011, Giguere is responsible for overseeing all outreach and education programs, including a school touring program, summer camps, year-round classes, a lecture series a graduate dramaturgy program and more. These programs reach about 16,000 Coloradans each year.
In addition, Giguere works closely with the Department of Theatre & Dance to engage students in the Colorado Shakespeare Festival, shares research through conferences and publications, and maintains long-term relationships with schools, families and community partners.
In his nominating letter, Timothy Orr, the festival's producing artistic director, said Giguere is responsible for the extraordinary success of these programs thanks to her ability to see new opportunities and communities that can be reached by CU Boulder and the Shakespeare festival. He pointed to the success of the Shakespeare & Violence Prevention program, a project that partners with the CU Boulder Center for the Study and Prevention of Violence to reduce bullying and violence in Colorado schools. This program has reached 95,000 school children since it started in 2011.
"Amanda is the driving force in the creation, implementation, growth, strategy and evaluation of all the festival's outreach programs," Orr wrote.
Giguere said it is an honor to work in a field she is passionate about at an institution like CU Boulder, where outreach and engagement work truly matters.
"I'm so grateful for this award, for my wonderful colleagues at the Colorado Shakespeare Festival, for the whole team at the Office for Outreach and Engagement, and for the opportunity to connect community partners with Shakespeare," Giguere said. "I feel truly lucky to do what I do!"
Christine Jensen, a festival board member, said in a support letter that she has tremendous respect and admiration for Giguere.
"Her energetic enthusiasm infuses those programs with an atmosphere of creativity, respect, inquisitiveness and delight that her students, young and old, carry out into their own communities throughout Colorado," Jensen wrote.
Stacey Forsyth, Special Recognition Award Winner
CU Science Discovery's mission is to heighten interest and increase literacy in science, technology, engineering and math (STEM) by providing experiential learning activities for students and teachers. Forsyth, who has been the director since 2010, oversees many STEM outreach programs that incorporate cutting-edge STEM research from CU Boulder into summer camps and after-school classes, homeschool classes, teacher workshops, school programs and community outreach for K-12 students and teachers. These programs serve 30,000 people each year.
In her nominating letter, Kathryn Penzkover, high school programs manager, described Forsyth as a passionate advocate for and practitioner of STEM outreach who has cultivated collaborations and leveraged national networks to increase Science Discovery's quality and reach.
"She is incredibly dedicated to Science Discovery's mission of increasing STEM literacy and is constantly exploring new avenues by which we can make that happen," Penzkover wrote. "She actively seeks out productive, worthwhile collaborations—the results of which are meaningful and fruitful collaborators and occasional grant funding designed to support Science Discovery staff and the activities they wish to use in furthering the mission."
Michelle Gabrieloff-Parish, Special Recognition Award Winner
As the nation's largest and most accomplished student-led center of its kind, the CU Environmental Center translates student leadership into action and engages the campus community in becoming a global sustainability leader.
Since 2013, Gabrieloff-Parish has managed a variety of the center's programs related to energy, water, climate and justice to help reduce the campus' energy and water consumption while promoting social justice. Through the Foundations for Leaders Organizing for Water and Sustainability (FLOWS) program, she works with external partners, including nonprofits, businesses and local governments to implement green jobs trainings for students and low-income community members and energy efficiency upgrades in affordable housing.
In his nominating letter, Dave Newport, director of the CU Environmental Center, said Gabrieloff-Parish has established meaningful relationships between students and community members thanks to her deep humility and understanding of community, people and equity.
"The tremendous amount of energy that she puts into all of her work, especially FLOWS, has led to the creation of a beautiful community of learners, educators, neighbors, partners and students," Newport wrote.
About the Awards
The Anne K. Heinz Staff Award for Excellence in Outreach and Engagement was named for Heinz, who retired as dean of Continuing Education in 2015, in recognition of more than 25 years of support to faculty and staff and her legacy of leadership in outreach and engagement efforts at CU Boulder.
The Outreach and Engagement Professionals Network launched the award in 2015 to increase recognition of campus outreach and engagement work. This group seeks to create a community of practice among CU Boulder outreach and engagement staff.
The awards are administered by the Office for Outreach and Engagement and the recipients were selected by a committee that includes Rachel Ripken, community outreach manager from the athletics department, Sabrina Sideris, program director of INVST Community Studies, Armando Pares, assistant dean in Continuing Education and Michael Hannigan, associate professor of mechanical engineering.