In the hands of these actors, theatre builds bridges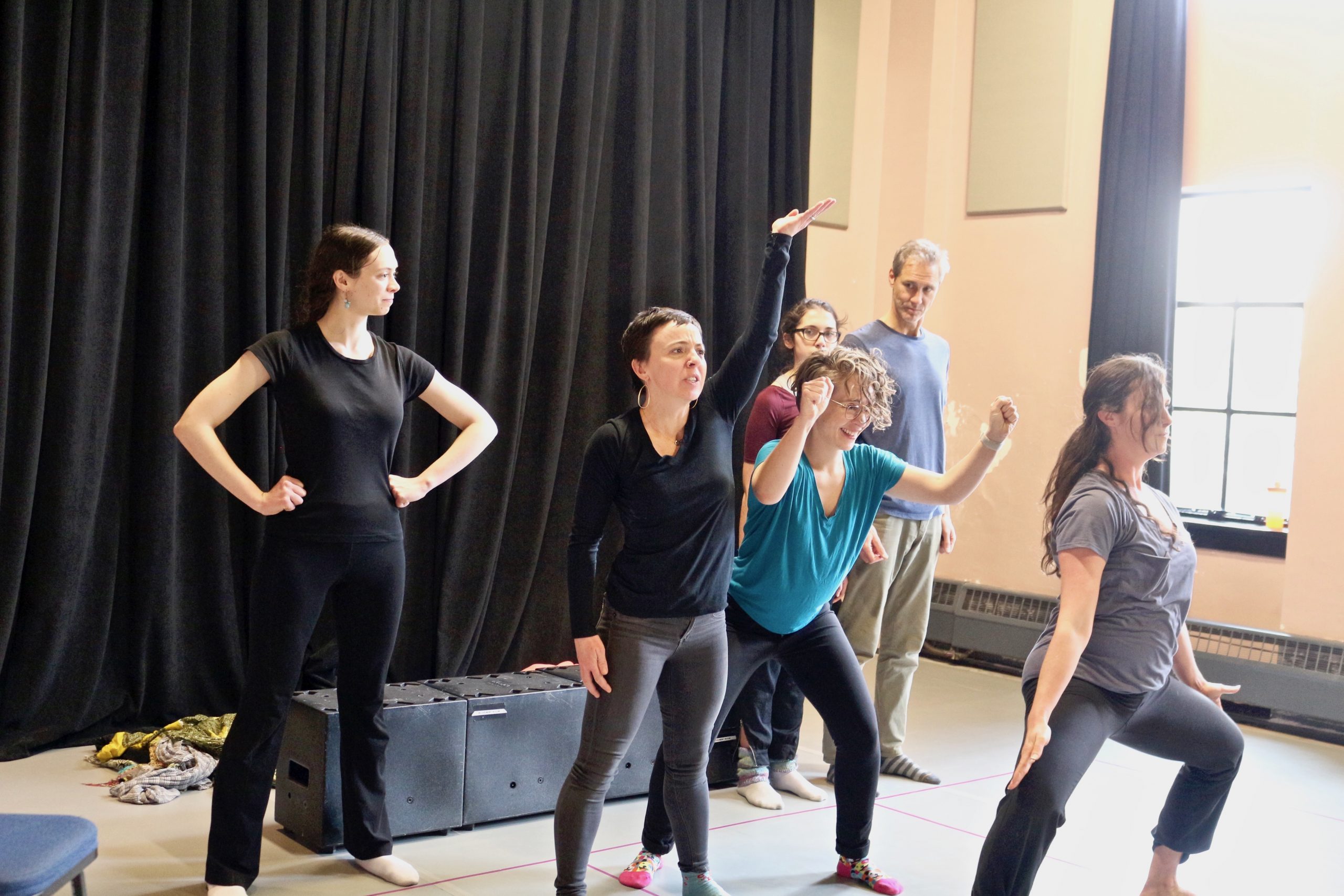 January 2, 2020 • By Sue Postema Scheeres
The conversation about learning and disabilities began amicably enough.
However, it soon became clear that the two strangers held radically different views about the topic, creating an uncomfortable situation.
While this may not seem like typical material for a theatre scene, the CU Boulder Playback Ensemble is using real-life experiences like this one to help local communities navigate difficult, even divisive issues related to social, economic and environmental change.
Known as "playback theatre," it is improv with a purpose. Audience members contribute true stories and see them "played back" by actors who retell the story in ways that encourage understanding across difference. The ensemble of faculty, staff and students will be taking their show on the road to Paonia from January 8 to 11.
"Our goal is to hold the space, honoring the teller of the story and honoring our shared experiences," said Jim Walker, a Norlin Scholars Program faculty member, who helped start the campus group this year. "We hope this can help build community in public spaces, to identify the things that we all care about."
Actively listening to break down barriers
Playback theatre is like a cross between a town hall meeting and an improvisational performance, said Ondine Geary, theatre and dance outreach coordinator at CU Boulder and the principal founder of the group.
To introduce and begin a performance or workshop, the actors describe how they are feeling and interpret those feelings through movements. Then audience members are invited to volunteer their own stories and an actor from the ensemble ("the conductor") asks questions about the audience's experiences. The actors retell the story through words and movement in a way that focuses on the emotions and tensions of the experience, and the audience member is asked to describe what they noticed about the story.
"We try to playback a person's experience without judgment or without offering solutions," Geary said. "Our job is to listen actively and with empathy and to give back what was given."
Playback theatre started in 1975 and has been practiced in more than 30 countries to break down barriers and move toward reconciliation, frequently in traumatic situations. In Afghanistan, for example, victims of violence have been trained to share their stories as a way to redress the legacies of human rights abuses. In Memphis, a local playback theatre company helped to repair trust between the community and police.
Businesses also have used the techniques to develop management and communications skills and for diversity awareness. Studies have shown that playback theatre can improve relationships, relieve stress, facilitate reconciliation and more, Geary said.
Taking their show on the road
The ensemble will pilot their community outreach project in Paonia from Jan. 8 to 11, leading playback theatre workshops in schools and the community. Susie Lowe, executive director of the North Fork Valley Creative Coalition and the Paonia Creative District, invited the theatre group to Paonia to help facilitate conversations about current economic and social changes.
"Paonia is a town in transition, and as we address issues around economic development, resilience, diversity and change, we have noticed a splintering within the community," Lowe said of the small rural town nestled in an agricultural valley on the Western Slope. "Our desire is to bridge the gap between the differing perspectives within our town."
The coalition is fostering economic growth through the arts as part of the Colorado Creative Industries statewide program, and is partnering with CU Boulder theatre and dance faculty on different projects, including an annual graduate dance residency that performs and leads dance programs each May.
"Through the playback theatre workshops, which are designed to give everyone a voice to share their stories and opinions, we hope to build understanding, empathy, trust and respect," Lowe said. "True community building can only be achieved by dismantling the differences that divide our society."
The ensemble received program support and funding for the Paonia workshops from the CU Boulder Department of Theatre & Dance and the Office for Outreach and Engagement, securing a Community Impact Grant and also a CU Boulder Outreach Award. The ensemble plans to lead additional workshops in Paonia in 2021, and hopes to expand to other communities.
Finding shared humanity in hard places
Elise Collins, a graduate student in theatre and business, decided to join the ensemble after participating in a workshop with Geary.
"I had done improv before, so I was really drawn to this art form and how it values the power of stories," Collins said. "Theatre is the purest form of empathy, because you have to listen and understand how someone thinks, recognizing the humanity of everyone else in the room."
Depending on the scenario, the actors may choose to use symbols to reenact the story in a way that's different than originally presented by the audience member. For example, when acting out the learning and disability conversation, the actors decided to tell the story as a conflict over the proper way to wear a scarf.
"The scarves really became a metaphor for the disagreement, not to minimize it but to help anchor the playback in universal experience," Geary said. "We may not get people to change their views, but our goal is to help people recognize shared values."
While the group acts out stories, Nelson Walker provides a soundtrack for the playback, improvising music on the cello to match the conversational tone.
"The role of the musician is to be a conduit between the audience and the actors, knowing when to yield and when to step forward," said Walker, a music composition major who became interested in playback theatre through his dad, Jim. "Sometimes, if the actors are all saying things at once and the scene is reaching a peak, I have to make sure I don't overwhelm them by playing too loudly."
Jim Walker explained that while playback theatre derives from drama therapy, the goal is to generate collective conversations by providing opportunities for participants to connect their stories to others while also finding new insights into their own.
"Our work is not therapy, although it may have therapeutic benefits," Walker said. "We do our best to be responsible with people's stories and honor their experience."
---
Interested in attending one of the workshops? Discover dates and times at the North Fork Valley Creative Coalition website.