New national initiatives tap outreach program managers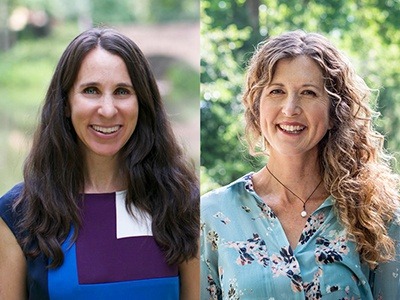 Oct. 31, 2019 • By Sue Postema Scheeres
Thanks to their expertise connecting university resources to community needs, program managers from CU Boulder's Office for Outreach and Engagement have been selected to participate in two, new national leadership programs.
Jenny Briggs, community outreach program manager, has been named an IF/THEN Ambassador by the American Association for the Advancement of Science (AAAS). Lisa Schwartz, also a community outreach program manager, has been chosen as part of the first cohort of Campus Compact's Western Region Engaged Scholars.
As program managers, Briggs and Schwartz help develop community partnerships, coordinate outreach and engagement activities on- and off-campus, consult with faculty and staff on program strategies, and manage office grants.
"Jenny and Lisa have done exemplary outreach and engagement work, building bridges between campus researchers and diverse communities across our state," said Sara Thompson, dean of Continuing Education and vice provost for outreach and engagement. "Through their roles in these new national initiatives, they are helping advance important collaborative efforts across the U.S."
Jenny Briggs, IF/THEN Ambassador
Launched earlier this year, IF/THEN recently selected female scientists from a wide range of disciplines to serve as role models and inspire young girls' interest in science, technology, engineering and math (STEM) fields. The 125 ambassadors will share their stories through various media platforms, design new programs to connect with girls of all ages and backgrounds, and participate in national and regional events.
Briggs, like the other ambassadors, was selected because of her contributions to STEM, and her experience with STEM communication and public engagement. Briggs, who has a doctorate in ecology and conservation, was a biology instructor, an informal STEM educator, and a research ecologist with the U.S. Geological Survey prior to coming to CU Boulder in 2018.
"I'm very excited to bring what I learn in this unique initiative back to share with faculty, staff and students at CU Boulder," Briggs said. "Together we can amplify the program's impacts with our partners in Colorado and beyond, helping to catalyze girls' opportunities and support in STEM in groundbreaking ways."
In her current role, Briggs leads the office's environmental science and sustainability initiative, participates in the North Central Climate Adaptation Science Center co-hosted by CU Boulder with federal and regional partners, contributes to CU Boulder's Albert A. Bartlett Center for Science Communication, and helps faculty, staff, and students develop projects that expand the broader impacts of their federally funded research.
Lyda Hill Philanthropies, which funds advances in science and supports nonprofits, collaborated with more than 30 organizations to form the IF/THEN program. AAAS seeks to advance science, engineering and innovation throughout the world and is a leading publisher of research in its Science journals.
Lisa H. Schwartz, Campus Compact Western Region 2019–20 Engaged Scholar
Schwartz is one of 13 scholars chosen for the inaugural cohort of the Western Region Campus Compact Engaged Scholars Initiative, which aims to develop and connect higher education leaders who do equity-oriented and community-engaged research. Schwartz was selected because of her experience as an engaged scholar committed to equity, inclusivity and diversity in the U.S. West, and her work involving rural, Latinx and indigenous communities.
Schwartz, who has a doctorate in education, has worked as an educator, educational researcher and social scientist. She was a postdoctoral researcher and research director in the CU Boulder School of Education before joining the office in 2016.
In her current role, she leads the office's engaged arts and humanities and community development and design initiatives. She also oversees an engaged arts and humanities program for graduate students, a workshop series focused on inclusiveness and equity, and a campus convening that brings together leaders from Colorado's creative districts and CU Boulder researchers to discuss how to foster economic growth through the arts.
"By interacting with other engaged scholars, I look forward to deepening the frameworks I am currently using to shape arts and humanities programs and to presenting this work to a wide variety of audiences," Schwartz said. "I am excited to discuss the value of community engagement with faculty and staff from other universities in the West, so that together we can address important issues of equity."
Through the year-long program, scholars develop and share research projects, participate in professional development programs, interact with other regional scholars, and attend Campus Compact conferences and meetings.
Campus Compact is a coalition of more than 1,000 colleges and universities, founded in 1985 by university presidents and education policy leaders who were concerned about the ongoing health and strength of democracy in the United States.