Oldest outreach program steps up access to dance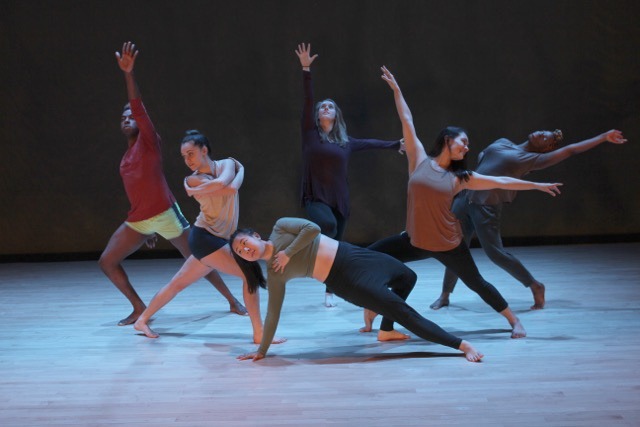 May 12, 2017 • By Sue Postema Scheeres
When CU Contemporary Dance Works heads to Paonia, Colorado this month, the dance company will mark 27 years of offering classes, workshops and performances to communities underserved by the arts.
Since 1990, dance graduate students have worked with 20,000 people in nearly 60 communities across the state, making it the longest running CU Boulder outreach program.
"I believe we have been pioneers in educating people about dance's value as an art form and its value to education," said dance Professor Nada Diachenko, CU Contemporary Dance Works' founder and advisor. "Our graduate students are professional, articulate, and outstanding educators and artists who immerse themselves in each community we visit."
Diachenko started the program to bring dance to areas of the state with limited access to the arts, to build awareness of dance as an art form, and to provide additional performance venues for dance students.
The program, which is partially funded through a CU Boulder Outreach Award, has partnered with community groups and schools in communities statewide, often collaborating with classroom teachers to integrate movement into the study of math, history, science as well as the other arts and humanities, she said.
This year, the touring group will lead dance workshops from May 15 to 19 at elementary schools in Paonia and Blue Sage Center for the Arts, the local arts center. In addition, the graduate students are performing "Diversiform: An Evening of Dance" at the center on May 19 at 7:30 p.m., which will explore story, memory and emotion through tap, contemporary and African dance.
Carol Newman, director of Blue Sage, said the classes and performance fit well with the center's focus on providing a variety of art opportunities to North Fork Valley residents.
"Getting such talented people to the valley is wonderful," Newman said. "We don't have a lot of dance performances in this community, and this performance and the classes will allow adults and children the opportunity to express themselves in new ways."
For Vivian Kim, a graduate student in dance and tour director, returning to Paonia again this year helps nurture a bond between the community and members of the company.
"It's amazing to see a group of people who barely know each other at the beginning of a class, come together and feel a genuine connection to one another because of the honesty, vulnerability and excitement that dance innately brings with it," said Kim.
In the past, the dance company went on multi-city tours, often in coordination with the CU president visits to Colorado communities. Now, Dance Works focuses on weeklong residencies in a select area during the month of May, returning to that area for three to five years to build relationships and strengthen community partnerships. The residency has been based in the San Luis Valley, Montrose and Trinidad; this will be the fourth year that Dance Works partners with Paonia community organizations.
Diachenko noted the program has thrived thanks to outreach award funding and Peg Posnick, theatre and dance outreach coordinator, who oversees all programming logistics.
In the future, Diachenko said she hopes to work with other academic departments on campus to expand the programming they offer to Colorado communities.