Constitutional Literacy in Colorado High Schools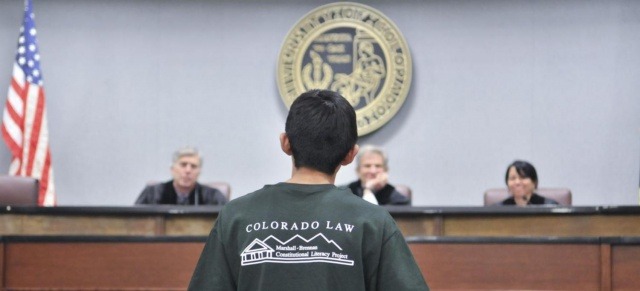 Program Contact
Matthew Cushing
matthew.cushing@colorado.edu
303.735.6554
The Constitutional Literacy in Colorado High Schools Project includes two components: Colorado Constitution Day and the Marshall-Brennan Constitutional Literacy Project.
Colorado Constitution Day sends law students, faculty, and members of the legal community around the state for a one-day interactive presentation to high school students on a constitutional topic.
The Marshall-Brennan Constitutional Literacy Project places University of Colorado Boulder Law students in social studies classrooms in underserved metro-area schools for one day each week.  Marshall-Brennan was started by American University in 1999 and currently has chapters in 18 states. The project achieves its goal of increasing youth awareness and understanding of our legal system and the Constitution by sending upper-level law students into public high schools to teach semester-long courses about the law, juvenile justice, and other related topics.  The law students help their students to develop public speaking skills through a moot court problem on a constitutional topic.  The high school students are then invited to Boulder to participate in a state-wide moot court competition judged by law students, lawyers, and judges.
The project culminates in a state-wide moot court competition in the spring. The competition is hosted by the Byron White Center at the University of Colorado Law School, and judged by Justices from the Colorado Supreme Court and Judges from the Colorado Court of Appeals. The top six finalists of that competition then represent Colorado in the national competition in Washington, D.C., accompanied by their law student coaches.
These programs are made possible by support from the CU Boulder Outreach Committee.
Constitution Day

Additional Info

Students and teachers participated in virtual Constitutional Day program led by Colorado Law students, alumni, and members of the Front Range legal community.

---

Location 1

in colorado

Denver

Dates

9/20/2021 - 9/20/2021

Public or Private

Private Program (by request only or for a specific audience or group)

Program Fee

No charge to attend/participate in activity or program

---

Location 2

in colorado

Thornton

Dates

9/21/2021 - 9/21/2021

Public or Private

Private Program (by request only or for a specific audience or group)

Program Fee

No charge to attend/participate in activity or program

---

Location 3

in colorado

Arvada

Dates

9/20/2021 - 9/20/2021

Public or Private

Private Program (by request only or for a specific audience or group)

Program Fee

No charge to attend/participate in activity or program

---

Location 4

in colorado

Boulder

Dates

9/21/2021 - 9/21/2021

Public or Private

Private Program (by request only or for a specific audience or group)

Program Fee

No charge to attend/participate in activity or program

---

Location 5

in colorado

Northglenn

Dates

9/22/2021 - 9/22/2021

Public or Private

Private Program (by request only or for a specific audience or group)

Program Fee

No charge to attend/participate in activity or program

---

Location 6

in colorado

Aurora

Dates

9/22/2021 - 9/22/2021

Public or Private

Private Program (by request only or for a specific audience or group)

Program Fee

No charge to attend/participate in activity or program

---

Location 7

in colorado

Centennial

Dates

9/22/2021 - 9/22/2021

Public or Private

Private Program (by request only or for a specific audience or group)

Program Fee

No charge to attend/participate in activity or program

---

Location 8

in colorado

Lone Tree

Dates

9/20/2021 - 9/20/2021

Public or Private

Private Program (by request only or for a specific audience or group)

Program Fee

No charge to attend/participate in activity or program

Marshall-Brennan Constitutional Literacy Project

Additional Info

This activity was part of the Marshall-Brennan Constitutional Literacy Project.



---

Location 1

in colorado

Thornton

Dates

8/23/2021 - 3/14/2022

Public or Private

Private Program (by request only or for a specific audience or group)

Program Fee

No charge to attend/participate in activity or program

---

Location 2

in colorado

Denver

Dates

8/23/2021 - 3/14/2022

Public or Private

Private Program (by request only or for a specific audience or group)

Program Fee

No charge to attend/participate in activity or program

---

Location 3

in colorado

Arvada

Dates

8/23/2021 - 3/14/2022

Public or Private

Private Program (by request only or for a specific audience or group)

Program Fee

No charge to attend/participate in activity or program
Sponsoring Units
School of Law

Byron R. White Center for the Study of American Constitutional Law
Audiences Served
Students - English Language Learners (ELL)/Emergent Bilingual
Students - First Generation College - going/bound
Students - High School