Partnerships for Informal Science Education in the Community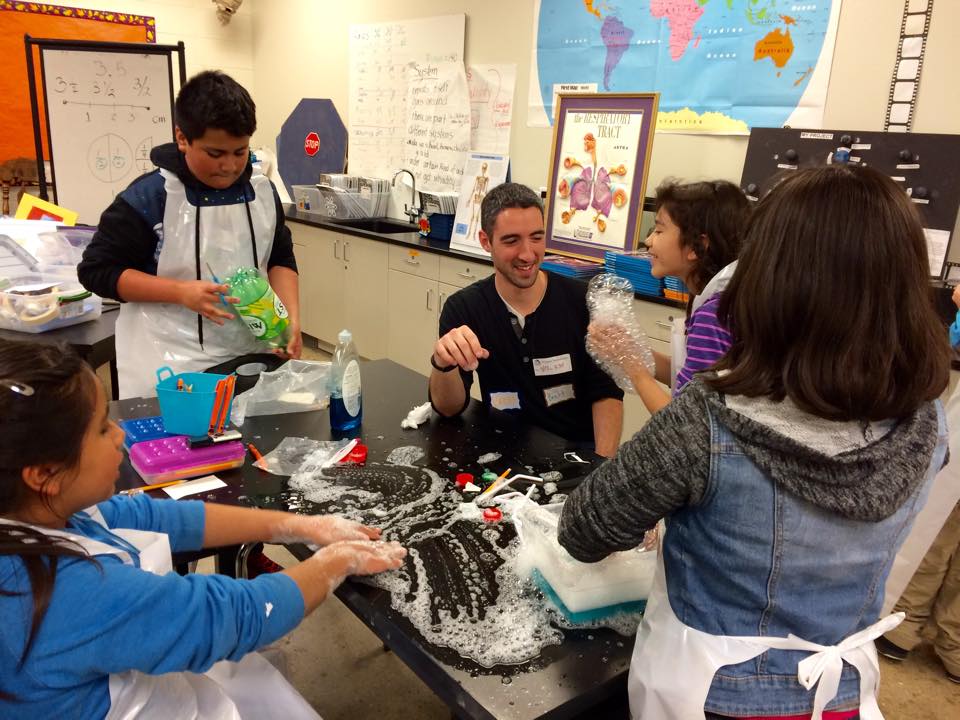 Program Contact
Jessica Hoehn
Jessica.Hoehn@colorado.edu
The Partnerships for Informal Science Education in the Community (PISEC) program connects CU Boulder volunteers (undergraduate students, graduate students, and post docs) with local K-12 students to engage in inquiry-based science activities in a playful, engaging, and welcoming environment. Working primarily with students from groups underrepresented in STEM, PISEC seeks to support students' development of their own science identity and to cultivate and sustain students' interest in science by providing transformative and empowering experiences. Simultaneously, we offer valuable teaching, science communication, and leadership experience for the program volunteers. PISEC is committed to sustaining mutually beneficial partnerships with schools and community organizations, providing opportunities for CU mentors and K-12 students to develop relationships over the course of a semester.
There are two types of PISEC programs: 1) an after-school STEM program hosted at primary school partner sites (typically grades 5-8), and 2) project-based curricula modules situated within science classes and/or after school clubs at partner high schools. In both cases, student participants direct their own STEM exploration, whether that's investigating interesting scientific phenomena through open-ended inquiry with their mentors in the after-school program or designing, conducting, and sharing the results of their own experiments in the high school classroom.
At the culmination of a semester-long program, primary school students come to CU for a field trip, where they tour research labs, engage in fun science demonstrations, and consider the possibilities of going to college and studying science. Similarly, high school students from multiple partner sites come to CU each spring for a poster symposium at which they present their projects to peers and CU scientists, tour research labs in JILA, and learn about STEM opportunities in college and beyond.
Research on PISEC has demonstrated a number of benefits for students who participate, including gains in conceptual understanding of physics, increased sense of agency and ownership over their scientific learning, and increased interest in science, as well as benefits for the university volunteers, including increased content mastery, development of science communication skills, and a sense of belonging to a community.
If you are interested in exploring partnership with PISEC, signing up to volunteer, or simply want to learn more about the program, please contact the PISEC Director, Jessica Hoehn, at Jessica.Hoehn@colorado.edu or check out the PISEC website.
PISEC After-school Program

---

Location

in colorado

Longmont

Public or Private

Private Program (by request only or for a specific audience or group)

Program Fee

No charge to attend/participate in activity or program

PISEC High School Program

---

Location

in colorado

Longmont

Public or Private

Private Program (by request only or for a specific audience or group)

Program Fee

No charge to attend/participate in activity or program
Sponsoring Units
College of Arts & Sciences

Department of Physics

Other

Research Institutes

JILA
Program Partners
St. Vrain Valley School District & STEM Explorers
Englewood High School
Northglenn High School
I Have a Dream Foundation
CLACE
Casa de la Esperanza
EXPAND Program, Boulder County
Family Resource Schools of BVSD
SparkFun Electronics
STROBE @ CU
Audiences Served
Children & Youth (outside school)
Historically Excluded/Marginalized/Non-dominant Group(s)
Socioeconomically Disadvantaged
Students - Elementary School
Students - English Language Learners (ELL)/Emergent Bilingual
Students - High School
Students - Middle School
Urban Communities
Youth Placed At Risk