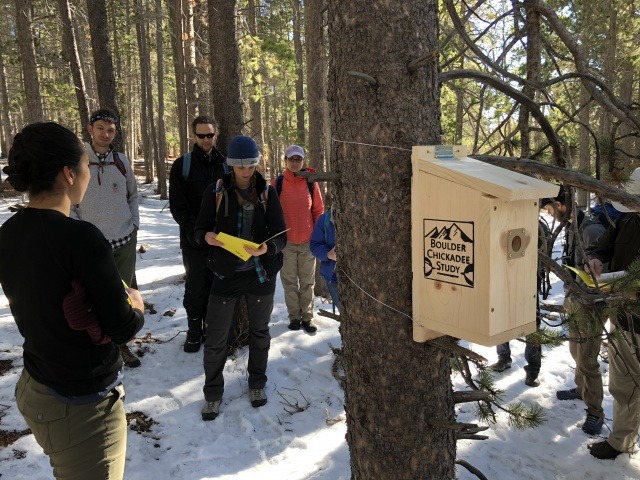 Program Contact
Scott Taylor
Assistant Professor
boulderchickadeestudy@gmail.com
303.735.5227
Black-capped and mountain chickadees are closely-related species that co-occur in Boulder County but occupy different habitats based on elevation. The Boulder Chickadee Study leverages an extensive network of nest boxes from Boulder up the Mountain Research Station to look at how cities are changing the interactions between these two species from both genomic and field-based perspectives. We pair field studies with cutting-edge genomic tools to characterize the species barrier between these inquisitive & industrious birds.
We are broadly interested in understanding how human-modified spaces are impacting the interactions between these two species. We currently have the following on-going projects:
Assessing the degree of hybridization between the two species
Quantifying nest parasites along mountain slopes
Characterizing the feather patterning of the two species
Folks that are interested in participating in the Boulder Chickadee Study must live within Boulder County. By participating, you will host chickadee nest boxes on your property, assist in monitoring these boxes throughout the breeding season, and submit your nest box observations to CU researchers using an online submission platform. All types of participants are welcome, regardless of bird knowledge or yard type.
The chickadee breeding season runs from Mid-April through the beginning of June.
Boulder Chickadee Study

Location

In Colorado

Boulder

Public or Private

Private Program (by request only or for a specific audience or group)

Program Fee

No charge to attend/participate in activity or program
Sponsoring Units
College of Arts & Sciences

Department of Ecology & Evolutionary Biology
Program Partners
Currently, we work with several groups in the Boulder Community including the Colorado Field Ornithologists, Dharma's gardens, Long's Iris Fram, & the BeeChicas but we welcome any groups interested in hosting & monitoring nest boxes, including homeschool groups, scouts, & birding clubs.
Audiences Served
Alumni/Parents/Friends
Children & Youth (outside school)
Families
General Public
Senior Citizens
Students - Middle School
Students - Homeschooled
Students - High School
Teachers - Elementary School
Teachers - Middle School
Teachers - High School
Urban Communities