Friday Night Stargazing at Sommers-Bausch Observatory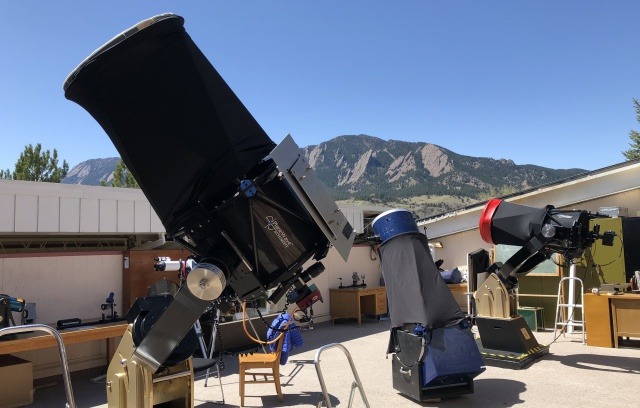 Program Contact
Fabio Mezzalira
Manager, Sommers-Bausch Observatory
fabio.mezzalira@colorado.edu
303.492.6732
Free public open houses are held at Sommers-Bausch Observatory (SBO) on Friday evenings (weather permitting) throughout the year when CU Boulder classes are in session. Open houses begin at 8:00 p.m. during the fall and spring semesters and 9:00 p.m. during the summer. Open House nights are free.
In addition to SBO's pier-mounted 20-inch Planewave telescopes, the program also has tripod-mounted binoculars and the world's largest starwheel for identifying bright stars and constellations. Depending on the crowd size, you may also get a chance to visit the 24-inch Boller & Chivens telescope in the original SBO dome. Observing targets include planets, nebulae, star clusters, and galaxies. Requests may be accommodated depending on crowd size (and observability).
Open houses typically last from 1-3 hours depending upon the weather, the quality of the night, and the size of the crowd. If you want to check our operational status before arriving, please call our observing status line (303.492.2020) 30 minutes prior to start time. You are welcome to stop by any time after the start time and stay as long as you wish. However, if no one arrives during the first hour, the observing night will be canceled.
Most of our evening programs are hosted by the Astrophysical and Planetary Sciences Department's graduate students, and often faculty professors, researchers, local amateur astronomers, and/or undergraduate astronomy majors join to answer your astronomy questions.
Program Activity

Location

On Campus

Sommers-Bausch Observatory

Public or Private

Public Program (open to the public)

Program Fee

No charge to attend/participate in activity or program

Program Activity

Location

In Colorado

Boulder

Public or Private

Public Program (open to the public)

Program Fee

No charge to attend/participate in activity or program
Sponsoring Units
College of Arts & Sciences

Department of Astrophysical & Planetary Sciences
Sommers-Bausch Observatory
Audiences Served
Children & Youth (outside school)
Families
General Public
Students - Elementary School
Students - Middle School
Students - High School