Acequia Assistance Project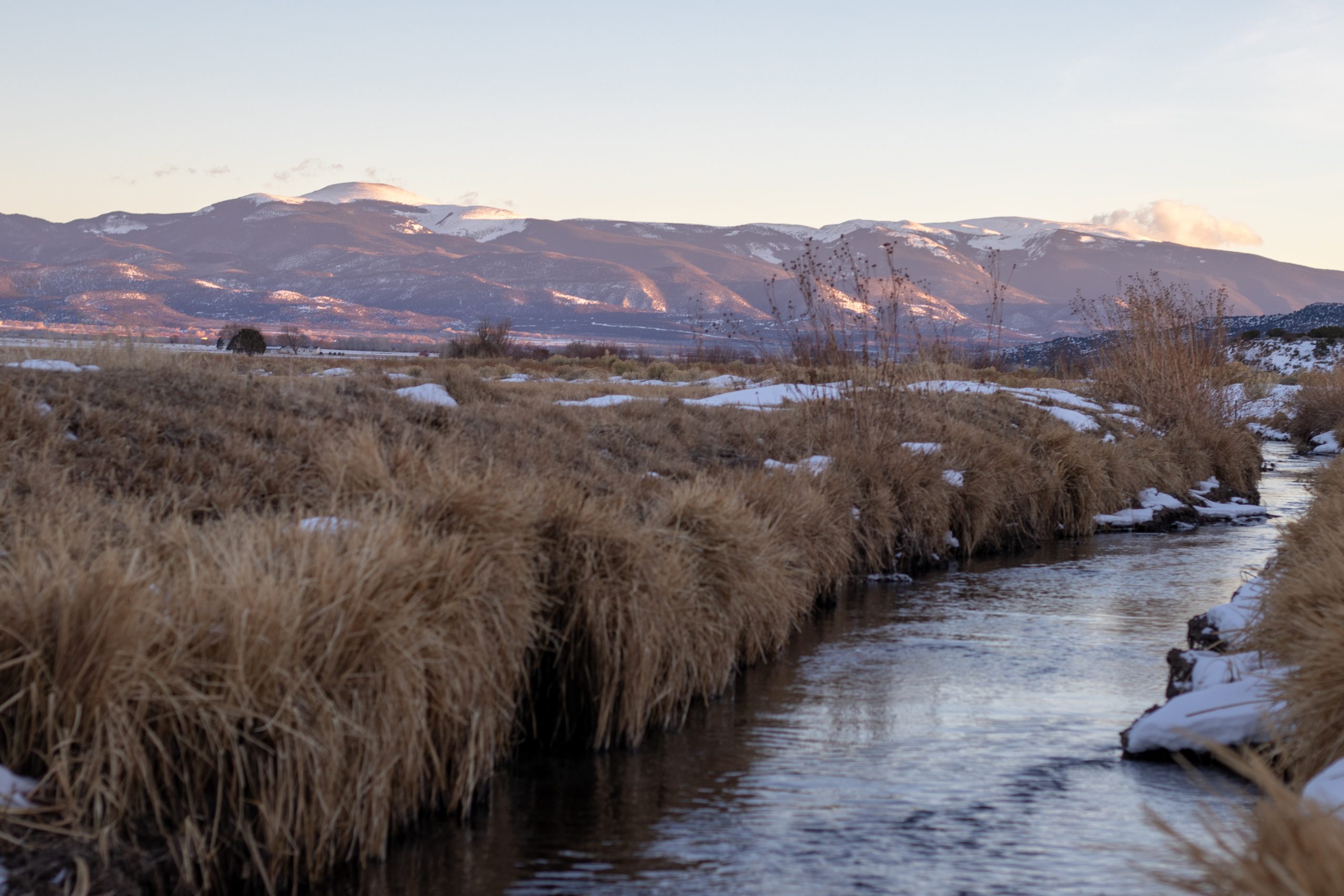 Program Contact
Shaun LaBarre
shaun.labarre@colorado.edu
The Acequia Project is a joint effort by the Getches-Wilkinson Center, Colorado Open Lands, and the Sangre de Cristo Acequia Association to provide low or no-cost legal assistance and educational materials to Colorado's acequia communities.
Acequia is an Arabic word that means "water bearer." An acequia is a physical irrigation system – a ditch — but the term "acequia" in northern New Mexico and southern Colorado also describes a philosophy about water and community. That philosophy encompasses the concept that water is so essential to life that it is a communal resource, one which must be shared. This philosophy shapes the human and natural environments in the Southern Colorado watersheds and has created a resilient natural and cultural system. Acequias are found in the southernmost part of Colorado in four of the state's poorest counties: Costilla, Conejos, Huerfano, and Las Animas. While water is wealth throughout the arid West, to the small-scale farmer in these traditional communities the acequia culture represents even more: Acequias are the means by which you support your family and by which you participate in your community. A Spanish dicho succinctly provides, "Tierra es la Madre y la Agua es su Sangre" – Earth is the Mother and Water is her Blood.
While acequias are legally treated as any other water right within the prior appropriation system in Colorado, their governance system makes them unique. For example, in times of water scarcity, ditches cooperate to ensure an equitable distribution of water, or when that is not physically possible, a sharing of fields. As we look to the future, acequias will offer an interesting model of alternative water administration and use. However, in order for acequias to remain viable, the acequia community must first address some key challenges. For generations, acequias have operated informally – with many remaining unincorporated and without bylaws.
Under the guidance of Professor Sarah Krakoff (Colorado Law), Sarah Parmar (Colorado Open Lands/Acequia Association), Peter Nichols (of counsel, Berg, Hill, Greenleaf & Ruscitti, LLP), Allan Beezley & Marie Vicek (Allan Beezeley P.C.) and several other pro bono attorneys, law students assist acequias in two ways: (1) by drafting by-laws and governance documents, and (2) representing acequias and irrigators in water rights cases. Students have also drafted a Handbook for Colorado Acequias and participated in the annual Congreso de Acequias, which is held in San Luis, Colorado in October each year.
Available Publications:
Acequia Assistance Project Trainings
Colorado Acequia Handbook 3rd Edition
The Hallett Decress and Acequia Water Rights Administration on Rio Culebra in Colorado
Introduction to Water Resource Issues in Div 3.
Division 3 – Alamosa Rio Grande Basin
Amended Costilla Creek Compact Article
Acequia Assistance Project

Location

In Colorado

San Luis

Public or Private

Private Program (by request only or for a specific audience or group)

Program Fee

Not Applicable

Additional Info

The Acequia Project is also led by student deputy directors representing each graduating class. The current deputy directors can be contacted via the information below:
Class of 2021: Natasha Viteri and Matt Nadel (natasha.viteri@colorado.edu and matthew.nadel@colorado.edu)

Sponsoring Units
School of Law

Getches-Wilkinson Center for Natural Resources, Energy and Environment
Program Partners
Colorado Open Lands
Sangre de Cristo Acequia Association
Sarah Parmar (Colorado Open Lands/Acequia Association)
Allan Beezley (Allan Beezley, P.C.)
Peter Nichols (Berg, Hill, Greenleaf & Ruscitti, LLP)
Bill Paddock (Carlson, Hammond and Paddock, LLP)
The Rocky Mountain Mineral Law Foundation
Valeria Gates Foundation
Kelcey (Nichols, Wood Nichols, LLC)
Megan Gutwein (Berg, Hill, Greenleaf & Ruscitti)
Allan Beezley and Marie Vicek (Beezley PC)
Sarah Pizzo, Esq.
Will Davidson (Moses, Wittemyer, Harrison & Woodruff)
Scott Holwick (Lyons Gaddis)
Julia Guarino (Four Corner Environmental and Economic Justice, Getches-Wilkinson Center)
Gunnar Paulsen and Cassidy Woodard (Porzak, Browning & Bushong)
Audiences Served
Government
Minority Group(s)
Non-Profit Organization
Rural Communities
Socio-Economic Disadvantaged
Tribal Communities (in U.S.)