Interpretive nature walks at the Mountain Research Station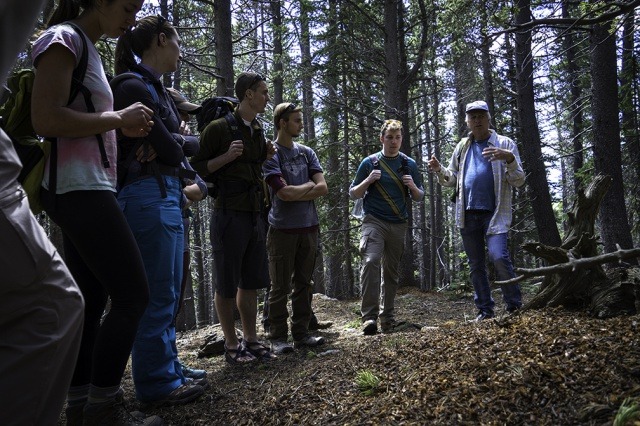 Program Contact
Kris Hess
kris.hess@colorado.edu
Located at 2,900 meters (9,500 feet) in the Front Range of the Colorado Rockies, the Mountain Research Station (MRS) is an interdisciplinary facility of the Institute of Arctic and Alpine Research providing research and educational opportunities for scientists, students and the public. Our mission is to facilitate research and education to better understand the unique patterns and processes of biotic and physical systems in mountains, and how environmental changes may influence these patterns and processes.
The Mountain Research Station would like to expand our capability to provide visiting K-12 classes and the public with an introduction to our research and natural history of the environment around the station. Displays and curriculum will entail various environmental sciences such as plant and animal ecology, hydrology, geomorphology, forestry and atmospheric science. Currently, the MRS has no outdoor interpretive information surrounding the station.
To promote the use of the MRS by more K-12 classes, multiple outdoor interpretive walks and displays have been constructed. These walks and displays will serve as focal points for visiting K-12 classes as well as serve CU Boulder users and general public visitors.  The  interpretive trails were completed in 2021 and we invite you to visit the Mountain Research Station and experience them.  For more information on these trails visit our web site at https://www.colorado.edu/mrs/general-info/interpretive-trails.
Interpretive Trails Project

---

Public or Private

Public Program (open to the public)

Program Fee

No charge to attend/participate in activity or program
Program Partners
National Science Foundation Long Term Ecological Research (LTER)
Audiences Served
General Public
Students - Elementary School
Students - High School
Students - Middle School