LISA 2020: Building Statistical Analysis and Data Science Capacity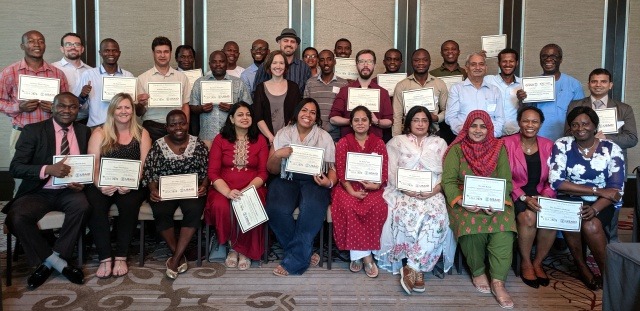 Program Contact
Eric Vance
Eric.Vance@colorado.edu
Statistics and data science are crucial for enabling and accelerating research, informing business and policy decisions, and transforming evidence into action for development. The LISA 2020 program trains local statisticians and data scientists in developing countries to collaborate with researchers, businesses and policy makers. Our founding goal was to create a network of 20 statistical collaboration laboratories ("stat labs") in developing countries by the year 2020.
Each stat lab has three missions:
Train statisticians and data scientists to become effective, interdisciplinary collaborators who can move between theory and practice to solve problems for real-world impact;
Serve as research infrastructure for researchers and decision-makers to collaborate with statisticians and data scientists to enable and accelerate research and data-based decisions that make a positive impact on society;
Teach short courses and workshops to improve statistical skills and data literacy widely.
The global LISA 2020 Network has 35 stat labs currently established in 10 countries in Africa, Brazil, and South Asia. The hub of the network is in CU Boulder at LISA, the Laboratory for Interdisciplinary Statistical Analysis.
The current intertwined purposes or objectives of LISA 2020 are:
To facilitate and expedite individual stat labs' growth along the path from potential labs to new labs to strong and sustainable labs that serve as mentors to other labs;
To enable and accelerate stat labs' transforming of evidence into action (TEA) for development;
To form a community of stat labs to publicize their successes and advocate for their extraordinary potential.
We innovate and experiment within LISA at CU Boulder to develop best practices for training students to become effective interdisciplinary collaborators, applying statistics and data science to solve research problems and make data-driven business/policy decisions, and teach statistics and data science to non-statisticians in the community. We share these best practices with our network of stat labs, and in return, engage with them to learn their best practices to inform our work in Boulder.
More information can be found at www.lisa2020.org
Global Statistics Labs

---

Public or Private

Public Program (open to the public)

Program Fee

No charge to attend/participate in activity or program

Online Statistics Resources

---

Public or Private

Public Program (open to the public)

Program Fee

Not Applicable
Sponsoring Units
College of Arts & Sciences

Department of Applied Mathematics

Research Institutes

Cooperative Institute for Research in Environmental Sciences (CIRES)
Audiences Served
Business
General Public
Government
International
Non-Profit Organization
Socioeconomically Disadvantaged