Empowering Economically Disadvantaged Adolescents with Complex Communication Needs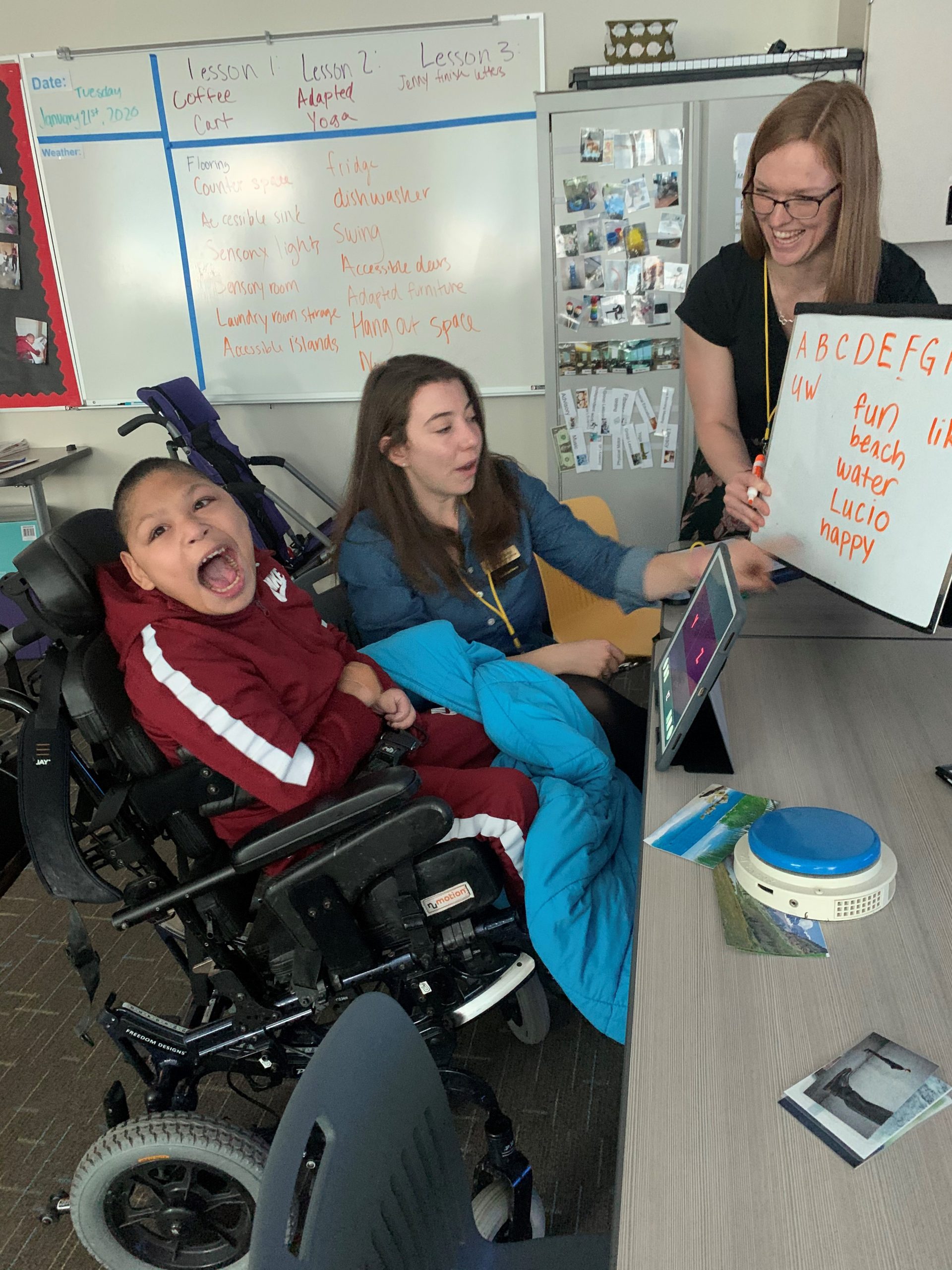 Program Contact
Sherri Tennant
sherri.tennant@colorado.edu
303.492.3038
Through this project, CU Boulder faculty and graduate students from the Speech, Language and Hearing Clinic in the Department of Speech, Language, and Hearing Sciences provide training for speech-language pathologists, administrators, educators, paraprofessionals and other staff at the Denver School of Science and Technology (DSST). The training helps DSST professionals more effectively support middle and high school students with complex communication needs by helping them complete augmentative-alternative communication (AAC) assessments and implement AAC intervention strategies.
Graduate student clinicians in the department were selected to participate in this grant-funded project and trained to support the DSST professionals who are working with students from economically disadvantaged and culturally and linguistically diverse backgrounds.
Individuals with complex communications needs are unable to use speech to meet daily communication needs due to various medical conditions, including autism, cerebral palsy and Angelman syndrome. For individuals with these needs, AAC systems offer essential means of expression. These systems include various low- and high-tech methods of communication that can help those who are unable to speak (e.g., picture-based communication books, iPad apps and speech generating devices). The AAC systems are customized to meet each individual's needs.  Learning to use an AAC system involves more than obtaining a device; training and support are essential (Biggs, E., et al., 2018).
More than half of school-based speech language pathologists (i.e., 62%) work with students, who use or could benefit from AAC systems, but many of them did not receive clinical training in their graduate program that prepared them to serve these students (Ratcliff, A., et al, 2008).
The goals of this project are to support DSST's staff to provide interventions to their students, to prepare graduate-level clinicians to complete AAC assessments and follow-up intervention with these students, to obtain Medicaid approval and funding for DSST students' AAC systems and train their family members to communicate with them using these newly acquired systems. Multi-media training modules will be created and made available online to professionals, who work with adolescents that can benefit from AAC systems and intervention, as a continuing education resource.
Campus training for speech pathology students

Location

On Campus

Speech, Language and Hearing Sciences

Public or Private

Private Program (by request only or for a specific audience or group)

Program Fee

No charge to attend/participate in activity or program

Training at DSST

Location

In Colorado

Denver

Public or Private

Private Program (by request only or for a specific audience or group)

Program Fee

No charge to attend/participate in activity or program

Additional Info

Conservatory Green Middle and High Schools and Montview High School
Sponsoring Units
College of Arts & Sciences

Department of Speech, Language & Hearing Sciences
Program Partners
Denver School of Science and Technology (DSST)
Two Tiger Productions
Audiences Served
Adult Learners
Families
Minority Group(s)
Socio-Economic Disadvantaged
Special Needs Individuals
Students - Middle School
Students - High School
Teachers - Middle School
Teachers - High School
Urban Communities