CU Boulder Outreach Awards fund 40 projects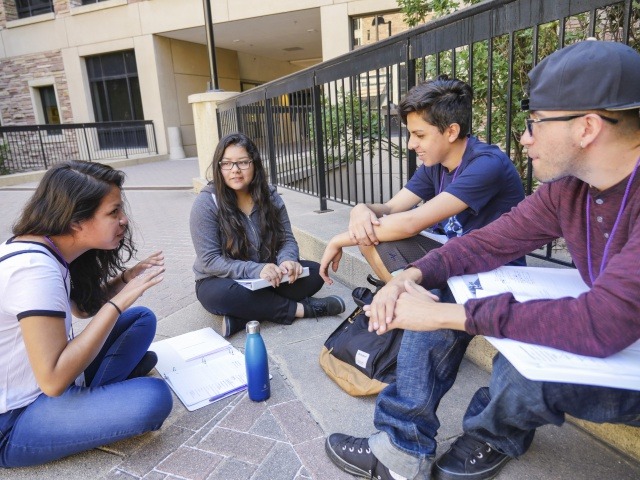 September 12, 2017 • by Sue Postema Scheeres
The CU Boulder Outreach Committee is pleased to announce that 40 faculty-led outreach and engagement projects have been chosen to receive CU Boulder Outreach Awards for 2017-18.
The projects range from innovative K-12 programming to community development initiatives, and connect research, teaching and creative work with public needs in Colorado, the region and nationwide. Funding for the projects this year totals $460,000, and comes from the Office of the Chancellor, Office of the Provost and the Division of Continuing Education.
"These projects bring together community know-how and engaged scholarship in a way that supports CU Boulder's role as a comprehensive public research university," said Sara Thompson, dean of continuing education and vice provost for outreach and engagement.
"They also align with Continuing Education's mission of providing high-quality, innovative lifelong learning opportunities to diverse populations by extending the educational resources of the university," she said.
The CU Boulder Outreach Committee, composed of faculty and staff members across many disciplines, oversees the award process. Since 1999, the committee has selected more than 740 projects and awarded nearly $5 million to projects benefitting communities throughout Colorado and beyond. The Office for Outreach and Engagement, a unit within Continuing Education, administers the awards.
The following list details 2017-18 outreach projects and awardees by college or program:
Associate Professor Erik Willcutt and Research Associate Nomita Chhabildas
Department of Psychology and Neuroscience
Brain Behavior Clinic and Boulder County Homelessness
Associate Clinical Professor Emily Richardson
Department of Psychology and Neuroscience
Bringing Better Geology to Death Valley National Park
Professor Karl Mueller
Department of Geological Sciences
Colorado Classics Day 2017
Associate Professor Jackie Elliott
Department of Classics
Computation-Based Education Curricula for PISEC
Professor Noah Finkelstein, Department of Physics
Director Michael Bennett, Educational Outreach and Research, JILA (Joint Institute for Laboratory Astrophysics)
CU Contemporary Dance Works Residency Tour
Professor Nada Diachenko, Professor Michelle Ellsworth, Assistant Professor Donna Mejia, Assistant Professor Gesel Mason, Dance Outreach Coordinator Peg Posnick Department of Theatre & Dance
The CU/Pojoaque Youth Culture Camp
Assistant Professor Scott Ortman
Department of Anthropology
CU-STARs: CU Science, Technology and Astronomy Recruits
Associate Professor Erica Ellingson
Department of Astrophysical and Planetary Sciences
CU Boulder Theatre Tour
Assistant Professor Kevin Rich and Dance Outreach Coordinator Peg Posnick
Department of Theatre & Dance
Dance Outreach
Senior Instructor Nii Armah Sowah, Assistant Professor Gesel Mason, Assistant Professor Donna Mejia, Assistant Professor Helanius Wilkins and Dance Outreach Coordinator Peg Posnick, Department of Theatre & Dance
Educating Inmates in an Era of Mass Incarceration
Professor Joanne Belknap
Department of Ethnic Studies
Empowering Families Through Museum Exhibits on Child Development
Professor Yuko Munakata
Department of Psychology and Neuroscience
Literacy Practicum
Associate Professor Kira Hall
Department of Linguistics
Philosophy Outreach Program of Colorado (POPCO)
Senior Instructor Daniel Sturgis and Professor David Boonin
Department of Philosophy
RDS Center: Reaching Out to People with Bipolar Research
Senior Research Associate Alisha Brosse and Adjunct Professor David Miklowitz
Department of Psychology and Neuroscience
Walking in Another's Shoes: Archaeology and Ancient Sandals
Professor Elspeth Dusinberre and Instructor Erin Baxter, Department of Classics
School of Education
Aquetza: Youth Education, Leadership and Community Empowerment Program
Assistant Professor Enrique Lopez
Building LGBTQ Inclusive Capacity Through University-District Partnership
Research Associate Sara Staley and Research Associate Bethy Leonardi
College Readiness: Supporting Diverse High School Students in Boulder
Assistant Professor Terrenda White
Community–Building Dialogues with Mobile Home Park Residents
Instructor and Director Karen Ramirez, CU Dialogues
Director Manuela Sifuentes, Community Partnerships, CU Engage
Cultivating Campus and Community Leaders Through Public Achievement
Associate Director Roudy Hildreth, CU Engage
Director Charla Agnoletti, Public Achievement
Families and Educators Together: A Partnership with Boulder Valley School District
Research Associate Kristen Davidson
Starting a Worker-Owned Cooperative on Black Mesa
Professor Ben Kirshner, CU Engage
Program Director Sabrina Sideris, INVST Community Studies
Supporting Aurora's Culturally and Linguistically Diverse Students
Research Associate Simoara Valladeres
College of Engineering
Expanding STEAM Kits for Children in Hospital Settings
Research Associate Daniel Knight and Associate Professor Michael Hannigan, Department of Mechanical Engineering
Faculty Director Daria Kotys-Schwartz, Idea Forge
Summer STEM Programs Director Brian Jernigan, CU Science Discovery
Graduate School
Colombian Displaced Communities: Planning and Urban Design Seminar
Assistant Professor Jota Samper
Program in Environmental Design
Metrolab CU–City Design Workshop: Hill and Broadway Corridor
Associate Professor Brian Muller, Assistant Professor Shawhin Roudbari and Assistant Professor Jota Samper, Program in Environmental Design
Associate Professor Joel Hartter, Environmental Studies Program
Associate Professor Beth Osnes, Department of Theatre & Dance
Program Director Mara Mintzer, Growing Up Boulder
School of Law
Constitutional Literacy in Colorado High Schools
Professor Melissa Hart
College of Music
Piano for Dreamers
Associate Professor Alejandro Cremaschi
Middle School Ensembles as a Community Partnership
Assistant Professor David Rickels, Assistant Professor Leila Heil and Associate Professor Margaret Berg
Research Institutes
Sustaining the Success Colorado Archaeology in the Classroom Project
Professor Stephen Lekson, CU Museum of Natural History and Department of Anthropology
Professor Cathy Cameron, Department of Anthropology
Senior Educator Jim S. Hakala, CU Museum of Natural History
Girls at the Museum Exploring Science (GAMES)
Assistant Professor Jingchun Li, CU Museum of Natural History and Department of Ecology and Evolutionary Biology
Education Coordinator Cathy Regan, CU Museum of Natural History
Interdisciplinary and Faculty Group Awards
Boulder Affordable Housing Research Initiative
Associate Professor Jennifer Fluri, Department of Geography
Instructor Abby Hickcox, Honors Program
Building Capacity for Youth Organizing Through Data Use
Professor Ben Kirshner and Research Associate Siomara Valladares, School of Education
Assistant Professor Ben Shapiro, Alliance for Technology, Learning and Society (ATLAS) and Department of Computer Science
Community Dialogues about "Opting Out" of State Assessments
Assistant Professor Terri S. Wilson, Professor Michele Moses, Instructor Karen Ramirez, School of Education
Communities Code: Engaging Underrepresented Youth in Creative Computing
Associate Professor Eliana Colunga, Department of Psychology and Neuroscience
Assistant Professor Ricarose Roque, College of Media, Communication and Information
Director Stacey Forsyth, CU Science Discovery
Custom 3D Books for 50 Families Worldwide
Assistant Professor Tom Yeh, Department of Computer Science
Associate Professor Bridget Dalton, School of Education
Director Stacey Forsyth, CU Science Discovery
Highlighting People of Color in Colorado Classrooms
Instructor Kent Willmann, School of Education
Distinguished Professor Emerita Marjorie McIntosh, Department of History
Associate Professor Arturo Aldama, Department of Ethnic Studies
Professor Marcia Yonemoto, Department of History
Learning and Teaching Computer Science at EPIC
Associate Professor A. Susan Jurow, School of Education
Assistant Professor Ben Shapiro, Alliance for Technology, Learning and Society (ATLAS) and Department of Computer Science
Shakespeare and Violence Prevention: Using Theatre to Improve School Climate
Senior Research Associate Beverly Kingston and Research Assistant Laurie Keith, Center for the Study and Prevention of Violence
Assistant Professor Kevin Rich and Associate Professor Tamara Meneghini, Department of Theatre & Dance
Outreach Director Amanda Giguere and Managing Director Wendy Franz, Colorado Shakespeare Festival